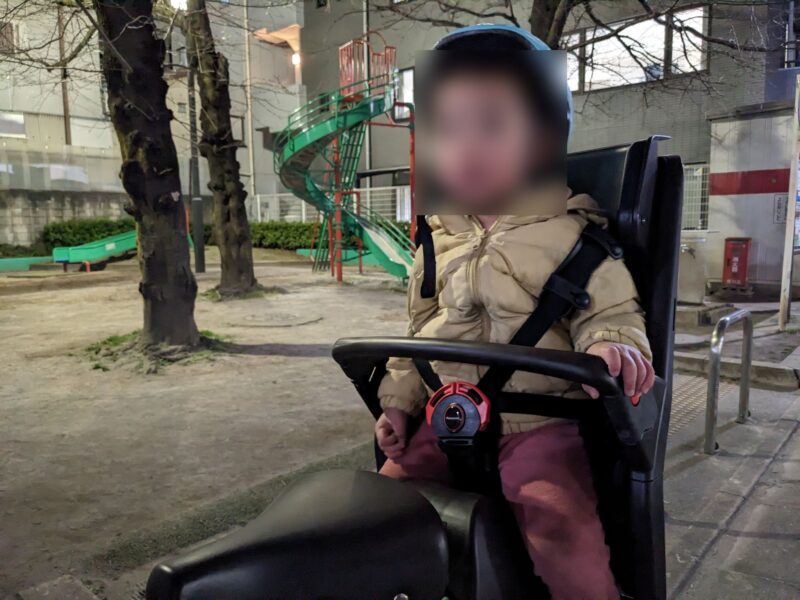 After a month of consideration, we bought a bicycle with a child seat. It is an electric bike, so it was surprisingly expensive.
But I am glad we bought it.
The bike with a child seat is thicker and stronger, so it is more stable for carrying a child, and I felt safer as an adult. I don't think I would have gotten such a stable feeling if I had retrofitted a child seat on my previous bike.
However, it is very heavy. The bike alone weighs more than 30 kg, which is surprising. Moreover, when a child and an adult ride together, the total weight is well over 100 kg, which requires caution even with electric assistance.
Although there is nothing to worry about in the structure of the bike itself, traffic accidents are always a concern. We always make sure the child is wearing a helmet and a three-point seat belt before we set off.
When I used to ride my bike with my son Takeh in my arms, he would not wear a helmet. He used to shake his head and resist putting the helmet on.
But now he doesn't mind wearing the helmet. Unlike carrying it in his arms, he seems to enjoy riding his bicycle, which has a seat reserved for him.
Recently, on his way home from daycare, he goes all the way to the bike parking lot and asks for a bike. He even goes to the park before coming home. He has started to sit on the floor and cry when he doesn't get to stop at the park or ride his bike before going home.
And when he arrived at the bike park, the first thing he did was to check the battery on his bike. Pointing and checking, he would say, "There it is!" and press the battery check button to turn on the light. I had once accidentally forgotten to bring the battery home to charge it, and I had seen him at a loss up close.
So I occasionally take him for a bike ride around the neighborhood. I have no idea what he is looking at or what expression he has on his face in the back seat. But he never wants to get off the bike, so I am sure he is happy.
(2023.01.31)