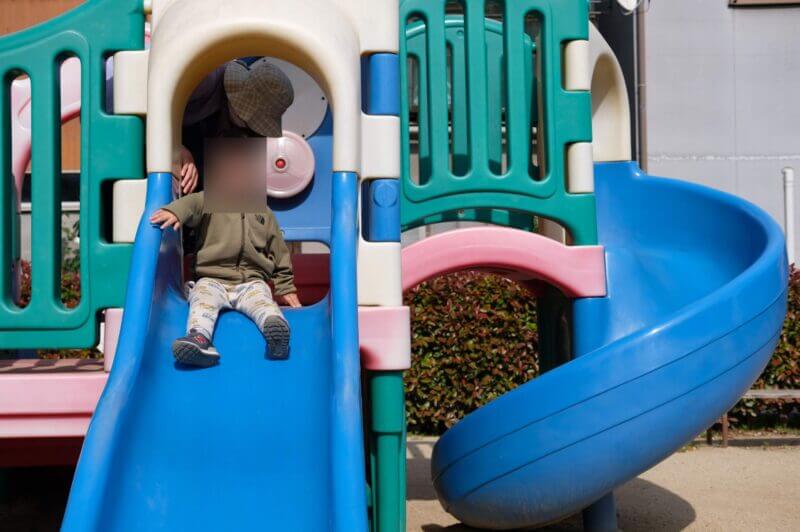 My son Takeh was itching to get some exercise, so I took him to the park.
The park had a plastic slide.
He happily went down the slide several times. He looked back at his parents and shouted from the top of the slide, "Over here, over here!" he shouted from the top of the slide. In other words, he was asking us to follow him.
In response to this request, we as adults had to go up and down the slide forever. This is quite a challenge.
He has no concept of "saving energy. If there is a piece of equipment in front of him, he will play with 100% effort. And the parents have to keep up with him.
And if he sees his parents cutting corners, he will yell, "Come here!"
Parents also have to act like they are playing their best.
Going up and down the stairs is not a physical burden for me, but it is cumbersome to go through narrow gates and squat down with a camera in my hand. In addition, every time I slide down the resin slide, I feel a static charge all over my body, causing a tingling sensation.
So one of us took on the role of imitating a railroad crossing at the bottom of the slide, saying "kahn kahn kahn kahn" to conserve energy. The other had no choice but to follow. He switched places with the crossing halfway through the ride.
There is an interesting peculiarity in his behavior.
Sometimes, when he is in a good mood, he says "choo choo" while imitating a locomotive. When I follow him and imitate a locomotive with him, he is very happy. I think he feels he has made a friend.
On the other hand, when his mother, Ishi, also imitates a locomotive, he always stops her with his hand and says, "No! It seems that he cannot be a locomotive. I am not sure why. Maybe he has decided that the mother is a passenger in his locomotive. So it may be that the passenger is not allowed to say "choo choo.
(2023.05.04)