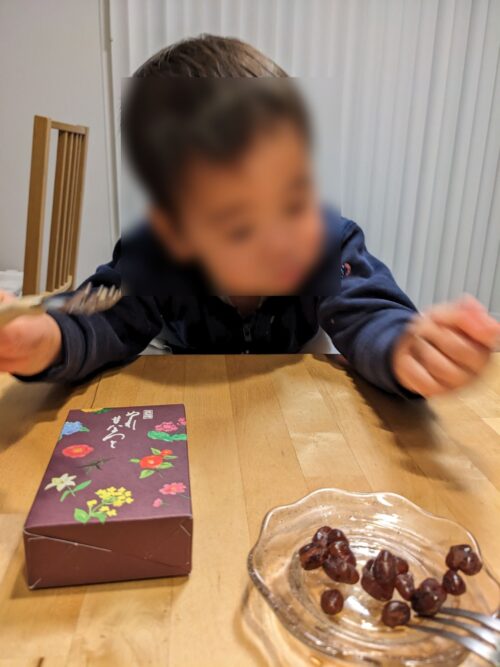 Until recently, it was common for children and their parents to eat different foods. This was because children's meals were cut into smaller pieces for easier eating and were prepared with a lighter flavor. In addition, the nutritional balance of the children's meals was more important than that of the parents' meals, and there were times when the children's meals contained more items than the parents' meals.
However, as my son Takeh has grown up, he now eats almost the same food as his parents. Only the miso soup is diluted because of its high salt content, but otherwise it is almost the same.
I smiled at this situation. However, I gradually realized that the rules of the game had changed from the previous meals.
Takeh began to realize that there was something his parents were eating that he was not, and he began to demand the same food as his parents. In particular, he noticed that the "something" that only his parents liked to eat after he said "gochisosama" (thank you) … actually sweets … seemed to be a good thing.
He leaned over the dining room table, climbed on it, and said, "Here! Over here! He pointed to it. I want to eat it," he said in a sweet voice. Even if it was food he had never seen or eaten before, he could tell whether it was good or not by his parents' atmosphere.
Today's after-dinner dessert was "Nure-amanatto", which I bought at Shinjuku Hanazono Manjyu.
Natto" is a stringy soybean, but "ama-natto" is different. Ama-natto is azuki beans sweetened with syrup and granulated sugar.
We thought Takeh would not be interested in it because of its plain appearance. To our surprise, however, he said, "I want to eat it," and even said, "Kashite-" (infantile language meaning, "Please lend it to me") and "I-iyo-" (infantile language meaning, "OK"), and started eating it after making a request and giving his consent.
Once he started eating, he could not stop. He kept trying to eat them one after another. He has no understanding of how expensive it is, so he grabs it by the eagle and tries to eat it. Hey, wait a minute. This is not something you just eat like peanuts.
In a panic, I divided his portion properly and put the rest away.
I guess it is no longer possible for adults to enjoy coffee time in front of their children. I had to think about the amount and price of snacks to prepare so that both parents and children could enjoy them together.
(2023.01.29)