Every once in a while, a "health trail" is set up in a corner of a park.
These are sometimes found in China and Taiwan and are designed to stimulate the soles of the feet and promote good health. For this reason, the ground is uneven with stones of various sizes embedded in it. Such places are called "health walks" because they are made as long corridors.
When I walk on the health path, to my own surprise, I feel pain. Sometimes the pain makes my movements jerky, and sometimes I can't move from one place to another. I find such physical phenomena interesting, and I have the hope that if I endure this pain, I will be healthier than I am now. I have the hope that if I endure this pain, I will be healthier than I am now. That is why I love to walk on health trails, and I always make it a point to walk on them when I find them.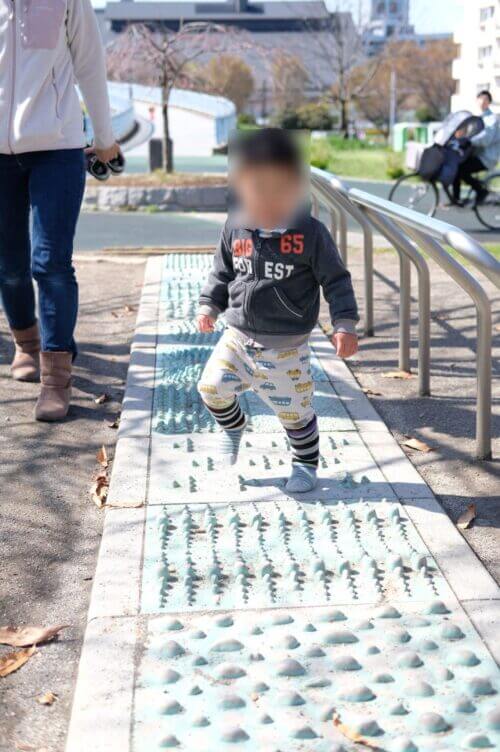 On that day, I visited a park along the Sumida River for the first time and found a health walkway.
He immediately took off his shoes and walked along the sidewalk, enjoying the pain as he waddled along like a penguin, saying, "It hurts! I enjoyed the pain as I waddled along like a penguin, saying, "Oh, it hurts!
Takeh, seeing this, must have thought that the health walkway was some kind of interesting playground equipment. He also took off his shoes and started walking on the sidewalk. I was surprised.
Ishi stopped him and said, "You shouldn't do that, it hurts. But Takeh ignored his protests and continued walking by himself.
Takeh's legs don't hurt, do they?
Maybe he still weighs less, so his soles are less stressed. Or maybe this is a health walk made for adults, so the bumps are too big for a child's feet, and there are no protrusions for his soles to poke through. Or maybe he's so healthy that it doesn't hurt.
In any case, there is no way for a two-year-old to understand the "painful but pleasant" sensation that adults get from massages and the like. If it were merely painful, he would immediately dislike it and run away from the sidewalk. But he walked on the stones of the health walkway as if he were enjoying an athletic activity.
Children are amazing.
(2023.03.19)