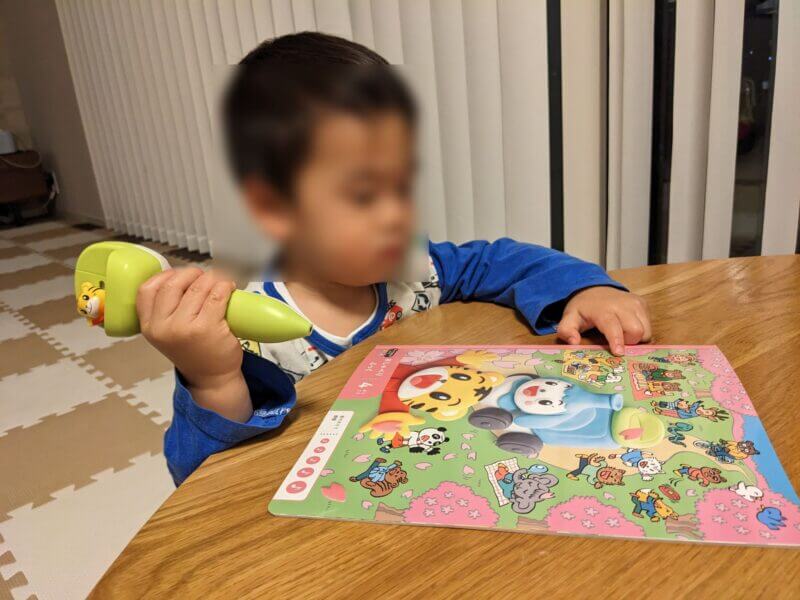 In February, we decided that it would be a good idea to start some correspondence courses for parent-child interaction in our home, so we signed up for two services, "Poppy Monthly" and "Kodomo Challenge," on a trial basis.
As a trial, both companies sent me simplified teaching materials free of charge. I was convinced that these materials would certainly increase the number of parent-child conversations. I have always tried to have parent-child conversations, but since I have to leave my son at daycare for almost 10 hours a day, the time for conversation is very short. And when I let him play with whatever interests him, he would either beg his parents to read him picture books or play with police cars or bullet train toys.
I think there is a lot to be learned in preschools. However, I am not sure to what extent they will focus on "learning" since it is an institution whose main purpose is only to "take care of children". Since there is no such thing as a curriculum, as a parent, I have no choice but to leave it up to the daycare center. Is this really the best way?
I do not want to give him a gifted education. Nor do I distrust the preschool he attends. But I want to provide learning opportunities at home.
We already have Montessori equipment at home, but it was a bit of a burden for a working parent. Once he gets used to it, it will not be a problem, but until he does, I will have to stay by his side. If possible, it would be great if he could learn on his own while his parents do the housework. For this reason, it is important that the content is intuitive and easy to understand so that he is interested.
We ordered sample materials from two different companies and tried them out. Each company had a completely different slant, and I was impressed with what I found.
Monthly Poppy: Low price. The materials are simple, but I have the impression that the content is the same as the other companies, so I never get tired of them. However, because of its simplicity, I felt that parents need to help their children develop their imagination and create the story from the materials.
Kodomo challenge: The price is high. There are so many educational materials. It also comes with educational toys. Including video content that can be viewed on smartphones and other devices, as well as game-like learning apps, the amount of educational materials is too much to go through. In addition, there are an inordinate number of advertisements in both print and video media. First of all, there is a level where parents have to figure out what to do with this month's issue of educational materials to get a handle on the situation. It comes with a stylus, and when you touch the book, it talks and makes animal noises, allowing children to learn language while playing.
We received a trial version of the materials, but my wife and I felt that the simplified volume still made it impossible to make a decision. So we decided to pay the full price and try both courses for a month. We decided to pay full price and try both for a month because, as a special exception at the beginning of the school year, both companies allowed you to cancel your membership after the first month.
In the end, after much deliberation, we chose Kodomo Challenge. Although Benesse's salesmanship is not to my liking, I chose Kodomo Challenge because of its rich content and peace of mind. Being a wimp, I thought I would never choose a service that had Shimajiro as its trademark. However, I never thought that I would be in the care of Shimajiro.
(2023.03.29)