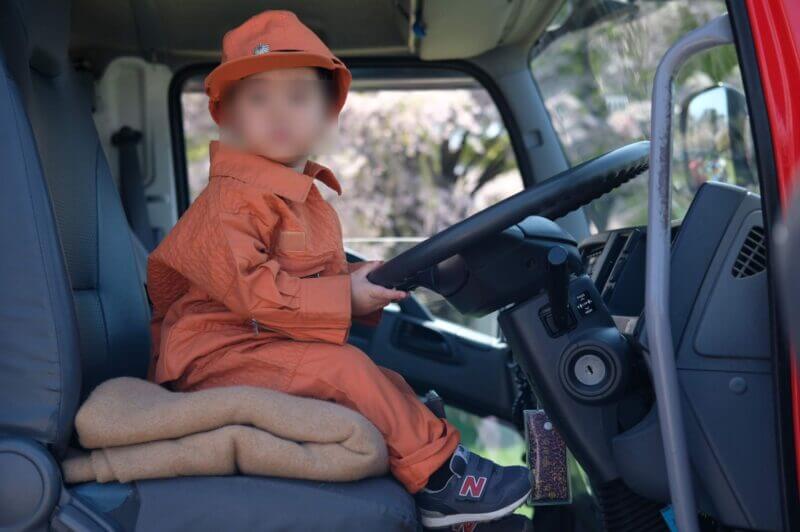 We heard about an event at a park where there was going to be a fire truck, so we took our son Takeh to the event.
Takeh loves fire trucks, police cars, and ambulances. If he hears an ambulance siren from a distance while walking around town, he immediately says, "Oh," and listens closely. And if he doesn't hear the siren, he says, "They're not there".
He has a pre-existing condition, exudative otitis media, and his hearing must always be subtle. He must have a stuffy feeling in his ears, like being in a tunnel. Yet he is incredibly sensitive to the sounds he likes to hear.
When he hears the faint sound of a train passing a railroad bridge, he exclaims, "Train!" he exclaims. It seems that his hearing is tuned to trains and sirens.
He looked so happy in front of such an adored fire engine. "It's a woo!" he says. In his mind, "woo" means a fire truck.
Sometimes he says "woo" when he hears an ambulance siren.
We showed him a picture book with a spread of fire trucks and ambulances and asked, "Which one is the 'woo'? "I asked him. He pointed to the fire engine. Now we had a consensus that the "woo" he was talking about was a fire truck.
The fire truck is a firefighter's outfit, and children are allowed to wear a firefighter's outfit, sit in the driver's seat, and have their picture taken with the truck.
When he was allowed to put on the fireman's outfit and sit in the driver's seat, his smile disappeared completely. He is a cautious man, and he is obviously wary of situations that are unfamiliar to him. So while it was not a fun photo, it was a good souvenir.
(2023.04.01)