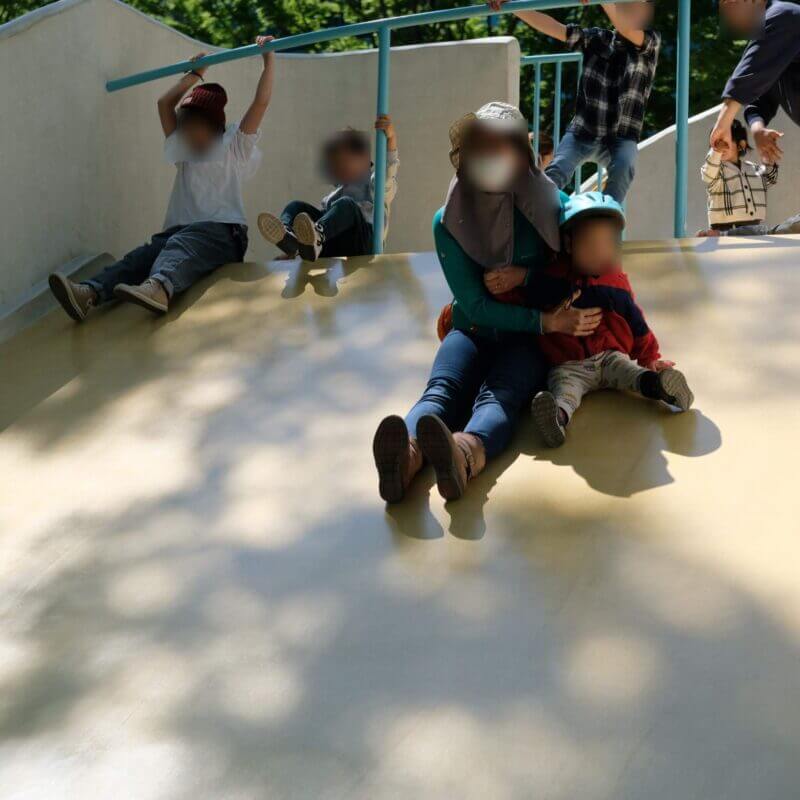 Shinjuku Chuo Park is highly recommended for families with children. The number and size of the playground equipment is far superior to other parks.
You might think that there are no parks in Tokyo because of all the buildings. However, the reality is that there are parks scattered all over the city, and when someone describes the city as a "concrete jungle," I think that is a misconception.
But there is also the aspect of disaster prevention. They are used for evacuation and for storing food and water, so they are not prioritized as children's playgrounds. As a result, although there are many parks and they are spacious, many of them have surprisingly little playground equipment. At most, many parks have iron bars, slides, and swings.
In this respect, Shinjuku Chuo Park is amazing. It is worth coming from far away to play there.
This time, my son Takeh went down the slide at Shinjuku Chuo Park. The slide is a wide, steep slope.
When we visited here two and a half months ago, he spontaneously went down the slide. I was surprised at that time. I was surprised then. But this time it was the opposite. I was surprised again. What, he was not afraid before, but now he is afraid?
Maybe in the last two months or so he has learned that "high places are dangerous," and that something beyond his control might happen. Something might happen that I can't control," I thought. Or maybe he had an experience where he was afraid of heights. Either way, as a parent, I was happy to see the concept of "fear" being born in him. This is also his growth.
(2023.04.09)