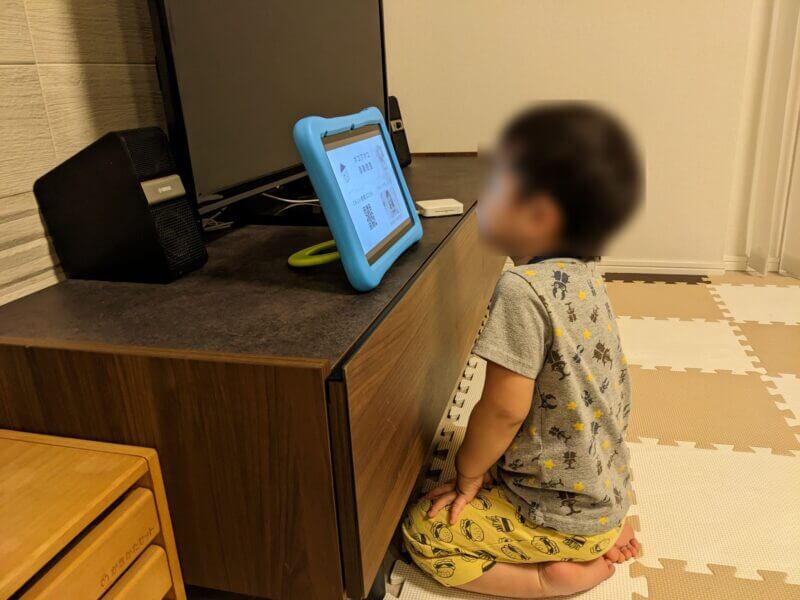 My son, Take, often sits on his haunches for some reason. Sometimes he even sits on his haunches when he eats.
My son Take, for some reason, often sits on his haunches. Sometimes he even sits on his haunches when he eats. For him, it may be a strategy to raise his gaze.
He stares at the pill I just bought him. He is drooling, a sign that he is concentrating.
Sometimes he gets frustrated that he doesn't have anyone to play with while I'm making dinner, so he throws his toys all over the living room. This is understandable since he is not old enough to play much by himself.
But I just got off work, picked him up from daycare, took him to the hospital, let him play in the park, came home, gave him a bath, and now I am getting dinner ready. I don't have time to play with him. I would be happy if he could sit quietly and look at his tablet while I do the housework.
But it hasn't worked out the way I had hoped.
The microwave oven is often used while I am preparing meals. This caused the tablet to lose communication. It would come to me in the kitchen in tears and ask me to do something about it, but there was nothing I could do while the microwave was running. It seems that once the Wi-Fi is disconnected, it does not automatically reconnect, even if the microwave stops working.
This was not what we expected. The time I expected to use the tablet the most was during the few dozen minutes I spent preparing dinner.
(2023.04.13)