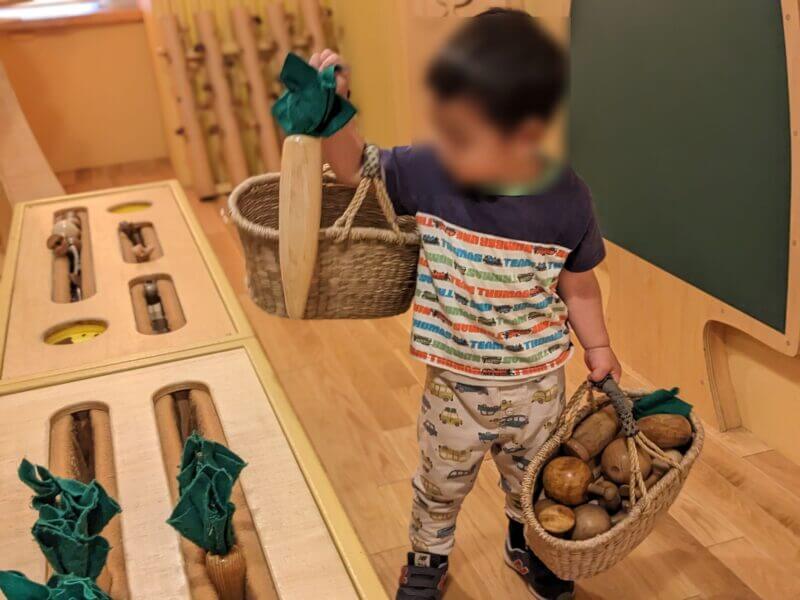 Indoor amusement facilities for children charge an admission fee for both adults and children, which is a financial burden for parents.
The Tokyo Toy Museum is no exception, as it does not charge by the hour, which makes it a little easier for us as parents.
However, he usually takes a nap from around 12:00 to 3:00 p.m., so the amount of time he can spend in the facility is limited.
This is the third time I have visited this facility. The reason we keep coming back, even though it is not close to our home, is because the many wooden toys here are rustic and he enjoys them.
There are many indoor facilities for children, including public facilities. Some of them have a strong exercise component or have toys that are easy for children to understand. This is a good thing for children, but it can also be said that they provide them with easy to understand pleasures.
On the other hand, in this facility with wooden toys, children have to discover how to enjoy themselves to some extent. There are few toys that say, "Wow!" toys, but most toys that make the child say, "I see.
So it is fun for me as a parent to watch a two-year-old understand the wooden toys in front of him and come up with his own ideas of how to play with them.
Anyway, wood is heavy. It has a weight that is very different from the resin toys and stuffed animals that he usually touches. I would be happy if he did not feel this weight as "annoying and tiring," but rather felt the fun of the heavy load on his body and the tightening of his muscles to resist it.
(2023.04.22)