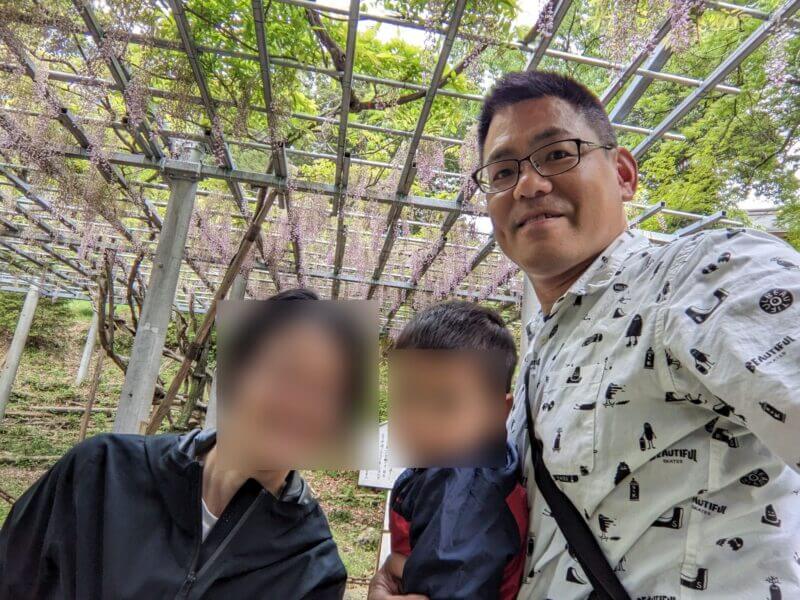 The tree is a natural monument of Okayama Prefecture. It is a natural monument of Okayama Prefecture and is said to be between 300 and 500 years old.
The tree was so old that it had become difficult for it to bloom in the spring. After three years of work by craftsmen, the wisteria tree is blooming again.
My husband and I had our wedding ceremony at the Achi Shrine, which is located next to the Achi Wisteria Tree. Although we have a connection to this place, we have never seen the wisteria in bloom. We rarely visit Kurashiki when the wisteria flowers are in bloom.
This year, since we visited Kurashiki in May, we took the opportunity to see the wisteria flowers.
The destination is a well-maintained path with stone pavement and stone steps that takes less than 10 minutes to walk from the foot of the mountain. Since it is the approach to a temple and shrine, it is easy to walk.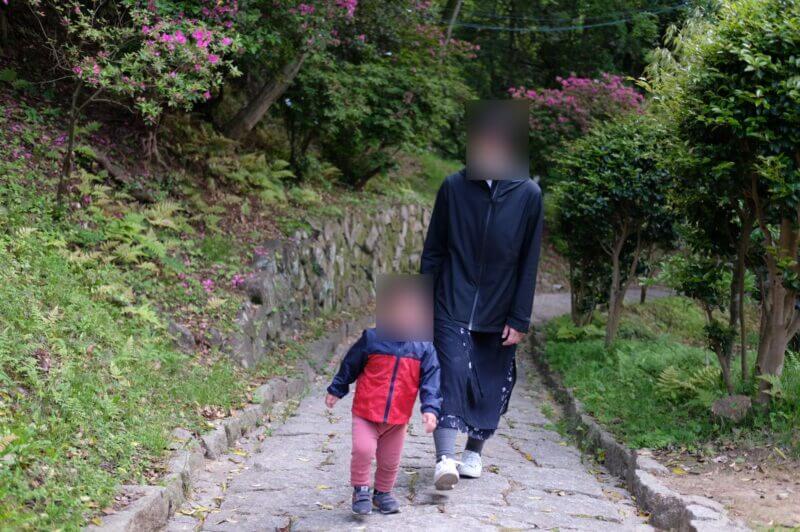 But Takeh, my son, immediately cries out, "Hold me!" and clings to my legs.
He is always asking me to hold him. Even when the three of us go out as a family, he asks me to hold him 100% of the time.
That's not fair! Ishi, his mother, is jealous of Takeh's decision to cuddle me. I still don't know why she demands to be held by me so much. Now, when Ishi tries to carry Takeh in her arms, he pushes her face away with his hands, and she gets wild and hates it.
Maybe he feels that his father, who has a sturdier frame, is more stable when he holds him. Or he may feel that a taller father gives him a wider field of vision when he is being carried.
He is not at all receptive to me sleeping with him, and 100% of the time he will not go to sleep unless Isshi sleeps with him. When he wants to sleep and Isshi is not in the bedroom, he is so sleepy that he starts crying "I want to sleep".
So it is not that he is just attached to me. He seems to be calm and aware of TPO and uses his father's affection for him at certain times and his mother's affection for him at other times.
In the photo above, mother and child appear to be walking in harmony. In reality, however, Takeh is running toward me with tears in his eyes.
I wanted to take a picture of Ishi and Takeh walking down the street, so I put him on the ground in my arms and walked a little ahead of him. Just for that, he ran towards me, screaming "Hold me! He ran toward me, screaming and crying.
His emotions were like a water heater. I was amazed at how he could shed tears in just a second or two.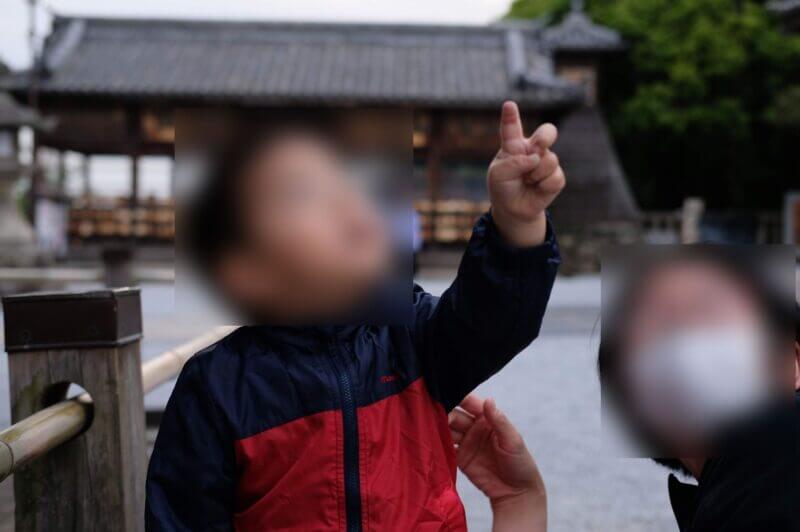 After seeing the Achi wisteria, we visited the nearby Achi shrine.
I explain to Takeh, "Look, this is where your mother and father had their wedding ceremony. Of course, Takeh has no idea what a "wedding" is, so he doesn't react at all.
Instead, he asks, "Where's the park?" He is looking for playground equipment in the park.
Even the grounds of this shrine would be a fun place to look for various plants, trees, and insects if he wanted to, but he doesn't seem to think it's even close to a park, and it doesn't seem like an interesting place to him.
But he said, "Oh?" and pointed to the sky.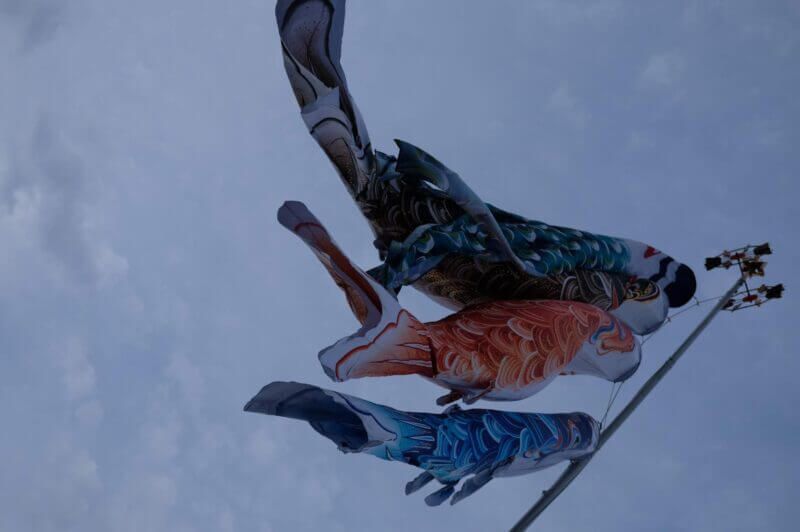 I looked up and saw that it was a carp banner.
Ahhh, I see. Speaking of Children's Day, it is part of Japanese culture to decorate carp streamers.
I had been so busy with "decorating a kabuto (headgear)" that I had not thought 100% about carp streamers.
If you go to a 100-yen store, you can find very small and simple carp streamers. I could have decorated my house with them. Or you could buy a tenugui (towel) with carp streamers on it, make it into a banner, and hang it on the wall as a fun interior decoration.
The reason we completely forgot about carp streamers is that not a single house around our house has carp streamers on display. Since we had no opportunity to see them in our daily lives, we could not use our imagination.
This is the situation even for those of us who live in a mixed residential area with both condominiums and single-family homes. If we lived in the Tokyo Bay area, where there is a forest of townhouses, we would probably never have a chance to see carp streamers.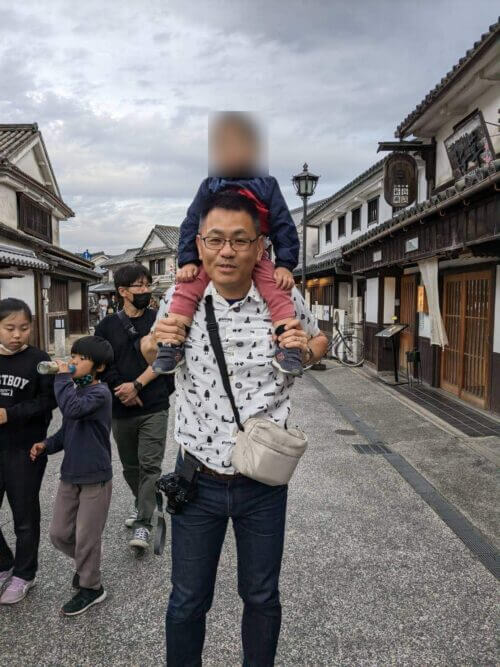 We descended Mt. Tsurugata and walked through the Bikan Historical Area.
"Walking down the stairs is like an athletic activity," I said, trying to motivate him to walk.
I try to motivate him to walk. But his answer was, "Carry me!"
I had no idea that he would be carrying something weighing 13 kilograms down the mountain. I wondered if it was a good training for the climb, but it had the opposite effect. I was not sure if it was a good training for my future climbing, but it was rather counterproductive, because carrying an object is an unbalanced posture. Thanks to this, I slightly sprained my leg.
He still demanded to be carried on the flat ground, so I carried him on my shoulders. He never complained about carrying him on his shoulders. He never complained about being carried on my shoulders. He didn't seem to have the sense that he was happy to be carried by his father. It seems that he simply wants to look down on the view from a high place, and he is asking me, the taller of his parents, to carry him.
(2023.05.03)