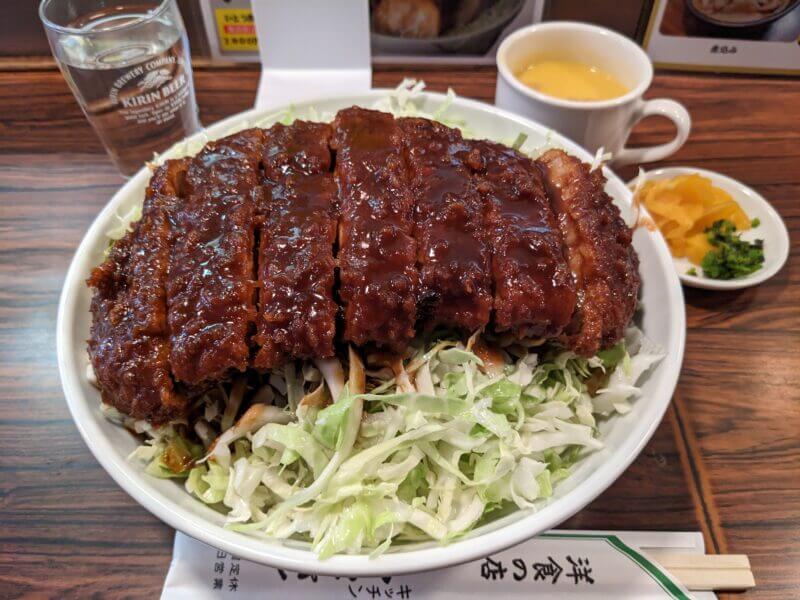 At a Western-style restaurant in Kitasenju, I ordered the "extra large pork cutlet bowl".
Whenever I see "extra large" in the menu name of a restaurant, I still tend to choose that dish out of hesitation. Lately, I've been embarrassed by the "free large bowl" sign, so I don't order it very often.
The katsudon at this restaurant was served with a sauce that was well done. It was not the most orthodox Japanese egg katsudon.
It is a large bowl of rice with a large amount of shredded cabbage and an extra large cutlet on top of the rice.
The extra large cutlet looked so impressive that I was most excited before eating it. The big pork always delights me.
Once I started eating, my excitement at the sight of the dish faded. This is because the katsudon sauce has a very rich flavor.
The first few bites were exciting and delicious, but I gradually grew tired of the richness of the sauce.
However, the abundance of cabbage and rice alleviated my boredom. The order in which you eat the pork, cabbage, and rice must be controlled to ensure that you eat this dish in just the right order. A sense of balance is important anyway.
After the meal, I left the restaurant satisfied with this dish, but it was only after I left that I realized I had not eaten a dish made with a frying pan, even though the name of the restaurant is "Frying Pan".
(2023.05.26)