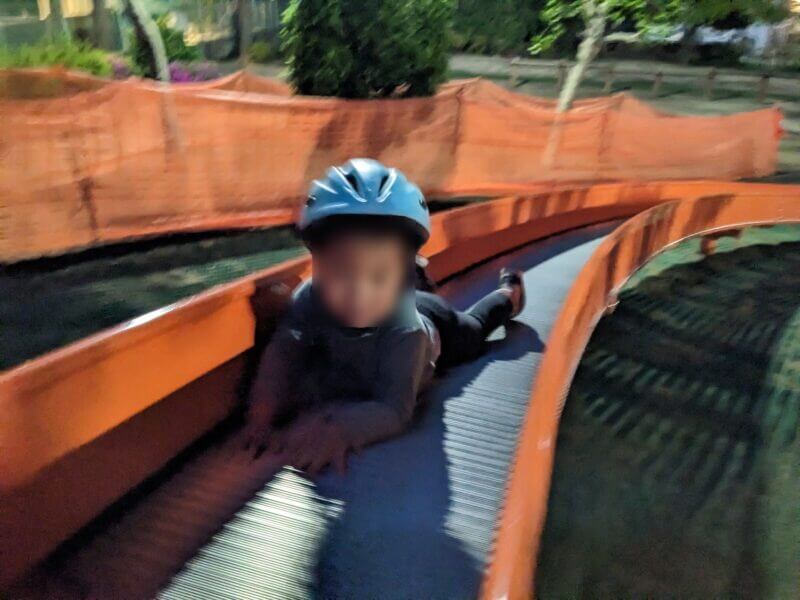 At my age, I am rediscovering many things by working with children.
The slide is an experience I have not had for about 40 years. Takeh, my son, tells me to "follow him," so I often follow him and slide down the slides with him. I learned then that the feeling of sliding on different slides is completely different.
When I was a child, I knew this feeling as a matter of course. But as an adult, I had forgotten the feeling. I had never had a slide in front of me.
The stainless steel slide was very slippery. Especially the one with a dull, shiny silver plate was very slippery and exhilarating.
On the other hand, the resin slides we see so often these days are not as much fun. The friction is too high, making it hard to slide, and after sliding, your body is charged with static electricity, which is discharged when you touch something. Also, after it rains, there is mud on the slides, which is unpleasant.
Among the different types of slides, the roller slide is the best. The countless rollers make the slide smooth, and both children and adults feel comfortable as they are led down the slide. It is quite safe because you cannot slide at high speed.
I took my evil son Takeh to a hill where there was a roller slide, and he was overjoyed. As soon as he slid down, he would climb up the hill by himself and slide down again. He repeated this about 30 times in a short period of time.
As a parent, it was a delightful sight to see: "Today he will go to sleep exhausted with great satisfaction. It is great to see children playing on their own and getting tired on their own. I will visit this park again and again in the future! I thought.
But later, when I asked him on the way home from preschool, "Do you want to go to the park and play on the slide?" he immediately said, "No." And then he would immediately say, "Park! Park!"
Apparently, he would rather go to a nearby park where he can maximize his play time without having to travel than to a park that is far away but has excellent playground equipment.
(2023.04.17)