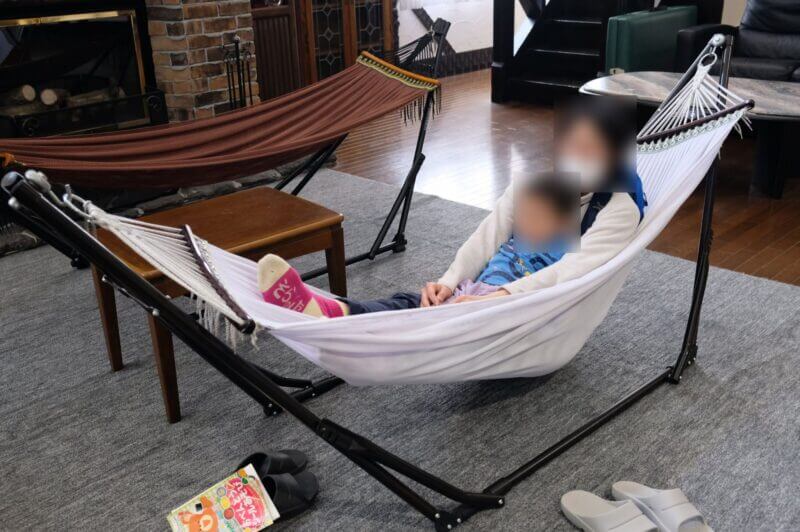 16:03
The innkeeper told us to write our guest books here, so we waited while swinging in the hammock.
The whole family was excited.
However, my son Takeh, who I thought would be the happiest, looks the most serious. This is probably because his core muscles are still developing and he is not very good at controlling the swaying.
Also, adults can smile when they are having fun, but when children are really having fun, they have a very serious face. When I see a child playing on the playground equipment in the park without a single smile, I wonder, "What in the world is a human smile?" I think to myself, "What in the world is a human smile?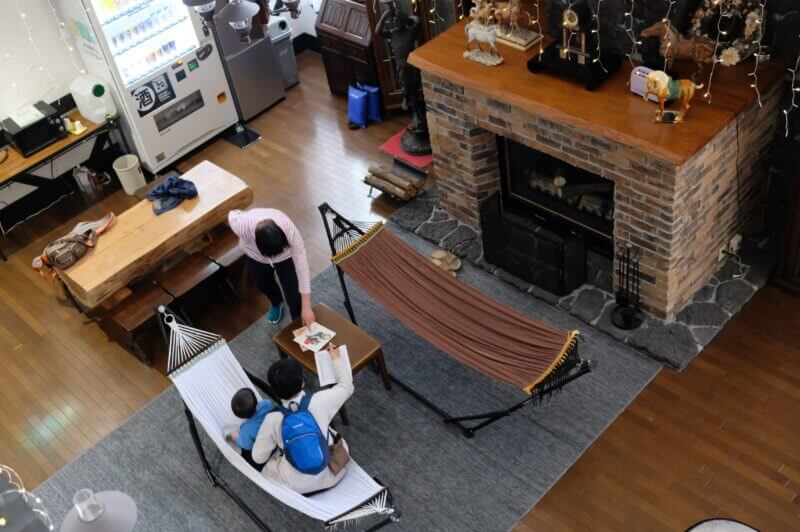 Looking down into the hammock room from the third floor where the dining room is. It is a very large atrium space and beautiful.
Perhaps it was made possible because it is a corporate recreation center. If the emphasis is on making money, this space is wasted.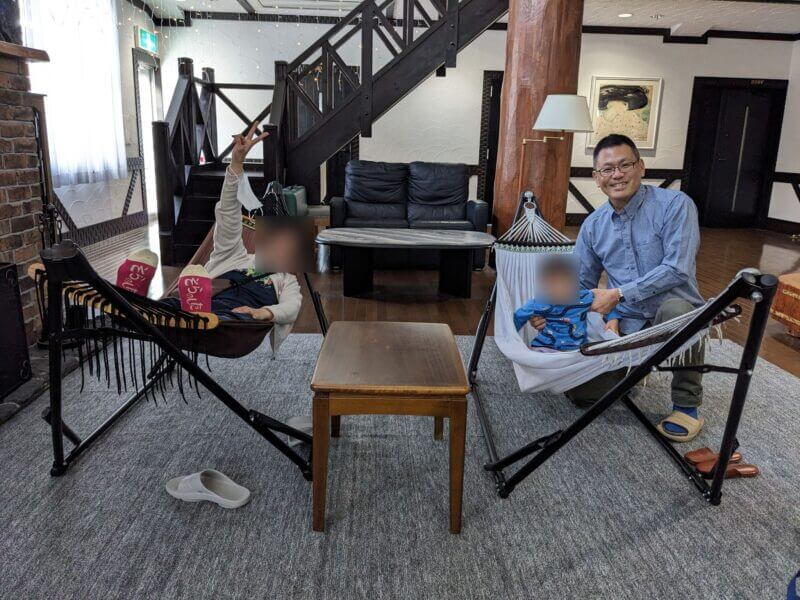 I tried to take a souvenir photo while lying in the hammock, but it was not easy.
First of all, 2-year-old Takeshi would not be quiet, and it takes more time for an adult to get into the hammock than I thought.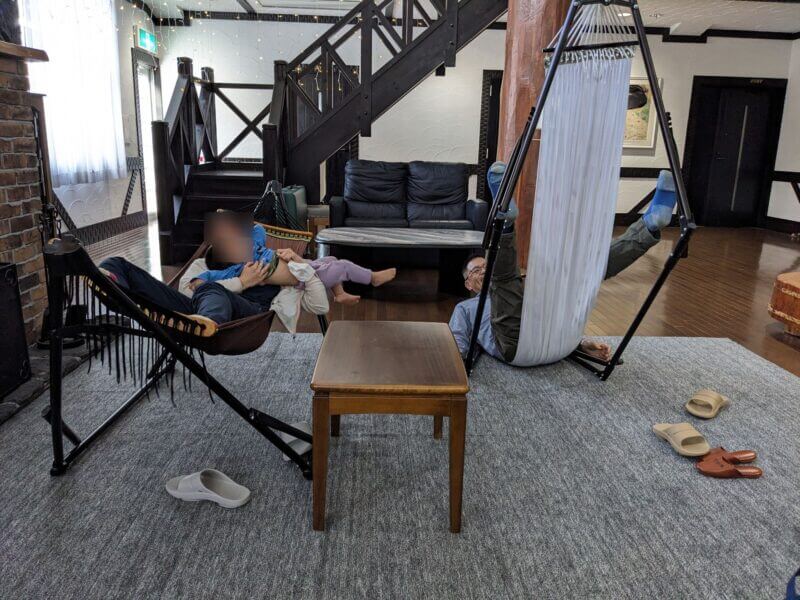 When riding in a hammock, if the hips are in the wrong position, the hammock will tip over like this.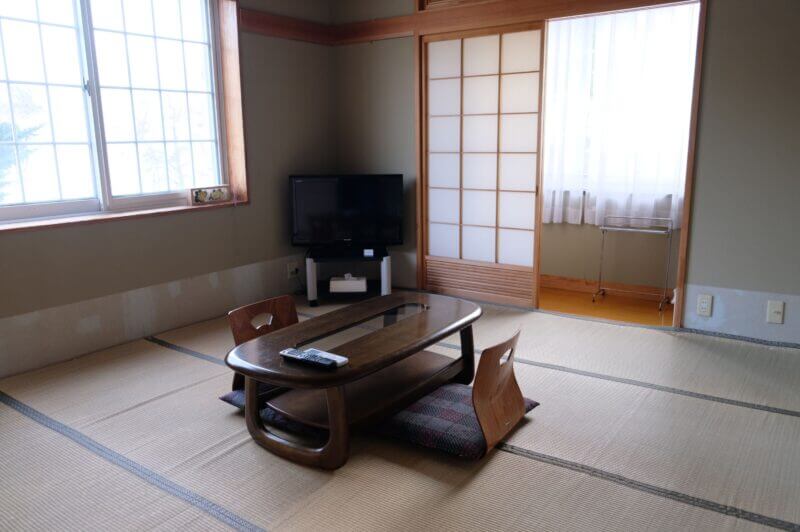 16:20
It would be great if I could enjoy reading while lying in this hammock, but that is not possible with children.
Children are less interested in relaxing things like hammocks and prefer more stimulation.
We decided to keep the hammock experience to a moderate level and headed to our room.
When we booked this inn on a reservation site, I was quite suspicious of the "there is a reason" description, but the room was very normal, and if it was slightly cheaper than other rooms, I could only say it was a good deal.
The staff at the inn told us, "There's a bathroom upstairs, and you might hear the sound of water, so we made the room 'for a reason.' However, we never received any complaints. I see.
In fact, when we stayed one night, we did not hear the sound of water at all.
This inn allows guests to bring their pets. The inn has a rule that pets must wear pet diapers when in the room. However, some guests may have bad manners. So we expected to see pet pee stains on the floor or lots of claw marks on the columns and walls. However, when I looked around, there was no sign of such things. What, is there a reason for that? I was surprised.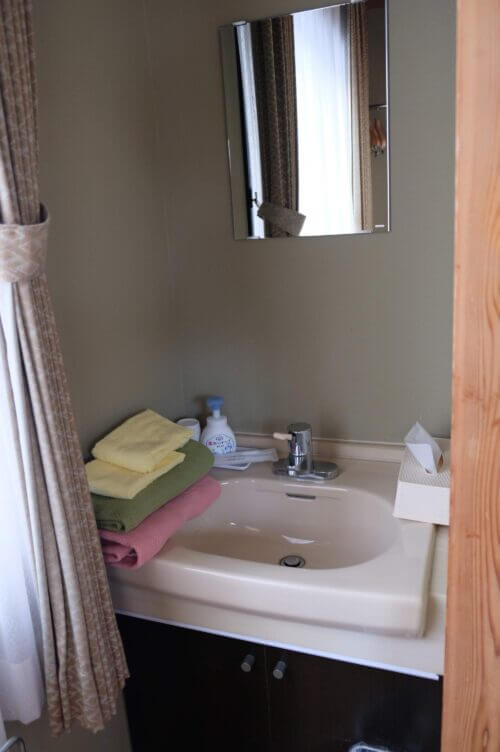 Bathrooms do not have a bathtub or toilet. Instead, there is a sink.
Towels are provided, but no yukata (Japanese bathrobe) is provided. Therefore, it is better to bring indoor clothes when staying at this inn.
16:34
There is snow all around the inn. I take Take Take and go outside. Let's play in the snow.
There is a pond in front of the inn, but it is completely covered with snow, so we are not even sure if there is a pond or not.
In the middle of the pond, there is a small island with a red shrine. I wondered if it was possible to go there. I wondered if I could go there, but I had no idea how solid the ice in the pond was. It would be dangerous to drown if the ice broke while we were walking. We could only watch from a distance.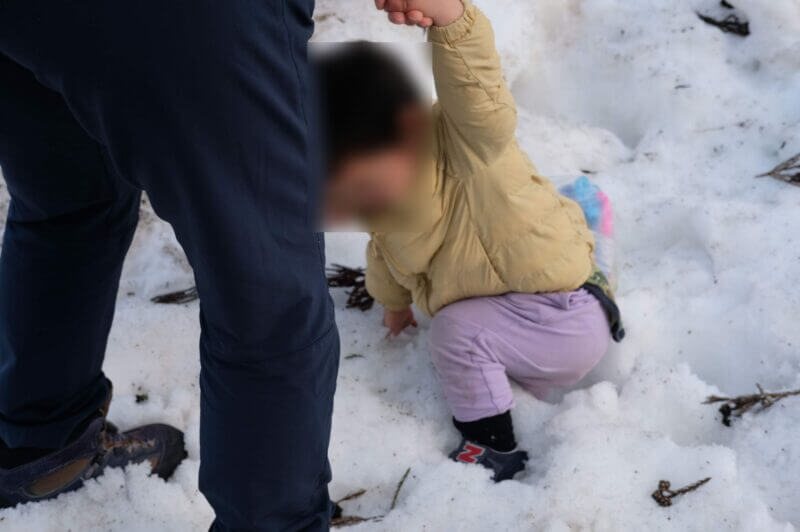 Takeh still has the perception of snow as something cold, wet, and not pleasant.
How will he enjoy the snow? The parents wondered.
I held him by his side and let him jump on the snow, saying, "Boom, boom, boom". I think he will enjoy the feeling of having his shoes half buried in the snow. I guess I was hoping that he would enjoy the feeling of having his shoes half buried in the snow.
However, the result was that snow got into the space between his shoes and his feet got a little wet. As usual, he did not look happy.
The approach of appealing to the feeling that "snow is soft" had failed.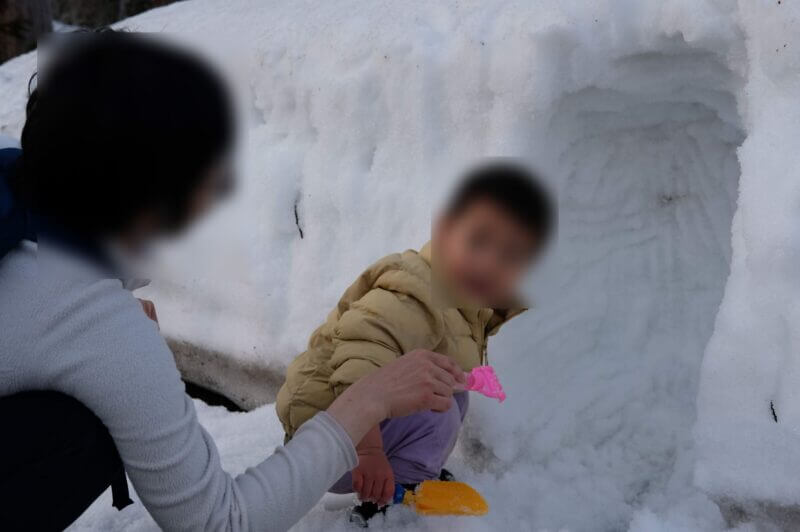 Then I focused on the "snow gets harder" habit and played with it.
There is a wall of snow by the side of the road made by snowplows. I dug it out with a shovel to play in the sandbox. He suddenly showed great interest and took the initiative to start working on the tunnel.
I see that children learn "destruction" before "creation" and find it interesting. I guess I should have taught him to "destroy" snow first.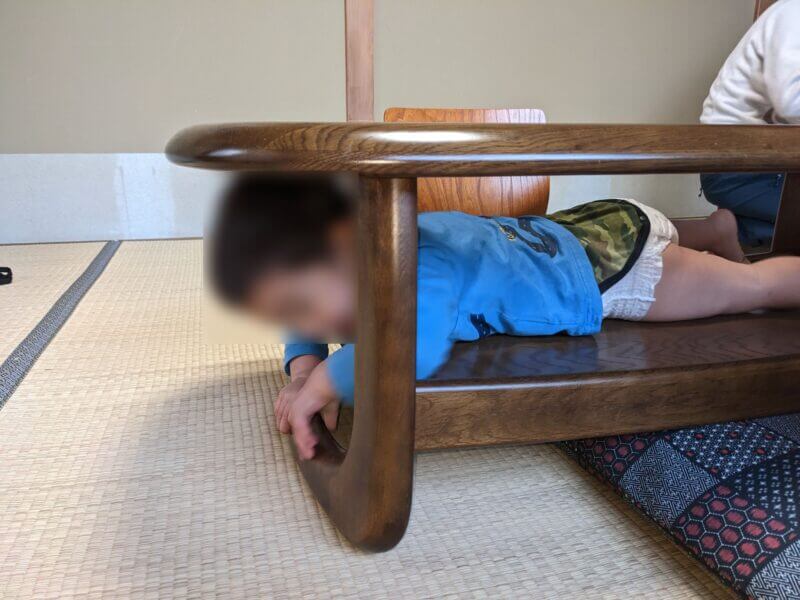 17:16
We had a little more time before sunset, but we turned back early because Bamboo's feet were soaked with snow. I don't think he would get frostbite from so much snow, but a child's body is delicate. We decided it was better to leave early.
Dinner was served at 6:30 p.m., so we had more than an hour to go. I am spending a very leisurely time today, partly because of the presence of my child. It is rare in my life that I have spent so much time taking it easy.
(to be continued)