Echigo Matsudai Winter Festival, a winter festival in Matsudai, Tokamachi City, Niigata Prefecture, which we had participated in every year since 2014.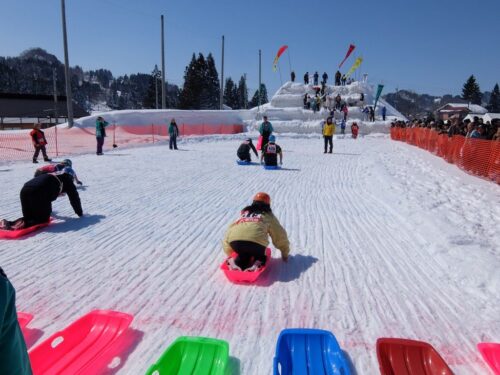 The main event is the "Nottore," an iron man race in the snow with the aim of "taking back Matsudai Castle, which has been taken over by General Winter and inviting spring to Echigo Matsudai! Matsudai Castle" will be the main event. Counting on my fingers, I have participated in this race six times in a row.
I looked forward to March every year for a number of reasons: the race itself is short, about 3 km; it is fun to push through the snow while overcoming obstacles; and the post-race raffle, called "The Many Punishments You Can Win," is a lot of fun.
It is also nice to go there and say hello to familiar faces. It is a real pleasure to greet acquaintances in Niigata, saying, "It's been a while.
However, the impact of Corona cast a shadow over this event as well. One month before the first emergency declaration was issued by the government, the March 2020 event was canceled after last-minute adjustments. A regret party was held with the members of "Team Awalemi," who have shared this race every year, and "See you next year! and the party was over.
In March 2020, it was still possible to meet, have a drink, and shrug our shoulders and say, "Too bad the race was canceled. However, the situation has suddenly changed, and from April 2020 onward, we are not allowed to eat or drink together, and we are not allowed to leave the house unnecessarily.
This restriction was gradually relaxed from 2022 to 2023, during which time it was difficult to hold any events for nearly three years.
The event was cancelled in 2020, 2021, and 2022 in succession! was also cancelled in 2020, 2021 and 2022 consecutively.
I probably won't do it again. It takes a lot of horsepower to revive something like that once it has been discontinued.
So we gave up on the idea.
In 2023, there was no publicity at all, so I thought, "Ah, another year." I thought, "Oh, this year too. Usually, the application announcement is made around December. However, in January, I was surprised to see information suddenly posted on Facebook that the event would be held this year. What, what, are you going to do it?
I was completely surprised and confused because my mind was set on the assumption that I wasn't going to do it.
Are you going to do it?
I keep thinking the same words over and over again.
No, of course I'm going to do it. I applaud you for your resurrection. But I need to get my mind, body and financial structure in order.
Well, we have a child since Corona. He is my so-called "son Bamboo" and he is two years old. How am I supposed to participate in my life with this child? I am a single aristocrat, just like before! I can't just announce my participation at will.
Also, when I heard that the entry fee was 6,000 yen, I had to look twice. I looked twice. It's expensive. The price has gone up. I don't remember how much it used to be, but I don't recognize that number. It was a price that made me reluctant to participate. I could not casually say, "I'll go!
The number of participants was the same as before: 500. However, with the tight schedule of the announcement in January and the registration starting on January 23 and ending on February 17 (later extended to February 23), I did not think that 500 people would be able to attend. I was sure there would be many people who, like me, were "caught off guard".
Perhaps they had calculated the registration fee with the expectation that the number of participants would be less than the capacity. I can't help but think so. First of all, we were told in advance that there would be no "Tohshima Punishment" this year, which was to be won in the raffle, the most anticipated prize of the event. The prizes were austere, and yet the entrance fee went up.
I wonder what's going on.
Every year, "Nottore!" I asked the members of "Team Awaremi" who used to participate in the "Nottore!" event every year, and none of them declared their participation. Some said they wanted to work on their old meniscus injuries, others said they were currently posted to Hokkaido, and so on. As time goes by, each person's situation changes.
I don't know what to do with a 2 year old.
Even if I were to participate in the race, I would have to send my partner Ishi to the race and stay at home with Takeh and play in the snow. It would be impossible for me to run the race with my two-year-old, who weighs nearly 13 kilograms, on my back. I would have to cross obstacles along the way.
I was very reluctant to participate in the race because of the high entry fee and the cost of the bullet train and lodging. In fact, I thought, "I've already graduated from Nottore! I thought, "I'm ready to graduate from Notre Dame! After all, having a child and spending a lot of money every day makes me hesitant to spend money on something that costs a lot of money. I am willing to pay a few pennies, but when it comes to big money, I am suddenly reluctant.
However, Isi said, "I want to participate in the race," and after much deliberation, we decided to participate in the "Nottore!" again in 2023. After much deliberation, I decided to take part in the "Nottore!
After much deliberation, I decided to participate in the 2023 Nottore! It is the first time to say: "It has been a long time since the race resumed! We have been waiting for your reopening! This is the first time that the organizers and the local people are encouraged by the event. So we should not say, "Let's wait and see how things go this year, and maybe next year we can join the festival. Don't be so optimistic; this is the year to participate.
Ishi was going to run the race. So I had to stay at the venue with Takeh. It was the first time for me to participate in "Nottore! This is the first experience for me since I started participating in the race.
I thought to myself, "Why not just go for a day trip? I thought about it while estimating the budget for the trip. Since we would not be traveling together, the cost would be much lower if we concentrated on the race.
On the other hand, considering the cost of the bullet train to and from Niigata and the time required for the trip, it would be a waste of money. Since we were going all the way to Niigata, it seemed better to stay overnight and enjoy the area to the fullest.
After much deliberation, a two-day, one-night trip to the Okaden family was planned.
Saturday, March 11, 2023 (Day 1)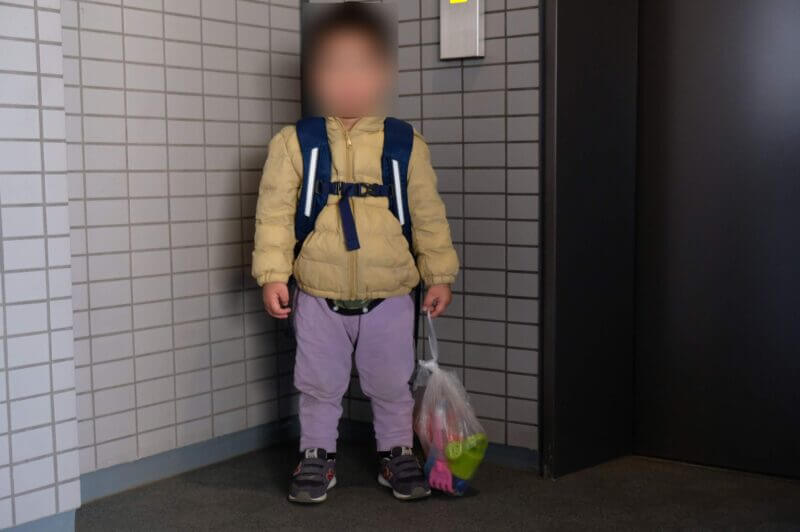 Morning of the day before the race. We left Tokyo for Niigata.
On this trip I had to think a lot about my equipment. Especially bamboo.
He had no snow clothes at all. If we wore normal clothes while playing in the snow, our pants would get wet and we would catch a cold. Buying ski clothes for children is too much, so at least we need to buy rain clothes.
And boots. If he wears normal shoes, he might get wet and get frostbite.
I also need a backpack for the kid with his diapers, wipes, snacks, and drinks. If he can "carry his own stuff," it will take a lot off the parents.
I'm kidding when I say "less work for the parents. In fact, I'm hoping that keeping the kids' gear separate from the adults' will make the trip easier to manage.
Even just for the sake of "running a race in a snowy country," the luggage is more bulky than for a normal trip. When you add the kids' stuff, it becomes a mess in an adult's bag. I bought a bag for the child because it would be better to be able to take it out quickly when I need to change a diaper.
I was greedy and bought a 12 liter bag so that I could use it even after Takeh grew up, but it was too big when I tried to put it on his back. He is about 86 cm tall, and it will probably be another year or two before he can carry a 12-liter bag without feeling uncomfortable.
When we let him try it on in the store, his parents thought, "It's a little big, but it's a size he'll soon get used to. However, this was their impression when they tried on a bag that was hanging on the sales floor and was in a flattened state. When we tried it on, we found that it was indeed a 12-liter bag and that it could hold a lot of stuff. It was so big that it ended up being too big for my kids.
It was so big that the parents had to carry some of the kids' luggage. 12 liters is a size that should not be underestimated.
By the way, this 15 liter bag was of a size that would be comfortable for an adult to carry. It is made by MontBell, so the construction is solid, and as long as the shoulder strap is adjusted, even an adult could carry it without difficulty. No wonder it was too big for a child.
In the photo, the plastic bag he is holding contains sandbox toys. Let's play with snow! But a two-year-old can't do much. He can't even make a snowman, and he doesn't have the physical ability to have a snowball fight. So this time I'll let him play with the snow as if it were sand.
I am sure Takeh, who has never been told about our trip, has no idea why I have a sandbox set up so early in the morning. It's a lot of luggage to take to the local park, and the time of day is odd.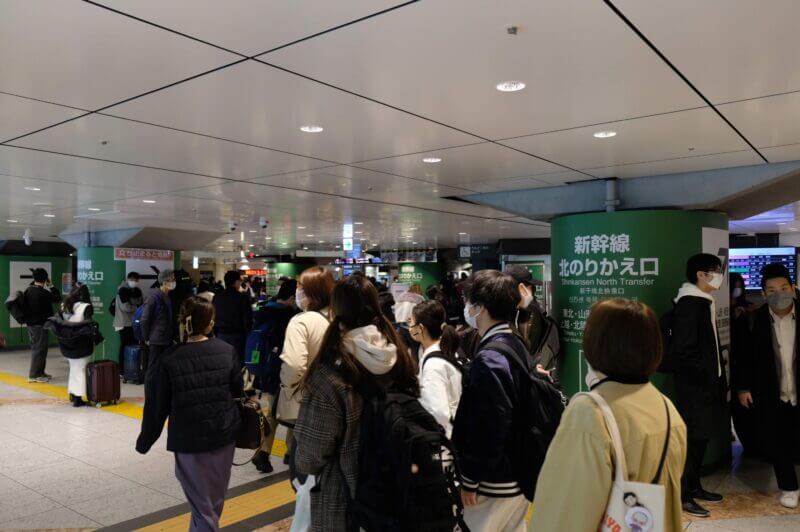 07:23
I left home early in the morning to catch a free seat on the Joetsu Shinkansen.
During this season, the Joetsu Shinkansen is terribly crowded with tourists and skiers/snowboarders. I once took the Shinkansen in such a crowded train, which was "worse than Tokyo's commuter trains…". I had enough of it. I've had enough, especially now with a two-year-old in tow.
I decided to join the "Nottore! I decided to attend the "Notore!" event in mid-February and had a hard time finding a reserved seat on the high-speed train.
I had secured a reserved seat on the Shinkansen leaving Tokyo Station at 10:00 a.m., but as I was thinking about my itinerary, I began to think that I would like to arrive in Niigata earlier. So I decided to try to get an unreserved seat on the Shinkansen, knowing that it would be crowded.
JR East runs a lot of Shinkansen trains, and each train has different reserved and non-reserved seats. Some trains have all reserved seats, while others have only a few reserved seats and most of them are unreserved seats. This is very difficult to understand just by looking at the Shinkansen nicknames, such as "Toki" or "Tanigawa," and is very confusing.
JR East also has a unique discount system and many other complicated systems that confuse users. On the other hand, JR Tokai's Shinkansen is clear and easy to understand. I would like to see JR Tokai follow their example, but it is probably impossible. The Tokaido Shinkansen is unique in that it serves the main artery of Japan, Tokyo-Nagoya-Osaka, and is always crowded. The rest of the lines have a large gap between peak and off-peak times, so they probably need to be more fluid.
I arrived at Tokyo Station 40 minutes before my destination Shinkansen train, and after saying goodbye to two flights on the platform, I thought I would be able to get a seat in an unreserved seat.
I was surprised at how crowded Tokyo Station was. I was surprised at how crowded Tokyo Station was. It looks like it's back to before Corona, but what do you think?
The Shinkansen platform was even more crowded than before, with people lining up at the non-reserved stops, making it difficult to get on and off. Even so, we were not able to find a comfortable seat, and the crowding was at a level where we were able to secure our own seats with some trepidation.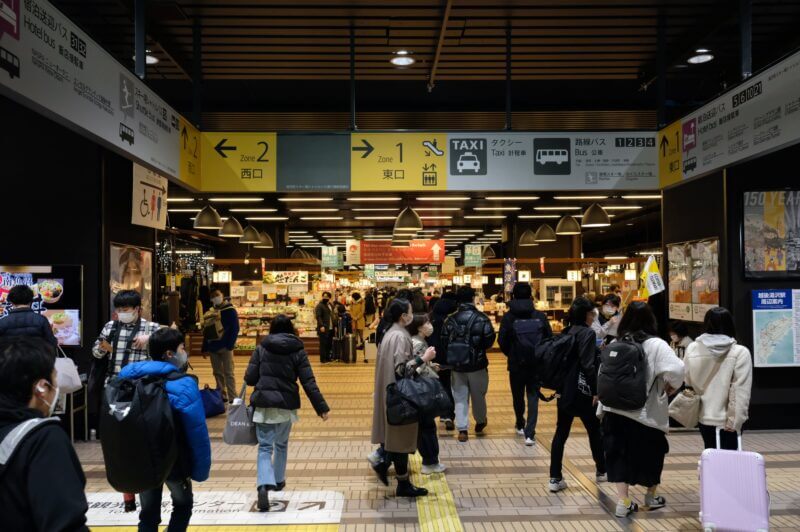 09:40
Arrival at Echigo Yuzawa Station.
CoCoLo Yuzawa", a souvenir shop so huge that it is hard to believe that it is a station deep in the mountains, has a large number of shops. The place has been bustling with people since this morning, but are all these people going to the ski resort afterwards? I couldn't tell just by looking at their luggage.
Many people were dragging their carry-on bags. If they came to Echigo-Yuzawa with carry-on bags, they probably intended to go skiing or snowboarding. However, I felt that few people were carrying skis or boards. It may be that fewer people are buying their own skis and more are renting them at the ski resort.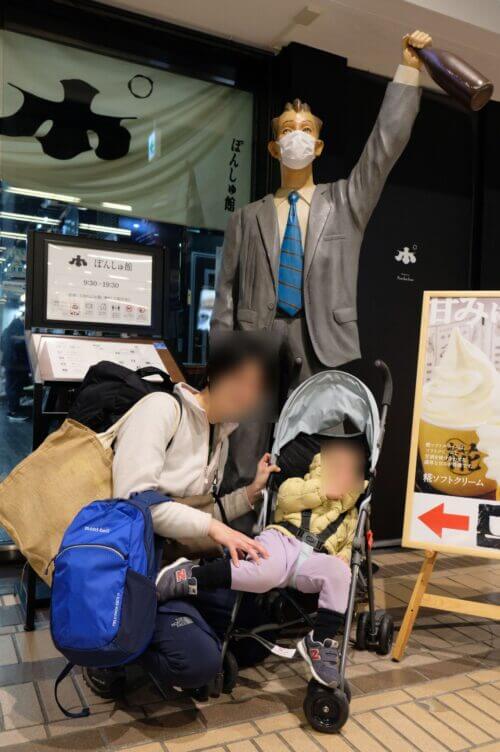 It will be hard to buy souvenirs on the way back to Tokyo tomorrow night. That's what we think based on our experience so far. People who want to return to Tokyo on Sunday night, like us, are rushing to Echigo Yuzawa Station, and there are long lines at the counters of the stores.
So I did my shopping while it was still open.
We also bought some souvenirs and snacks for our trip.
At the back of CoCoLo Yuzawa is Ponshukan, a specialty of Echigo Yuzawa Station. It is a specialty of Echigo Yuzawa Station. It is perhaps the biggest tourist attraction in the Echigo Yuzawa area.
A statue of a businessman stands in front of Ponshu-kan. He was holding up a bottle of sake, but he was wearing a mask. It's the times, isn't it? In the spring of 2023, we will finally be freed from this kind of public view.
My son, Takeh, is being carried in a baby carriage, another newcomer to this trip.
He is too heavy to bring a stroller, and there is a limit to how much he can walk or be carried by his parents.
Since Takeh has a lifestyle where he usually takes a 2-hour nap around 12:00 to 3:00 p.m., we had to have him sleep at the venue on race day. The couple concluded that they would need to purchase a stroller for this purpose.
The question was whether the stroller would move on the bumpy snow, but it did. We were not sure if the stroller would work on the bumpy snow, but we liked the fact that it could be folded up when not in use. We don't want a stroller that is too heavy and bulky for stability.
It's an expense. In fact, I spent a lot of money on gear for my 2-year-old that had nothing to do with the race.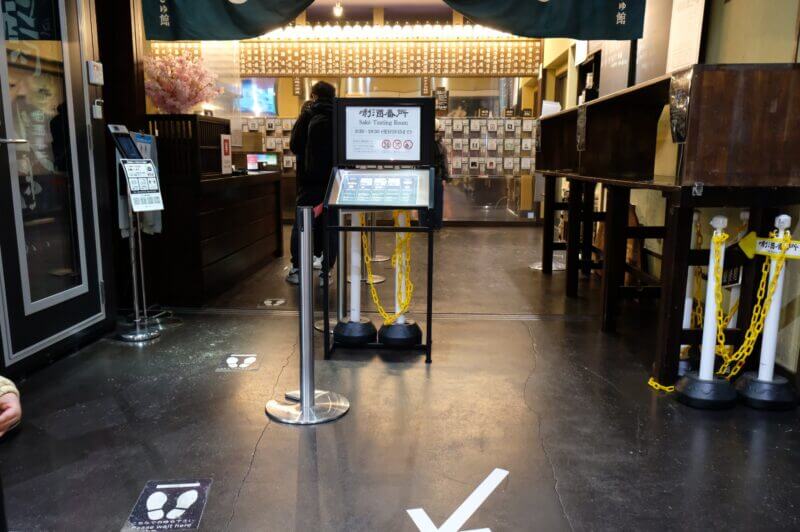 One of Ponshukan's specialties is the "Kikizake-Bansho" section, where you can pay to taste all of Niigata Prefecture's local sake brands.
Since it had been several years since I had been there, I wanted to take a look inside to see what brands and varieties were available.
However, there was a partition at the entrance for visitors and for those leaving, and a thermometer was waiting for me on the visitors' side. And behind it, like a public bathhouse guard, was a reception desk selling medals for tasting.
It was not like the old days when I could take a tour even if I did not drink alcohol. Unfortunately, I gave up and went through.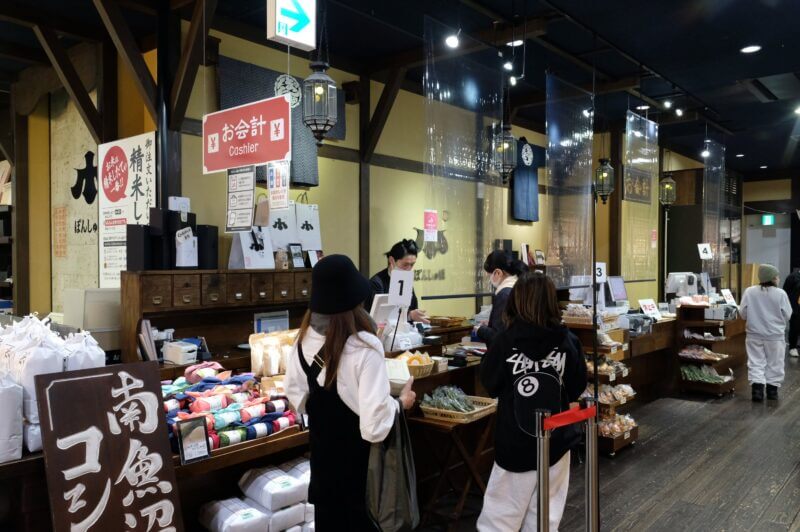 The tills at Ponshukan are terribly crowded.
People buy a lot of souvenirs and even more breakable bottles. The cashiers will politely wrap the bottles for you, causing a long line in front of the cash register. I used to despair because I couldn't get ahead.
Maybe that's why there are four tills now. Although not all four tills were open at that time of day, it is nice to have the expansion available. It seems that I will be able to pay my bill more easily than before.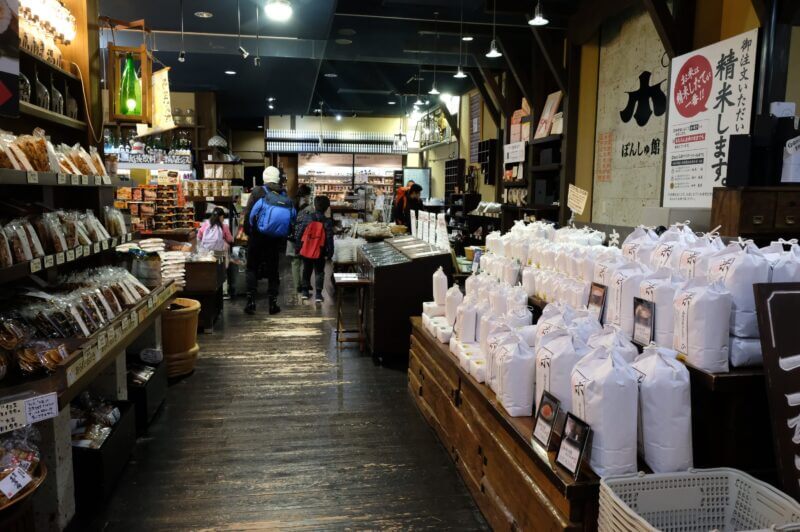 It's been almost four years, but it doesn't feel like a long time. I don't feel the elation of "I'm back here! I don't even feel elated.
Maybe it is because 50% of my brain's CPU is always occupied with bamboo. I've been so distracted by the dawdling two-year-old that I've lost sight of my sense of elation and emotion.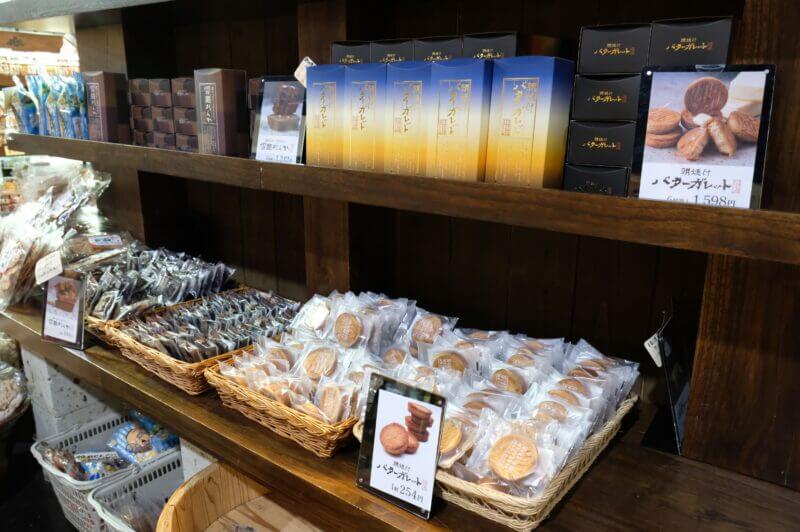 Ishi quickly buys all the sweets she can find.
Apart from gifts for work and acquaintances, she put a rose of sweets for her own consumption into her basket, one after the other. The speed with which she did this was admirable. Without hesitation, she would take a quick look at a product and if she thought, "Oh, this looks good," she would put it in her cart.
Of course, she has a good sense of money, so she doesn't buy things that are unnecessarily expensive. However, she is very honest about her desire to eat and does not go against it. In other words, she goes to the shopping cart.
She says, "But you won't know until you try it.
I've got to try it," he says. Well, that's true. But there are a lot of things you don't have to eat or understand, aren't there? But, says Ishi, "You don't know that until you eat it.
When I knew her, she would boldly say that she had eaten most of the standard souvenirs at Tokyo Station. Whenever she went back to her parents' house or on a long trip, she would always buy two souvenirs, eat one herself, and give the other one to her partner.
She said, "I can't give someone a gift and not know what it tastes like.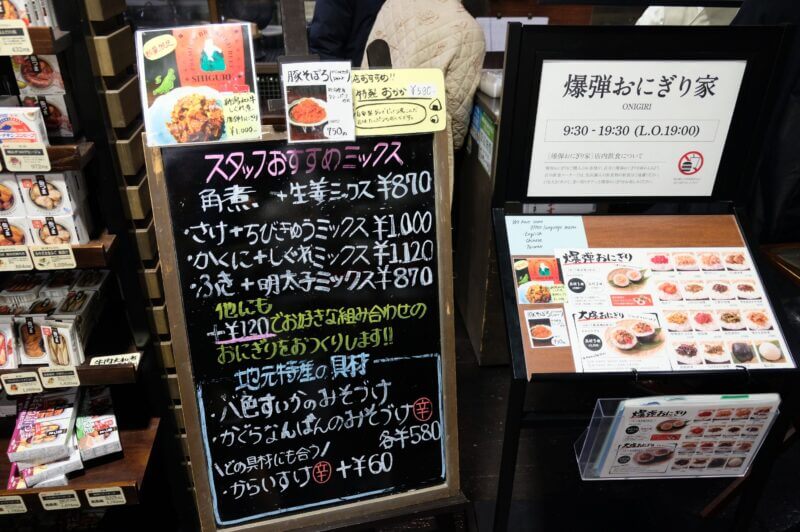 Bomb Onigiri House is still going strong today.
Onigiri that used to start at 470 yen now start at 580 yen. The effects of high prices are here too.
The "big bomb onigiri," made with 4 cups of rice, was 2,060 yen when I ate it in 2017, but is now 2,500 yen.
Both prices have increased significantly.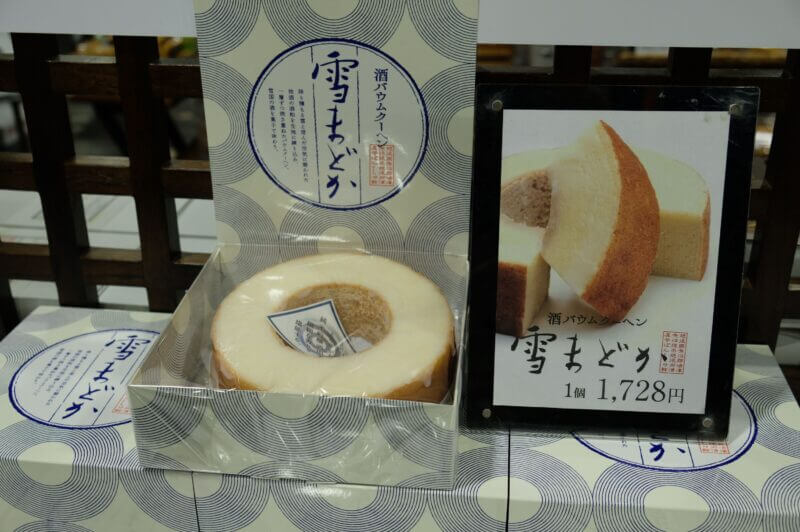 Sake cake "Yuki Madoka".
Since Niigata is a sake-producing region, there are many products with the keywords "sake" and "snow" in their names. Another keyword is "rice.
One would think that rice would be used to make Japanese-style snacks such as okaki, arare, kaki no tane, etc., but instead there are a wide variety of Western-style confections that use rice flour instead of wheat flour, and Western-style confections that use sake made from rice.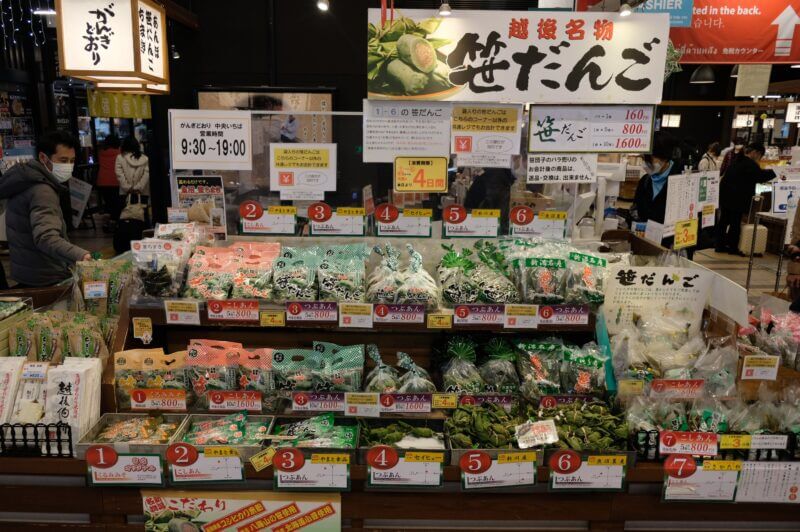 The Sasa Dango shop has a shop at the entrance of CoCoLo Yuzawa.
Seven types are sold and can be bought in pieces.
Each of the sasa dango has its own characteristics, which are interestingly expressed in a matrix with two axes.
The x-axis is "less sweet" and "sweeter", and the y-axis is "mochi mochi" and "soft".
I wondered which of the plotted points would suit my taste.
Ishi and I discussed it, but we are not familiar enough with sasa-dango to talk about it that way. I don't know! was our conclusion.
So, based on Ishi's argument that "you won't know until you try them," we bought two. As expected, it was impossible to buy all seven types of sasa-dango with a short expiration date.
(continued)