Sunday, March 12, 2023 (Day 2)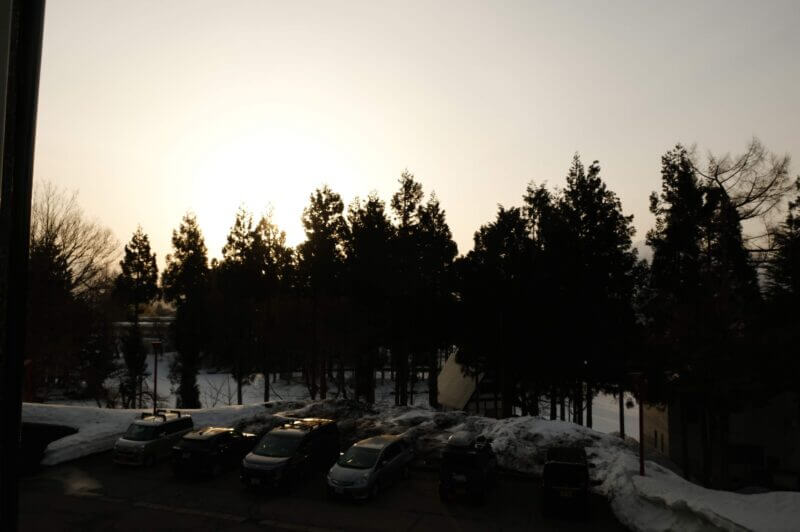 06:49
The morning of the second day has arrived.
The weather looks good again today, thank God.
Before breakfast, I take a morning bath. Since I spent the night at a hot spring resort, I wanted to take as many baths as possible.
I took the morning bath with my son Takeh, who is a young man. It was the first time in his life that he had been in a women's bath. Ishi said there was no one else in the bath.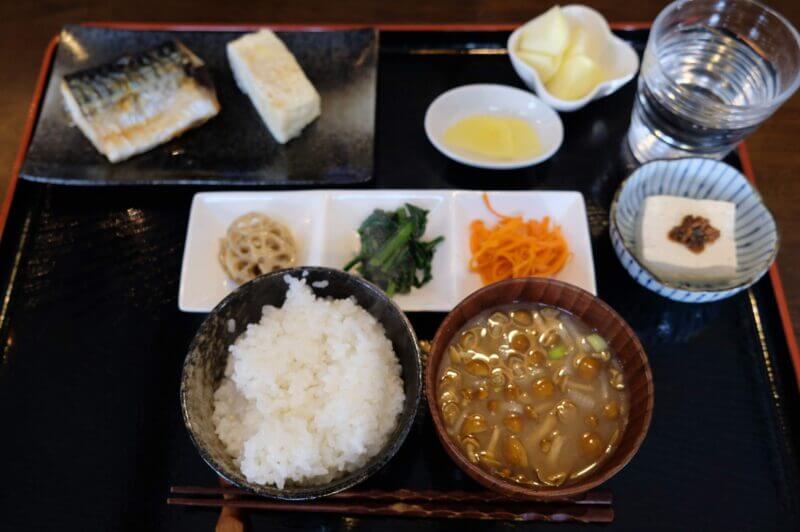 07:31
We had breakfast in the cafeteria.
Since the dinner at this inn was very simple, I was a little worried that the breakfast would be simple as well. I was a little worried, but I was satisfied with the breakfast, which was sufficient for my needs and tasty. In fact, there were more plates for breakfast than for dinner.
Looking around the dining room, I saw many guests I had not seen last night eating their food. Where on earth did these people come from? Last night, not only the dining room, but the entire inn was deserted.
They probably went skiing at the nearby ski resort. They probably enjoyed night skiing and stayed here on a no-dinner-breakfast plan.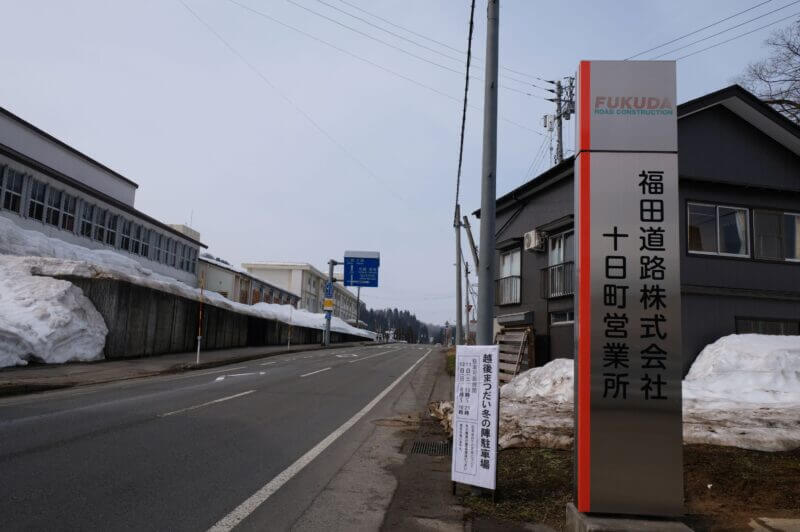 09:04
After breakfast, we check out and leave the inn. Our destination is Matsudai, Tokamachi City, where the "Nottore! Matsudai Castle" is located in Tokamachi City.
The reason I decided to check out early and arrive there early was because I had an uncertain factor, a two-year-old child, as a member of my family. He might not want to get in or out of the car, he might not want to walk, he might not want to go to the bathroom, or he might do other things that adults don't expect him to do. So we left plenty of time for them to get there.
Then we arrived at Matsudai at 9:00 a.m. So far, when I have participated in "Nottore! Matsudai Castle," I have always followed a schedule of arriving just before the 10:00 a.m. registration deadline. This is because I have no time to spare even if I arrive early. So this was the first time for me to arrive an hour before the registration desk closed.
As the saying goes, "the early bird catches the worm."
There was an empty parking lot near the venue.
I was completely caught off guard, and as I drove past the parking lot, I immediately said to myself, "What? You just drove past an empty parking lot, didn't you? I realized that I had just passed an empty parking lot, and I quickly turned around.
We were lucky there was no car right behind us. We would have had a collision.
We were about to have a collision! Matsudai Castle" is being held as part of the "Echigo Matsudai Winter Campaign", so there is no parking at the venue itself. There is a small parking lot near the venue, but it fills up quickly. Therefore, there is a large parking lot in a remote location that is a bit too far to walk to, and a free shuttle bus runs between the parking lot and the venue.
Of course I planned to use this "Park & Ride" service again this year.
However, I was pleasantly surprised to find a parking lot within walking distance of the venue.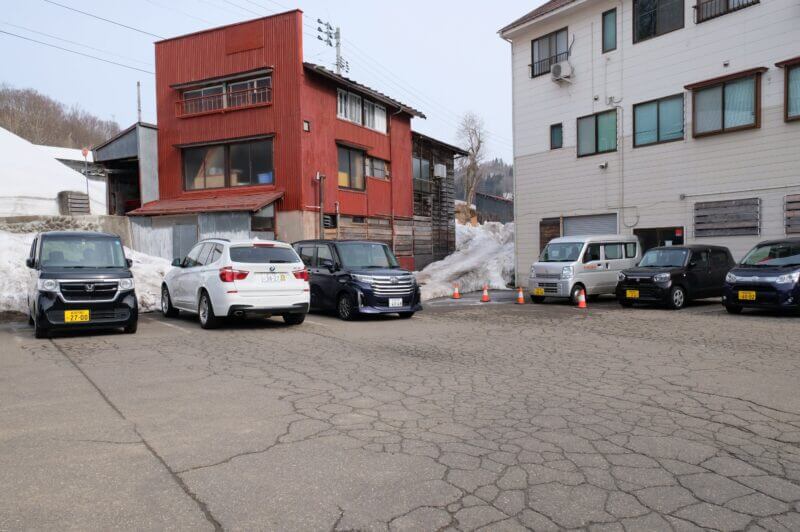 So, I parked.
I was so lucky that I went to check the sign at the entrance of the parking lot, "Am I really allowed to park here?" I was so lucky that I went to check the sign at the entrance of the parking lot.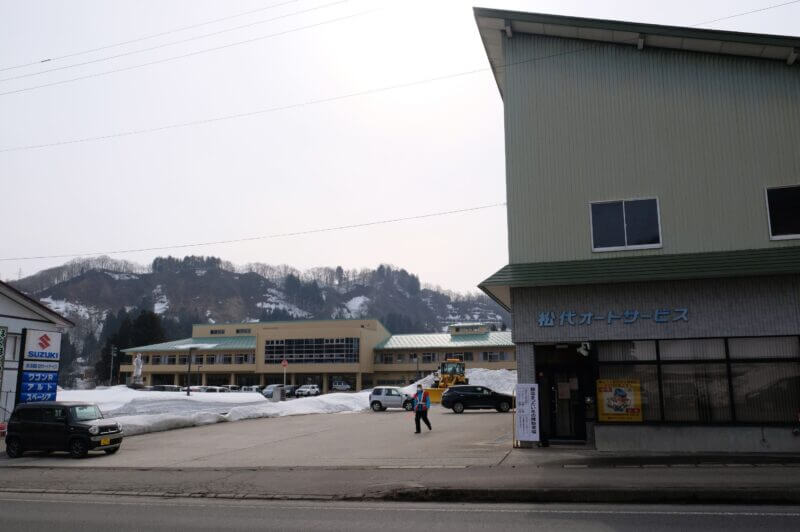 That said, this year, the "Nottore! Matsudai Castle" has been greatly reduced in size.
The application guidelines stated that the maximum number of participants would be 500 as in previous years, but it seems that only about 260 people ended up entering the event.
The reason for this may be that COVID-19 created a several-year blank, and some of the people like us who had "made it a rule to participate every year" dropped out, as well as the fact that the event was announced late and people were not aware of the event.
I also think that the high entry fee of 6,000 yen per person was another reason for the decline in the number of participants.
As a result, we were able to easily secure a parking space close to the venue, which was a blessing for us.
The parking lot across the street from where we parked was also reserved for the event. It was still empty there, too. I had never seen such a scene before.
However, in the 10 minutes or so that we were in the car getting ready, more and more cars arrived at the two parking lots, and in no time at all they were full. It is important to arrive early, after all.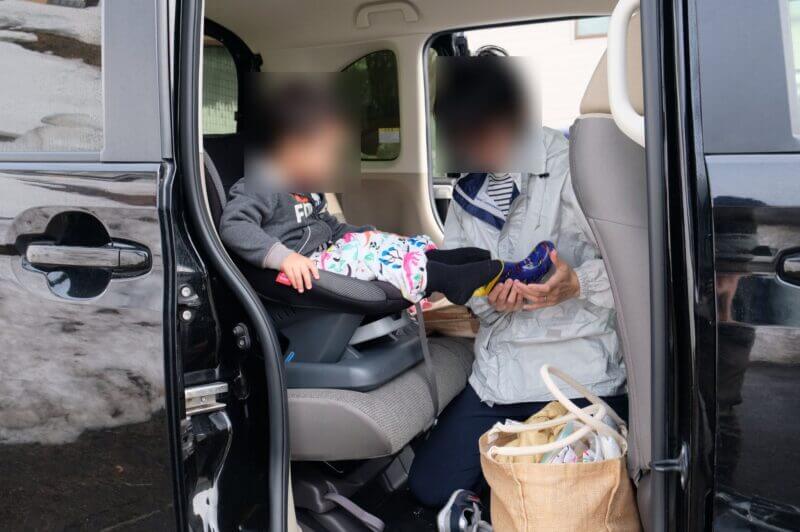 09:09
Getting ready for Takeh.
It will be warmer today. If we put him in rain clothes, even his jacket, he would probably say "Oh,hot!" and be reluctant to wear it. So we decided to go to the snowy venue with only rain gear on his pants and boots. Of course I brought a stroller for him.
The venue is used as a playground in the summer, so it is covered with snow this time of year. There is no place for him to lie down and say, "I'm tired. If he wants to take a nap, he has to sit in the stroller. The reason we bought the stroller in the first place was to take him to "Nottore, Matsudai Castle! Matsudai Castle".
Translated with www.DeepL.com/Translator (free version)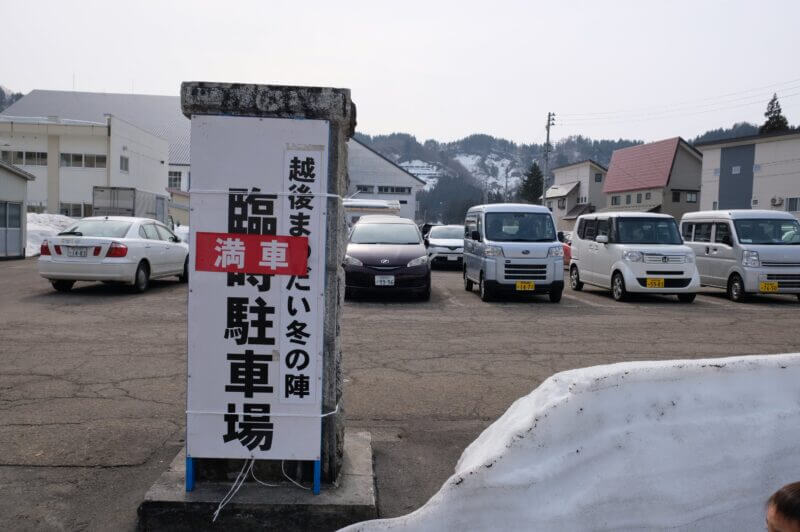 09:18
We walked to the venue.
The Matsudai High School parking lot at the entrance to the venue is very popular as the "closest parking lot to the venue. Some people even go out of their way to arrive early to park in that lot.
This year, by chance, there might still be some spaces available. I peeked in and found a "full" sign on a post at the entrance. As you might expect, this parking lot is always popular.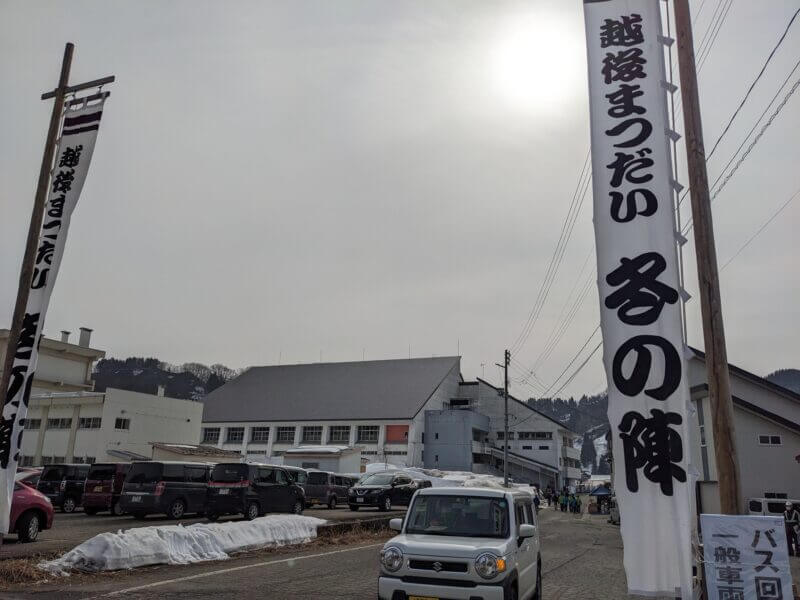 09:18
It's been four years since I've been here.
Every year when I come here, I smile and say, "Ah, here we go again. It's because I always come here at a certain time of the year.
This year I came again. This year I am not racing, but I brought my family back.
Every year I check the amount of snow at the entrance of the venue. Every year I hear, "Oh, it's a mild winter. It's warmer than last year," my friends and I would say to each other, and this year was no different. This year was no different from any other year we have had in the past.
Living in Tokyo, the term "mild winter" is not so familiar to us and we do not feel the seriousness of it. However, in Japan's most famous region for its heavy snowfall, the fact that there has been so little snow makes even me worry. Is everything okay? Is the earth okay?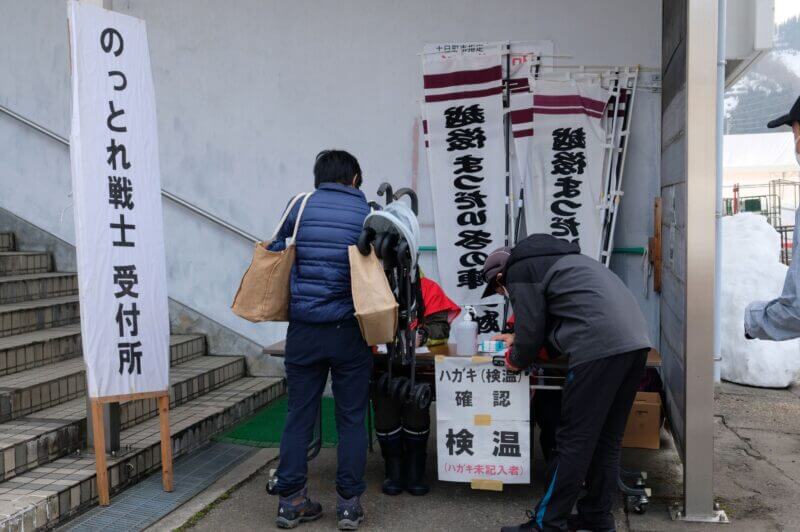 09:21
This year, the "Nottore! Matsudai Castle" registration process was a little different this year.
Normally, the registration desk is located in the gymnasium where the race participants gather, but this year the staff conducted an alcohol-based hand sanitizer and temperature check at the entrance to the gymnasium.
Those who had a body temperature of 37.5 degrees Celsius or higher were not allowed to participate in the race.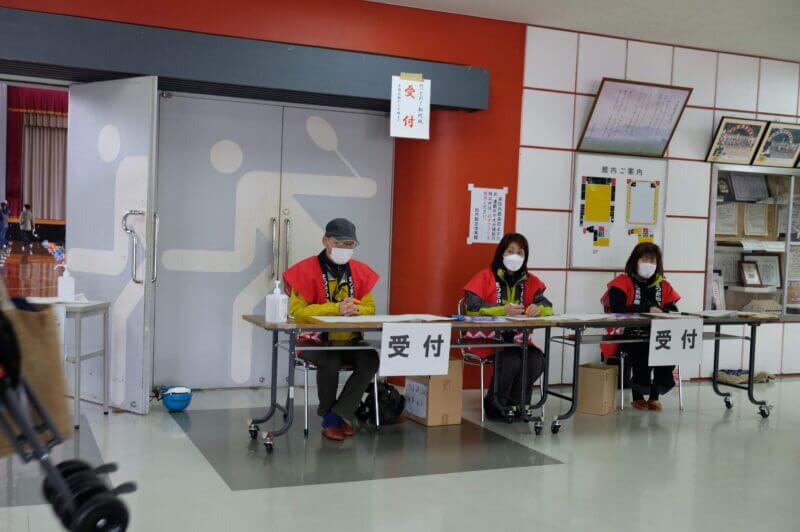 09:22
Once inside the gym, there was a registration desk for race participants as in previous years. However, the number of participants is much smaller than in the past, so the size of the registration desk is smaller.
This year, registration for the race started late, and the time between the registration deadline and the race itself was short. As a result, sealed envelopes containing the race outline and the "Echigo Matsudai Winter Camp" event poster were not sent to participants, but only postcards with a receipt number. They are asked to check the official website for details of the event.
This is a very simple procedure. The situation regarding COVID-19 is still unpredictable, and not only will participants not be able to attend due to illness, but the organizers may also have staff members become ill, which could hinder operations. There was also the possibility of a pandemic that could jeopardize the event itself. Therefore, the organizers probably thought about cutting out as much work as possible.
(to be continued)