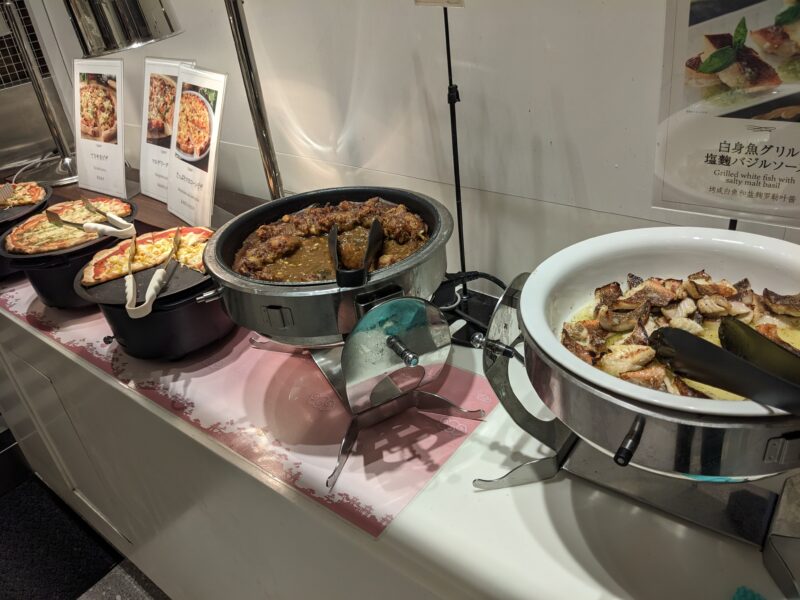 On that day, I was in Toyosu, Koto-ku, Tokyo, on business.
The area combines a business district, luxury townhouses, and the huge commercial facility "LaLaPort". It may be a somewhat rare space even in Tokyo.
I have known Toyosu since the 20th century, when the IHI shipyard occupied much of the area. It was even said, "Toyosu has a lot of people who do manual labor, so there are many restaurants that serve hearty, richly seasoned food.
What about it? Nowadays, it is no longer a place for physical labor. Rather, it is lined with offices for those who do brain work.
Even though it is a bit far from the area where the Yamanote Line runs, prices are still quite reasonable. When it comes time to eat lunch, prices are reasonable, except at chain restaurants such as Marugame Seimen and Katsuya. And the cheapest restaurants have huge lines at lunch time.
I found this restaurant when I was walking around the restaurant area of Lalaport.
The restaurant specializes in buffets, but I was surprised at the price. The price was 1,099 yen including tax.
What, even though it's in Toyosu? Even though it's in Lalaport? Even though it's all-you-can-eat?
This restaurant, Grand Buffet, has four patterns of menus. Starting with "Lite," which is the cheapest and offers the fewest choices of food, there are "Standard," "Special," and "Premium. The higher the price, the more you can indulge yourself with small baskets, steaks, sushi, and so on.
I chose the lowest price "Lite," but at noon, there is a "45-minute limited" plan for this course. It is 1,099 yen. The price of the "light" course with unlimited time is 1,649 yen, so you can see that the price is considerably lower than the "light" course.
It's a weekday lunch during the work week anyway. Unless you want to skip work, 45 minutes is just fine. It's perfect, isn't it?
Since the course was originally priced at 1,649 yen, the variety and quality of the food is satisfactory. The drink bar is an extra charge, but it is not a problem at all. 45 minutes is all I have to do to get my food, eat it, and get it again. I don't have time to drink juice or coffee at the drink bar. Water is enough, water is enough.
Thus, in the Toyosu area, you can enjoy all-you-can-eat meals at a price lower than that of most restaurants. However, it is only available on weekdays and limited to 45 minutes.
(2023.01.16)