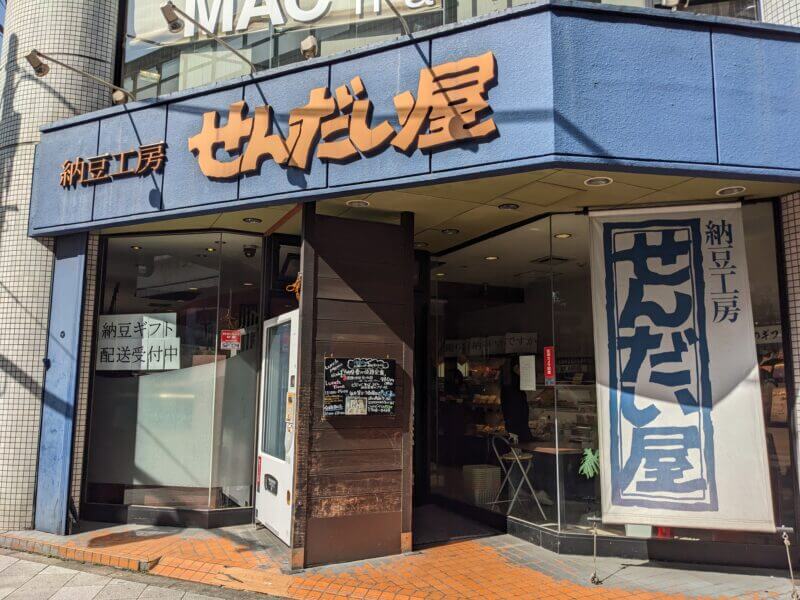 Near Ikejiri-Ohashi in Setagaya-ku, there is a store called "Sendaiya" that specializes in natto.
I am surprised that there is such a thing as a natto specialty store. It is a fresh surprise to know that such a type of business can exist! It is a fresh surprise. There are "tofu specialty stores" all over Japan, but even so, they are on the decline. It is very interesting that there is a store that specializes in "natto," a food that is eaten relatively less frequently than tofu.
Originally, the store was located in Isawa Onsen, Yamanashi Prefecture, and a branch was established in Tokyo. It is complicated because it is in Yamanashi Prefecture but calls itself "Sendai," the capital of Miyagi Prefecture.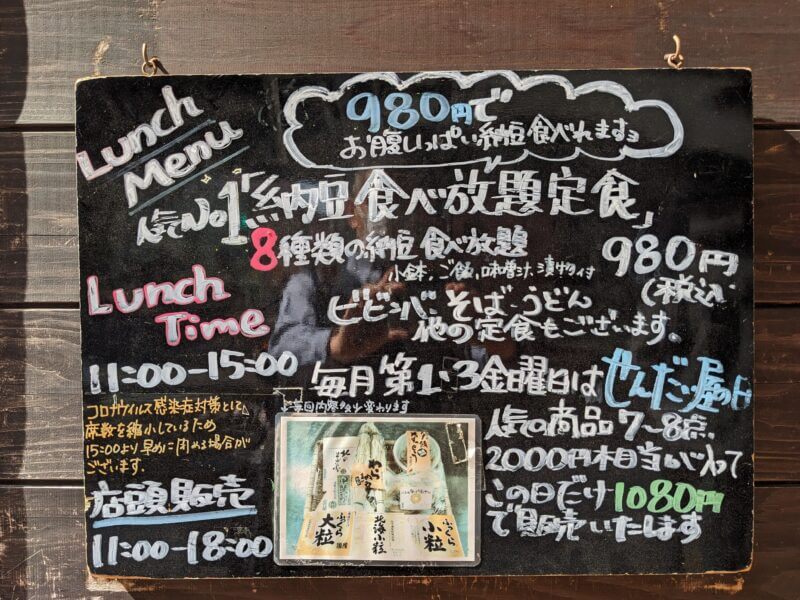 This restaurant has a dining room where you can eat rice at lunchtime.
Of course, you can eat natto, but what stands out is the existence of an "all-you-can-eat natto meal" menu.
For 980 yen, you can eat as much natto as you want from eight different varieties.
All-you-can-eat natto! I had never thought of that before. It is amazing.
It is amazing that there are eight different kinds of natto from one producer.
Anyway, the place is full of surprises. The store, the menu, the selection of natto. I had to try it.
So I visited the store.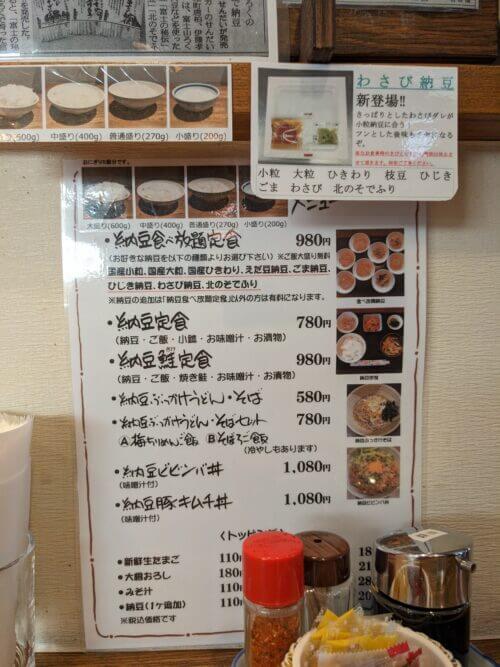 The composition of the all-you-can-eat natto meal is as follows.
Rice, kiriboshi-daikon, miso soup, pickled nozawana, and 8 kinds of natto.
The only thing you can eat as much as you want is natto. Natto is an ingredient that is often eaten over rice. So if you plan to eat a lot of natto, it is important to determine how much rice you eat.
And I have to think about the pace of that rice, how fast I will go through it.
I can choose from the following four types of rice size without changing the price.
Small (200g), Normal (270g), Medium (400g), and Large (600g).
I ordered a large portion. At my age, I was a little embarrassed to order a large portion, but I was embarrassed when I ordered the all-you-can-eat menu in the first place.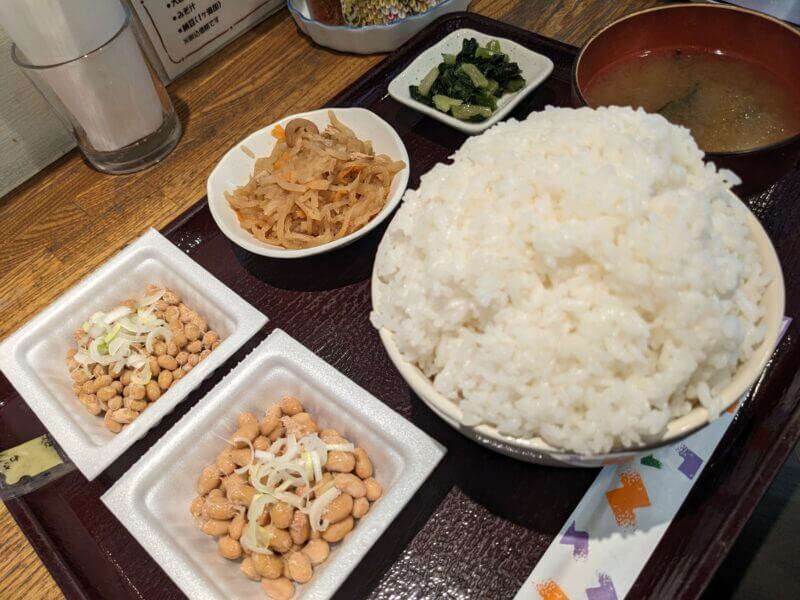 You can request up to two kinds of natto at a time. Therefore, you cannot order "Please bring me all 8 kinds of natto from the beginning!
I was a little embarrassed to order more natto, but I was relieved to see other customers who were there at the same time ordering more natto one after the other.
The Natto,
There are eight kinds of natto:
Japanese small grain, Japanese large grain, Japanese ground grain, edamame natto, sesame natto, hijiki natto, wasabi natto, and kita no sodefuri (northern soybean sprouts).
There are eight types of natto.
At the beginning of the meal, I carefully tasted them one by one. Well, I am not sure. I know that the size of the grains is different and the texture is slightly different. However, I could not find a way to organize the different tastes of natto in my brain. I feel very frustrated because I have no feedback other than "I'm eating natto.
I tried it without any seasoning to check the taste of the ingredients, but it still had a strong natto smell. The texture of the natto was too soft and bland, making it difficult to eat as a side dish with rice. So I ended up pouring soy sauce on it, but then all the natto tasted the same.
A large serving of rice (600 grams) was the perfect partner for the eight kinds of natto. Just like that, the eight kinds of natto and 600 grams of rice were gone.
It was delicious and filling, but what I was eating was just rice and natto. For being so full, it was an ungreasy meal, and my brain was in a state of confusion. In my previous diet, "eating a full meal" meant eating some kind of fatty food.
It was an interesting experience to experience this confusion in my brain.
I would like to try various food and drink comparisons, not just this time with natto. It is a good opportunity to sharpen my senses and vocabulary. The natto comparison made me realize how dull my senses are.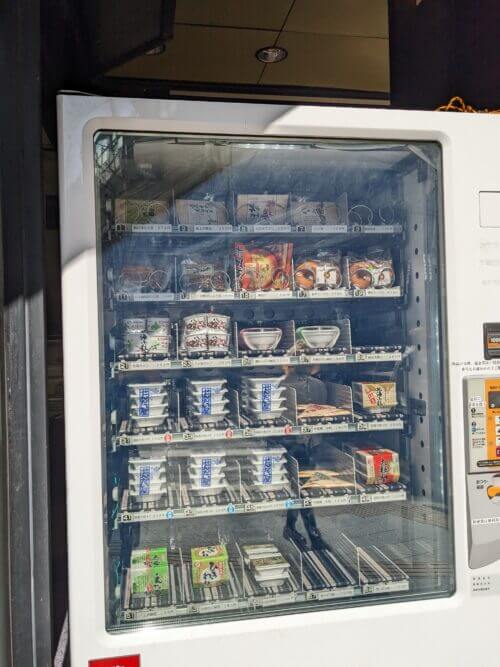 It is amazing that this store has a natto vending machine in the store. So you can buy natto 24 hours a day, 7 days a week, whenever you feel like it. It is an interesting store that takes on different challenges. I would like to visit it again sometime to try 8 kinds of natto.
(2023.03.08)