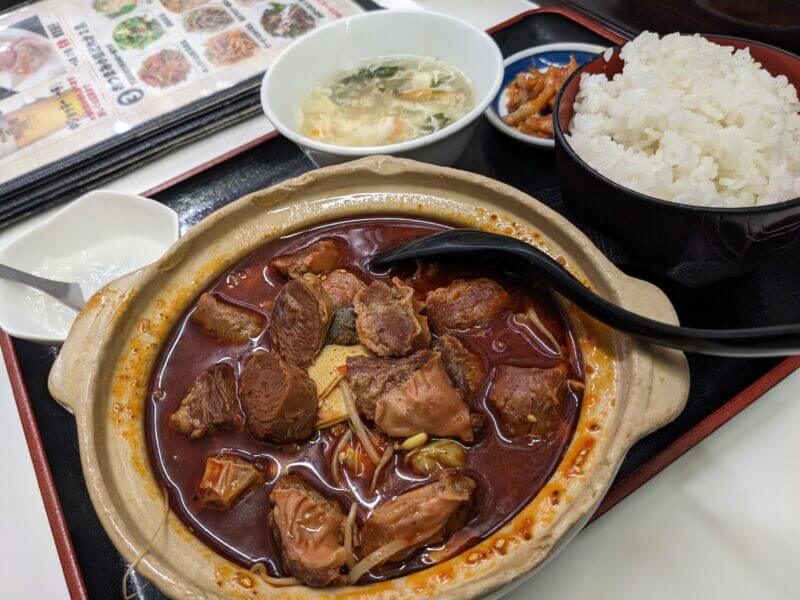 In front of Otsuka Station, there is a Chinese restaurant with a flashy sign. The yellow sign leaves a lasting impression even if you are just passing by. Even if you are just passing by, the yellow sign leaves a strong impression.
It's called "台湾無骨香脆鶏柳," and I have no idea how to read it in Japanese. Not only do I have no idea how to read it, I don't even know what it means. Even though we are from the same cultural sphere of Chinese characters.
Recently, there has been an increase in "stores with names that Japanese people cannot understand. I am sure there will be more of them in the future.
I forget what I ordered or the name of the dish, but it must have been a lunch for about 1,000 yen. It consisted of a spicy, numbing clay pot dish with rice, soup, and pickles.
As I ate this Sichuan-style dish, I idly wondered, "Will I eventually come to eat this taste as a matter of course? I wondered absentmindedly.
Of course, I have eaten this hot and spicy dish dozens of times in the past, so it is not a rare taste for me. So it is not a new taste for me. However, as a Japanese person, this taste is still foreign to me, and I still feel uncomfortable no matter how many times I eat it. Compared to Indian or Thai food, it does not blend well with the Japanese palate.
If I eat this food thinking that I am eating a foreign cuisine, I can enjoy it. However, I do not feel that it tastes good enough to be incorporated into my daily diet.
I am sure that this cuisine and other foreign tastes will continue to flood my environment in the future.
I wonder if, in 10 years or so, I will have a taste for hot and spicy food that will be a regular part of my diet. It is hard to imagine.
(2023.03.30)