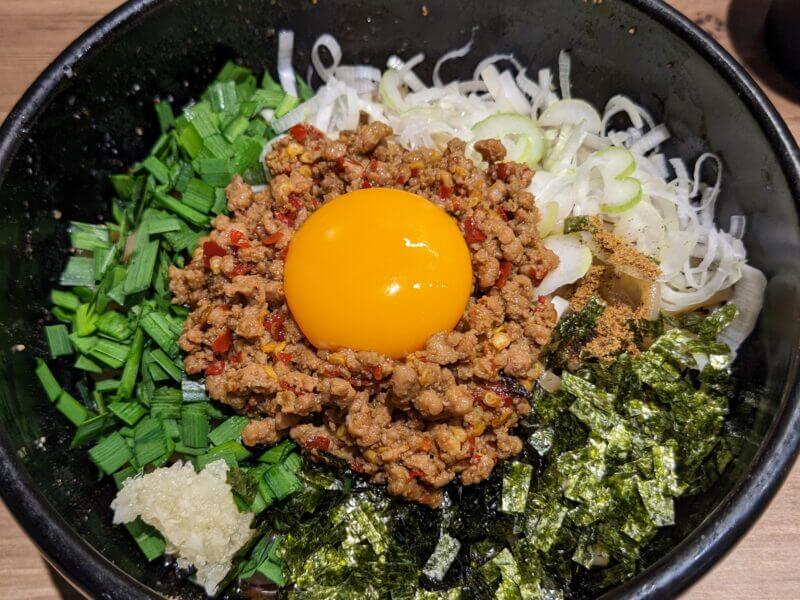 This was the first time I had Taiwanese mazesoba in a real restaurant.
At the end of the meal, I intentionally left some of the ingredients in the bowl and asked the waiter for "oi-meshi" (follow-up rice), and he served me a small amount of rice. The rice and the leftover ingredients are very tasty when mixed together.
This is the same pattern as the "soupless tantanmen" often eaten in Hiroshima.
What is the difference between the two?
First of all, Hiroshima's "soupless tantanmen" is of course an adapted local dish with its roots in Chinese Szechuan cuisine. On the other hand, "Taiwanese mazesoba," which originated in Nagoya, is a dish that has nothing to do with Taiwan. It was originally adapted from the idea of "Taiwan ramen," a noodle dish filled with spicy shredded meat that is popular in Nagoya. Therefore, there is no connection between which is the original and which is a copy.
Still, it is interesting that the resulting dishes are so similar. I like both, by the way.
Taiwanese mazesoba seems to be more colorful with different ingredients on it.
I have bought frozen "Taiwanese mazesoba" noodles many times in supermarkets and convenience stores. However, I had never thought about what the real thing was like because I had heated the frozen noodles in the microwave and eaten them as they were.
I was happy to see the real thing this time. The rice topping was delicious as well. Now I want to try the soupless Tantanmen. I will find the time to eat soup-less Tantanmen again.
(2023.05.19)