I went to STARBUCKS RESERVE® ROASTERY TOKYO, which is located between Nakameguro and Ikejiri-Ohashi.
There are many Starbucks stores around the country, but Starbucks Reserve is one of the more expensive brands that uses high-quality beans. The star and the letter "R" are its trademark.
In addition to roasting the beans for Starbucks Reserve, this shop also operates as a cafe. The building is so large that it would be impossible for a stand-alone cafe, yet inside it looks like a theme park.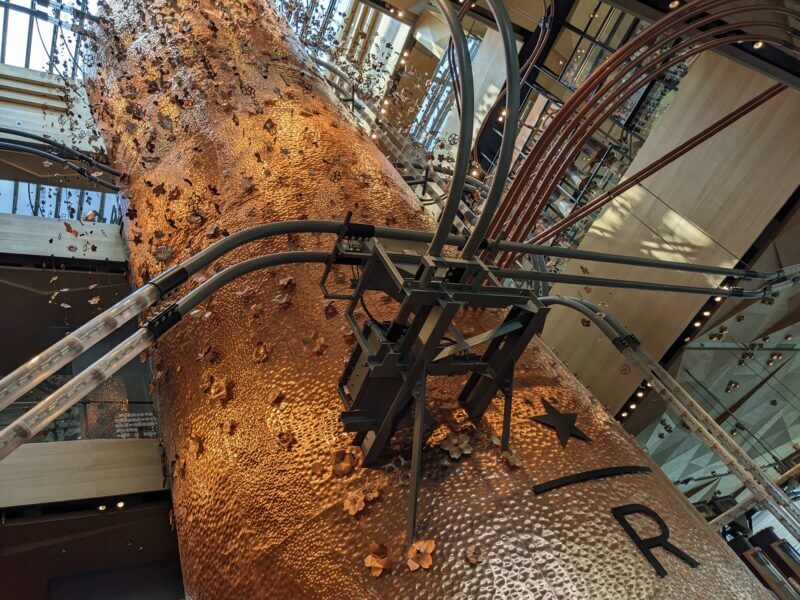 Inside the building, there is an atrium on each floor, and in the center of the atrium is a huge roasting machine. Pipes extend from the roaster in all directions, and visitors can see finished roasted beans and beans to be roasted pass through the pipes.
I am amazed not only by the physical scale of the place, but also by all the tricks of the trade. To say that there are nothing but surprises would not be an exaggeration.
The kitchenware, drippers, espresso machines, and all the other fixtures in the store are beautifully designed and unified with black as the base color. The shop also sells a variety of goods, including original ceramic cups, but there is no touristy clutter. There are so many customers, so many things for sale, and so much information, but it feels clear and uncluttered. I think this is also a triumph of design.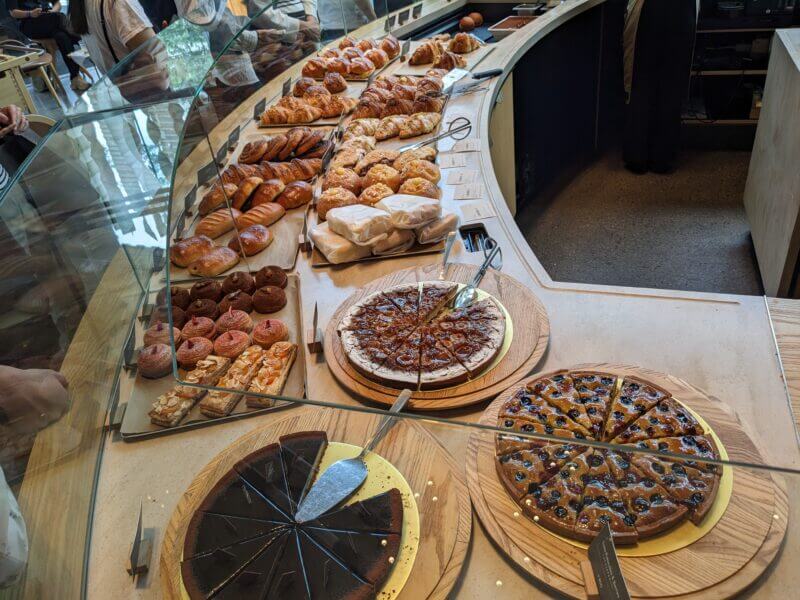 The first floor sells not only bread, cakes, and coffee, but also a section for selling coffee beans by weight and a merchandise area; the second floor sells herbal tea, black tea, and Japanese tea-based drinks under the "Tibana" brand; the third floor is a bar selling coffee-based cocktails; and the fourth floor has benches for eating and drinking. The third floor is a bar selling coffee-based cocktails, and the fourth floor has benches for eating and drinking.
To be honest, it is in a very inaccessible area. So my wife and I rented a shared bike from Shibuya station to get there.
Despite the inconvenience of the location, it is a tourist attraction that attracts a lot of foreign tourists as well as Japanese. It took 20 minutes to order coffee and another 20 minutes for the coffee to be ready. So if you are a first-time visitor, it is better to order coffee and bread or sweets at the entrance on the first floor instead of exploring each floor.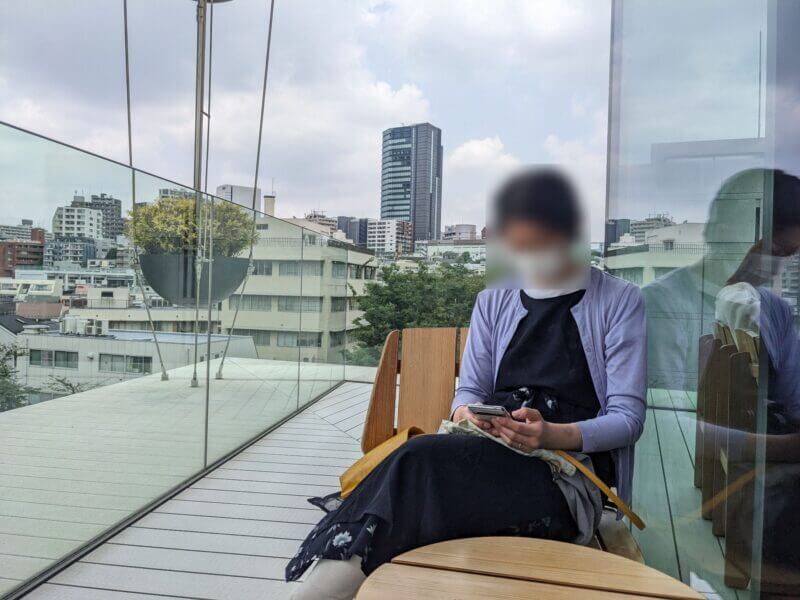 It has been four years since my husband and I visited this area.
Four years ago, when this facility had just opened and we were not even dating yet, I heard that a Starbucks roasting plant had just opened in Nakameguro. I heard that a Starbucks roasting plant had just opened in Nakameguro and that it was going to be great. I had suggested to Ishi that we visit there sometime.
About a week prior to that day, I had "kabe-don(slamming one's hand into the wall in front of somebody)" her and confessed to her that I had developed feelings for her. However, Ishi, who was planning to go to Africa, said, "I can't have a relationship with the opposite sex right now," and walked away. The next day, when I became calm, I regretted my decision to take the hard line of wall-don and spent my days in a state of sadness and sobriety.
After that, I had not heard from Ishi since then, and I was disappointed that she had kept his distance from me, but a week later, she suddenly contacted me saying,
"I'm in Jiyugaoka, would you like to go to Starbucks Loastery in Nakameguro after this?"
She always contacted me out of the blue, and on this particular day, I was like, "What, now? It's already night? I remember I was in a hurry to get ready for the day.
We walked from Nakameguro to the Starbucks Law School together, which was even more popular then than it is now, and it was so crowded that even though it was after sunset, there were restrictions on entry. Since there was no chance of getting in, we had to give up and make a U-turn to Nakameguro station.
Afterwards, we talked about having dinner at a yakitori restaurant in Shirokane, and headed for Shirokane on a long walk. I wanted to extend the time in the present moment as much as possible.
We stayed at the yakitori restaurant until it closed, and we talked until we missed the last train and ended up taking a cab home, but she still did not give me a positive answer. I also felt sorry for what I had done to a fellow eatery-goer whom I could talk to in a friendly manner, so I could not be more aggressive. I was even talking about "low-dose pills" at the yakitori restaurant. It was not a topic that I would talk about with a female friend who was not my girlfriend, so I guess I was really desperate.
Nevertheless, half a month later, Isi started to come over to my house, and within a month, we were living together halfway. The reason why we became semi-living together is because Ishi was always tired, so she would come to my house to eat dinner, and after eating, she would go to bed in a daze. Then she would wake up the next morning when it was time to go to work. So, we didn't start living together by suggesting that we should live together.
So, this restaurant is a place that holds important memories for both of us.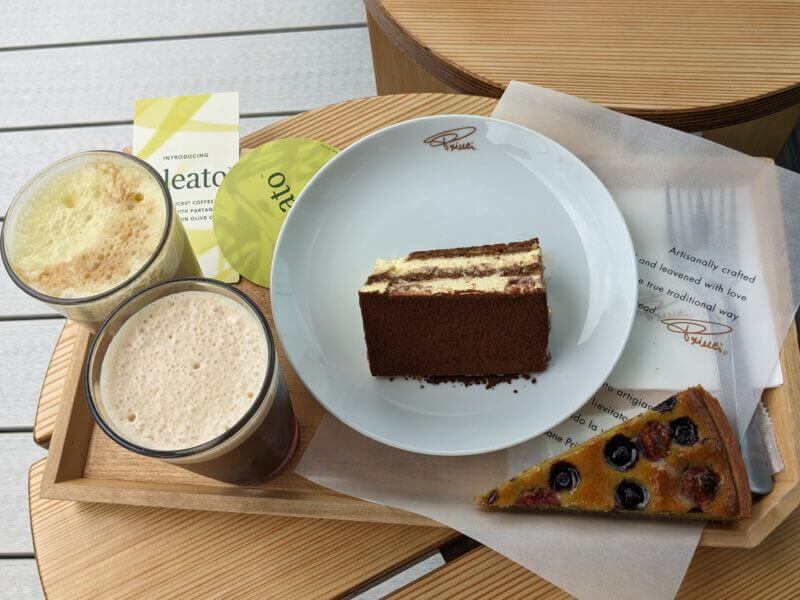 Enjoy special coffee and sweets on the 4th floor terrace.
The bread made in the shop also looked delicious, but this time we decided to just enjoy the sweets.
The tiramisu with mascarpone was so soft that it fell on the plate on the way from the first to the fourth floor. Very tasty.
So this restaurant is a place that holds important memories for both of us.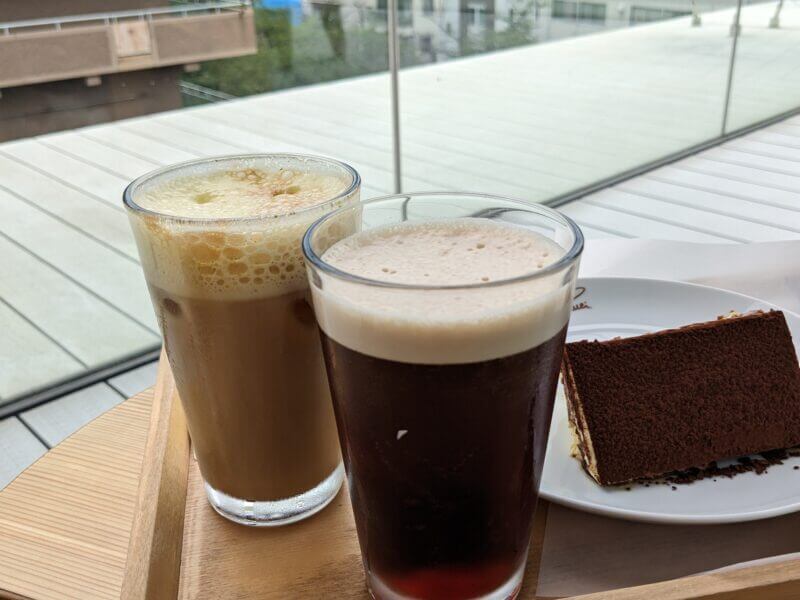 Both drinks are cold.
The Guinness-like drink on the right is the "Nitro Cold Brew". "Nitro stands for nitrogen. Adding carbon dioxide to beer to make it frothy has been a common practice for a long time, but recently it has become popular to add nitrogen to various drinks to make them creamy and fine-grained. It is said to improve the foam not only in coffee but also in beer. I had read an article about this just a few days ago, so I was very happy to see Nitro Coffee.
"Cold brew refers to coffee brewed with water. It is brewed with cold water, not hot water, over a long period of time. This prevents the coffee from extracting unwanted flavors, resulting in a clean and refreshing taste.
The cappuccino-like drink on the left is the new Oliato Golden Cream Iced Espresso. Surprisingly, olive oil is mixed with coffee. It's a great idea.
To be precise, they put cream made with extra virgin oil specially blended for Starbucks in a cup, poured espresso into it, and then added oat milk (juice extracted from oats, the ingredient in oatmeal).
A slightly sweet drink. It has the taste of coffee, and the olive oil adds a very rich flavor. It was a drink I would have again and again.
The price is high because it is a "Starbucks Reserve" brand. Two drinks and two cakes cost 3,547 yen, including tax. This is not a price I would consider for everyday use. Still, it was a very satisfying and comfortable place, a special place to remember, and delicious drinks and food. I have no complaints. I don't know when my next visit will be, but I'm looking forward to it.
(2023.05.22)