They say that aji fries are booming these days.
After all this time, I still wonder why aji fries are booming. However, I myself was surprised when I met a delicious aji fry. It is not just aji fries, but there must be more and more aji fries in the world.
Fried aji is a standard dish for the common people, but there is certainly a big difference in taste. It is a dish that is crispy because it is fried and can be somewhat fooled by the delicious sauce, but there is a clear difference in taste depending on the main ingredient, the horse mackerel.
The fried aji found in inexpensive menus and delicatessens is thin. Sometimes the texture is very thin, as if you were eating a bone cracker. And there is a smell that is unique to blue fish. The more expensive fried aji, however, is thicker and fluffier to begin with.
I had noticed this difference myself, but I had never really thought about which restaurant's fried aji was better or worse.
I think the reason why fried aji is said to be booming now is not only because more and more restaurants are offering good fried aji, but also because more and more people are willing to pay a little more for good fried aji. Not long ago, no one would have been willing to pay a high price for fried aji.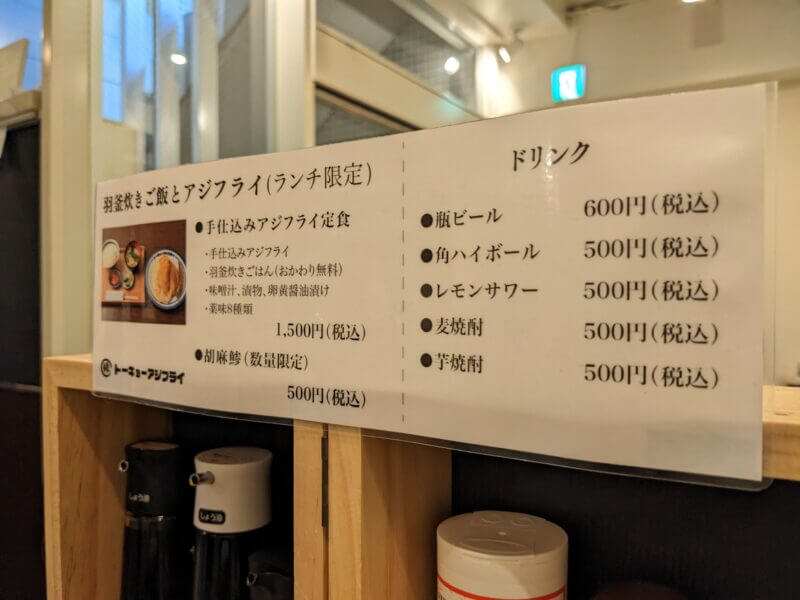 The restaurant we visited this time, "Tokyo Aji-fry", has an extremely simple business model, with only one set meal of fried aji on the menu. The price is 1,500 yen.
If I had not heard the rumor that "aji fry" was booming, I would not have thought of paying 1,500 yen for the aji fry set meal. In my opinion, the most I can pay for an aji fried set meal is 1,100 yen.
This time, my partner Ishi also said, "Fried aji is booming? What's that?" and she accompanies me. So because we are a couple, we are allowed to eat a slightly expensive lunch. Normally, we would not be able to afford that price.
Word of mouth is very important, especially when you hear about an unknown restaurant that seems to be booming. There are people like my wife and I who want to confirm the boom, and these people are willing to pay even if the food is a little over their budget.
The scary thing about this restaurant is that there is a long line of customers even though the only thing on the menu is a fried aji set meal. I would like to know the ratio of first-time customers to repeat customers. If it is mostly repeat customers, I would be surprised, and if it is mostly first time customers, that would prove the aji fried boom.
We waited in line outside the restaurant and went inside.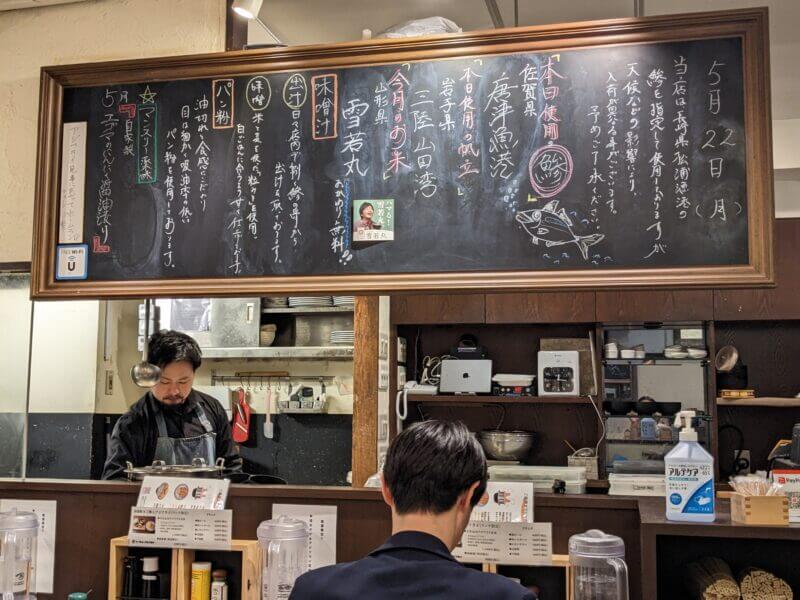 It is said that fried aji became the center of attention when Matsuura City in Nagasaki Prefecture began to call itself the "sacred land of fried aji.
I think it is important to explain everything to the outside world.
Whether it's a "sacred place" or not, it attracts everyone's attention because of its name. So far, there has been a lot of activity throughout the country to discover the "local B-class gourmet" and have it recognized by the public, but I had no idea that the standard dish of "fried horse mackerel" was left empty and that the name was a winner.
The sign inside the restaurant says, "We specify and use ajis from Matsuura Fishing Port in Nagasaki Prefecture", but on that day the ajis were landed at Karatsu Fishing Port in Saga Prefecture. Of course, the supplier changes depending on the catch.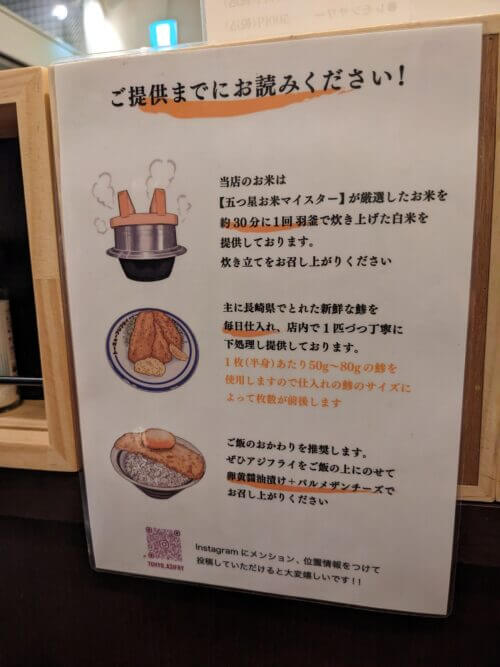 We wait for the fried aji fries to arrive while reading the explanation that reads, "Please read before serving.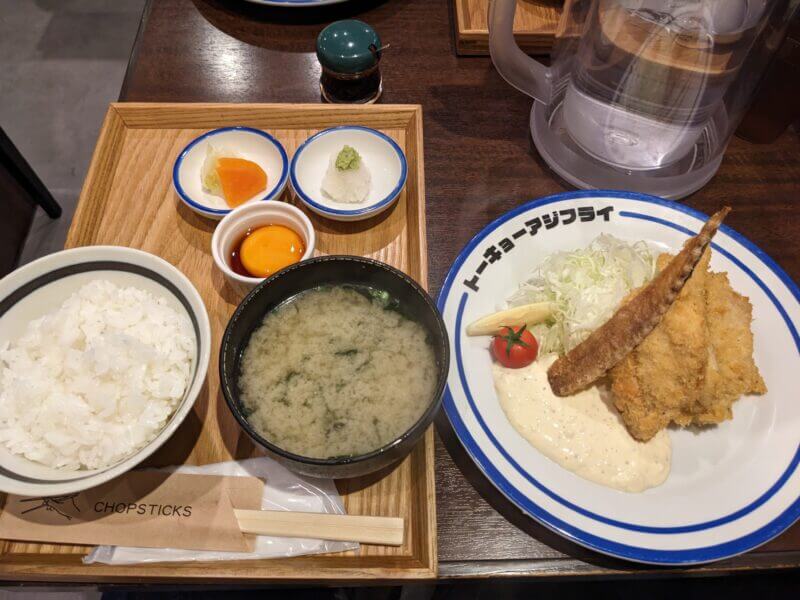 Fried aji set meal, 1,500 yen.
This may be the first time I have seen a tray of rice and other dishes placed vertically. The restaurant staff decided on this arrangement.
It consists of aji fries, tartar sauce, mini tomato, shredded cabbage, rice, miso soup, egg yolk in soy sauce, grated radish, and pickles. Rice refills are free.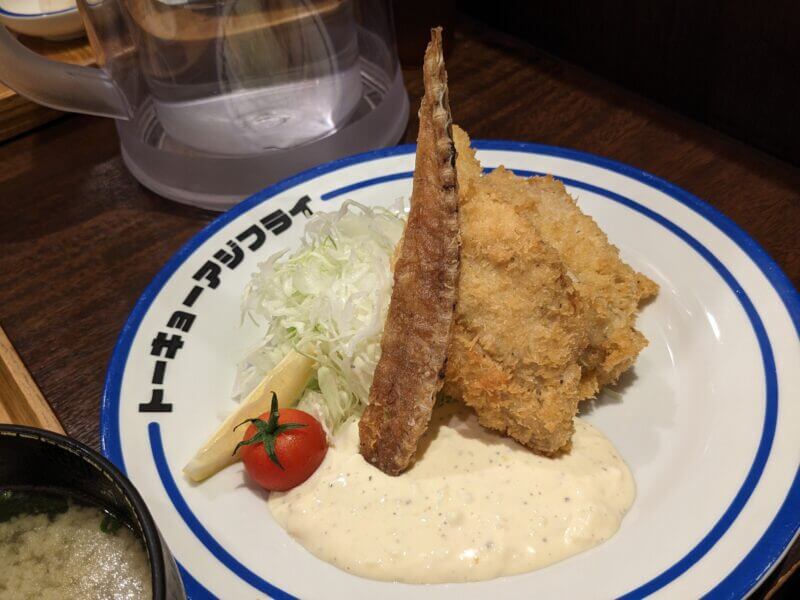 The fried aji is not made in the orthodox way, where a single aji is opened to form a heart shape, but half a fish at a time is fried.
The number of pieces varies depending on the size of the aji, but on this day there were three pieces.
There was also a piece of deep-fried aji bone that was made into chips.
The customer next to me said after his food arrived, "I can't chew through my food because my teeth are not in good condition. I want you to cut this piece of fried aji into five pieces". The cook in the kitchen exclaimed, "Oh, this… into five pieces?" he exclaimed.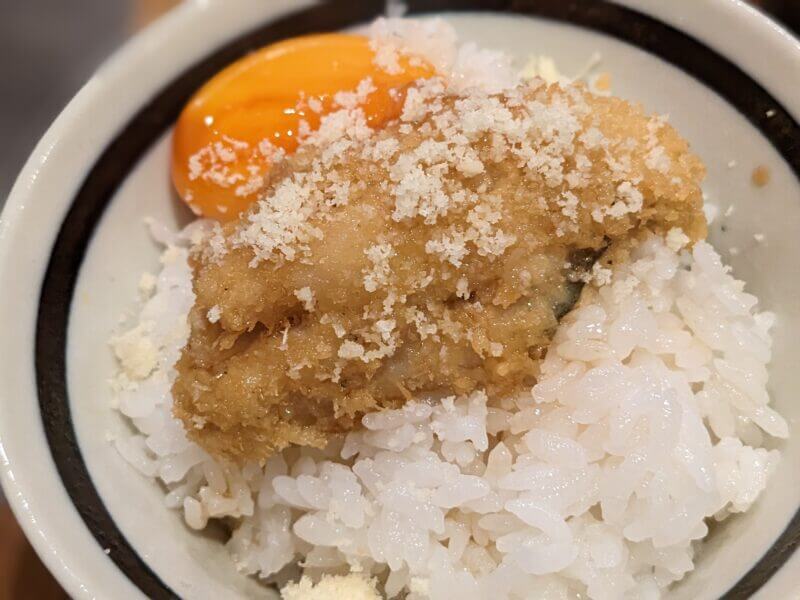 This is indeed a restaurant that competes only with fried aji fries. The taste of the fried aji chips is excellent. However, the aji fries, rice, miso soup, and other dishes were all so elegant and mild in flavor that they did not make much of an impression on me.
The most impressive was the miso soup, which tasted as if the broth was made from shijimi clams. It seemed to be made from aji bones, and the flavor was very strong.
Perhaps I would have preferred a combination of a little drier rice and fried aji with coarse bread crumbs to give it a crunchy texture. In short, my taste buds are vulgar. But that is simply because I have only eaten fried aji like this before, and I think that my encounter with this refined fried aji today has awakened a new taste for fried aji.
I would like to take this opportunity to eat fried aji here and there in the future.
(2023.05.22)