The "Hot and Spicy Gourmet Festival," which was cancelled in 2020 and 2021 due to the Corona, is back in 2022. And on a much larger scale.
I still think we can certify this year as another crazy (in a good way) case.
This AWAREMI-TAI OnTheWeb has been going to the event since its inception (2013) and has been relentlessly eating food from all the restaurants except those that are no longer in business.
Its history is fully documented in the following pages, which will make your eyes prickle with nearly 100 hot and spicy dishes, with too many red pictures.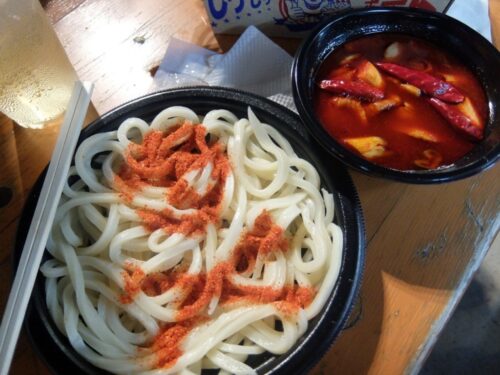 Enough is enough, give me a break, I think every year. It went on until one of us made a sound, and in 2020 and 2021 there was no tie or greatness, and OnTheWeb won.
But 2022 didn't allow it, and drew a new rule of irregular play: 42 stores, and the stores that are open are irregular in duration and are replaced piecemeal.
Previously, the event was usually held in the same store for six days, and then closed for one day to allow for a change of stores. So if I went to the event once a week, I could conquer all the stores that were open that week. But this year that is not the case.
Every year I blurt out, "The organizers, they're trying to kill us…" Every year I blurt out, "The organizers, they're trying to kill us…" This year it's the same development again.
Not "a total of 42 shops". It's "42 restaurants. There are also some restaurants that are not really hot and spicy restaurants, but just plain hot and spicy. That is one of the joys of the restaurant.
However, Corona has not converged and I am not sure if I can really go out and eat because of my own changed environment (telecommuting, having a 1 year old).
If I say, "I'll go if I can," I'm sure I won't. So I will just make a plan as soon as possible.
Schedule
| | | | |
| --- | --- | --- | --- |
| | | | |
| Section 1 | | | |
| Section 2 | | | |
| Section 3 | | | |
| Section 3.5 | | | |
| Section 4 | | | |
| Section 5 | | | |
| Section 6 | Thursday, September 29, 2022 | 19:00 – 20:30 | 7 stores |
Based on the law that Saturdays and Sundays are very busy, and Fridays are also very busy since they are weekends, we assume that the event will be held "every Wednesday" as in the past. The reason why the 5th and 6th are irregular weekdays is to catch the stores that open irregularly.
Please refer to my spreadsheet for the store opening schedule.
(blue cells: dates of store openings, yellow cells: stores that will eat offline, red cells: stores where you finished eating)
https://docs.google.com/spreadsheets/d/1YqBpAXiLcIbjX91Xk8VZNDyj6n8Vo4QWlFoEggC1dLI/edit?usp=sharing
However, it will be difficult for Okaden himself to attend the entire event. I am sure that everyone who is considering attending will feel the same way. That is why the offline meeting is called "Ekiden.
It is impossible to complete the race alone. Everyone should "join if you can," eat at as many restaurants as you can, and pass the torch to the next person! That is why we are doing this.
Full participation is of course welcome, but we are also happy if you "only participate in the 2nd stage for the flowers" or "participate in the 6th stage because I am a mountain god". Please help us a little at a time!
We also welcome solo runs, "I went and ate there by myself", even outside the official schedule above. We would love to put together such information like pieces of a puzzle, and when we finally get to the point where we have eaten in 42 restaurants, we will be happy.
Location
Special venue in Okubo Park, Kabukicho, Shinjuku
what to do
We usually get together every Wednesday night and eat our way through the super spicy gourmet restaurants that are open that day. In the end, we will eat all the food from 42 restaurants. (This does not mean that we will conquer all the menus.)
The more people you have, the more fun it is to buy a variety of dishes and eat a little at a time.
Also, even spicy food does not seem spicy as long as it is shared "one bite at a time. Those who are interested in spicy food but not so good at it are also welcome to join.
Declaration of Participation
If you would like to participate, please let us know in the comments section at the bottom of this article that you will be attending.
If so, please let us know which dates you can attend to the best of your ability.
reference information
Many of the dishes at the venue can be adjusted for spiciness. There are also many dishes that are not spicy. If you are not a fan of spicy food, but would like to see what it is like, you are also welcome to join us. But I want to see what it is like" are also welcome to join. We will not force you to do so, and there will be no pressure to agree with us.
If you do not like spicy food, you can buy non-spicy food. Drink and eat comfortably.
Local meeting and disbanding.
The cost is not to be split, but rather the cost of the food will be split among the participants and they will be responsible for the food they buy. The food is supposed to be shared by everyone.
Some food will be available to take home, but most of the food will be eaten on site!
Due to childcare, there will be several times when the organizer, Okaden, will not be available.
Our Approach to the COVID-19 in this Offline Meeting
We do not use chopsticks to share or pass around food. Participants are expected to use clean chopsticks to share the dishes before eating them. (Participants should bring their own plates)
We will not use the fact that it is an "outdoor event" as an excuse to eat or drink loudly.
As was the case at past off-line meetings, we will try to "go home without staying long after finishing eating.
If you are able to attend the off-site meeting, please take common sense COVID-19 measures such as wearing a mask, taking your temperature in advance, and getting the appropriate vaccinations.
We do not use chopsticks to share or pass food. Participants are expected to use clean chopsticks to share food before eating. (Students should bring their own plates)
(Revised on September 15, 2022)