In the Corona era, I gave up on returning home and pitched a tent to spend time at the river [Miyori Hometown Experience Village 1].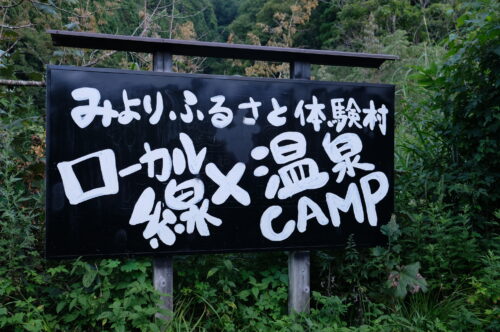 16 episodes.
This is a short series of articles for a two day and one night trip. This is because I left out all the photos and stories about my interactions with my nieces and nephews, and also because there were so many memorable photos of us, newlyweds for a little over half a year, that there was no need to publish them as articles.
When I left out all those things, it was shorter than I thought it would be.
It is very unfortunate that I am writing about the events of 2020 in 2023. But this makes it possible to look back on the tense atmosphere in Corona in 2020. And looking back, he chuckles, "I must have lived my life with a lot of tension.
It was this travelogue that became a series of articles.
Upcoming Serials
Since the beginning of this year, we have increased the frequency of publication of "Oka-Deus" and have continued to work on getting the timing of the article as close as possible to the publication of the current story.
However, the situation remains the same, with a three-month delay, and at the end of February 2023, we are still writing about November 2022.
In February 2023, my son Take finally loses his "lingering baby" and becomes a "boy." He talks this way and that and has become assertive. The effect is so strong that memories of the past are overwritten, and even as I write this article from November 2022, I fear that I am confusing the story with a more recent one.
The content that we cover in "Oka-Deus" is really just minor, no big deal events. So I'm in the mood to post it on Instagram, and I'd like to do it in shorter sentences. If possible, I would like to make a short sentence in one or two lines. Well, that's impossible.
---
Drunken Travelogue, which deals with travelogues, has 12 articles on the waiting list.
Finally, "If I'm going to climb the 100 most famous mountains in Japan before I die, I'd better get serious or I'll be in trouble," and with the encouragement of my partner Ishi, I've been climbing more and more mountains. This year, I wanted to build up my basic fitness from the winter, so I decided to go on low mountain hikes in January and February, and there was a lot to gain.
If I continue to climb a few mountains each month at this rate, I will never catch up with my travelogue. I plan to climb three or four of the 100 peaks this year. I also need to slim down the Hebereke Kiko itself.
---
The annual March event "Nottore! Matsudai Castle," which used to appear frequently in the "Drunken Travelogue" section, is an annual event. Due to the Corona disaster, this event was canceled for three years from 2020 to 2022. This year, the organizers have announced that the 2023 event will be held for the first time in four years.
I can't help it. I can't help it," Okaden and his family, who are related to me, plan to visit Echigo Matsudai. But it will be just us. The usual happy family members were unable to attend because they had been transferred to other parts of Japan or had injured their legs. As a result, this year Ishi will run the race and I will be away from home to take care of my 2-year-old son, Take. This is the first time that I will be going to the race but not participating.
While I am here, I will visit Ushidaya, a farm guesthouse in Joetsu City that has been a great help to me, and start moving the hands of the clock that have been stopped for several years.
(2023.03.01)