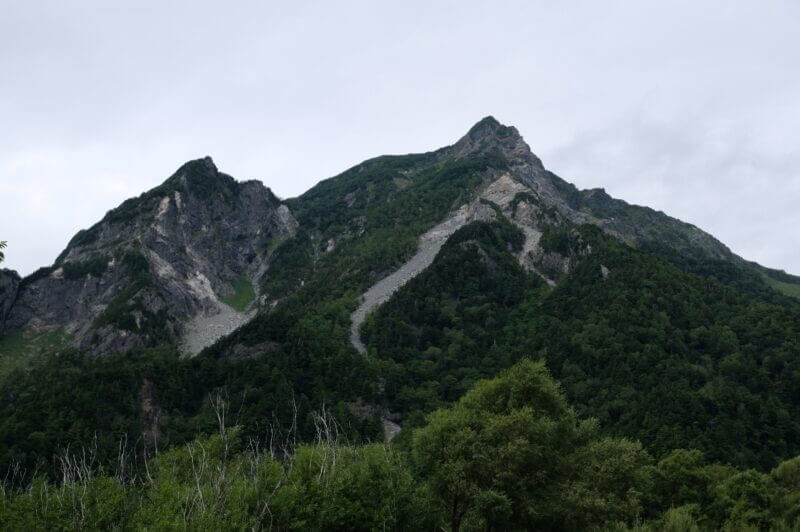 13:54
The two of us walk from Konashidaira toward Myojin.
The path is made to go around the east side of Myojin-dake.
When walking this path alone, I used to mutter to myself, "I still have a long way to go," as I gazed at the slowly changing view of Myojin-dake, but walking with a couple is very comfortable. Time seems shorter.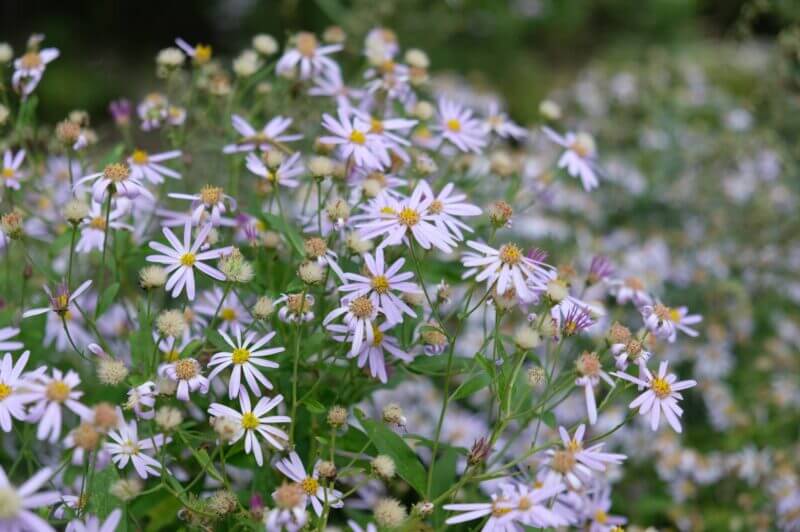 13:56
I also take pictures of flowers because I feel comfortable.
The pond before Myojin was a small pool, maybe because it was autumn. But, when spring comes, the melting snow brings plenty of water.
Ducks were searching for food in the muddy water. Winter is difficult because food is very scarce. I questioned if the duck was ready to remain there and make it through the winter.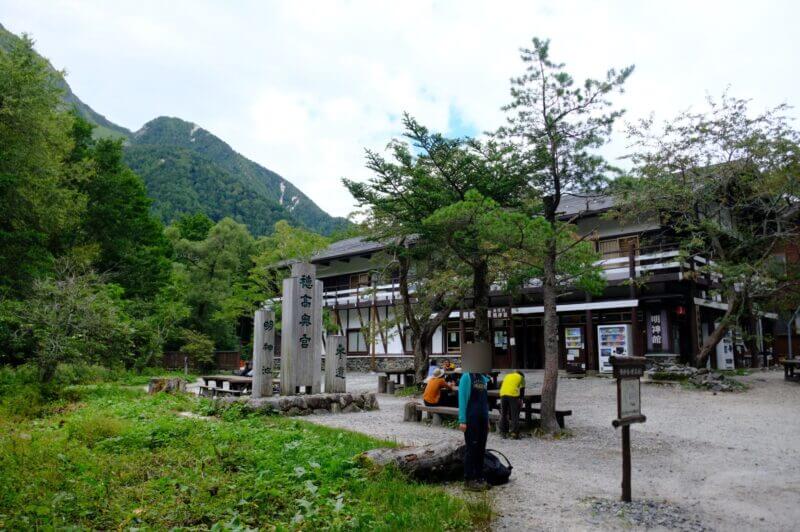 14:01
Arriving at Myojin,
I saw that the area in front of Myojin-kan was usually full of people, but due to the COVID-19 restrictions, there were only a few individuals present.I have been to Myojin several times throughout the spring, summer, and fall seasons, but this is my first time observing such a sight during peak season.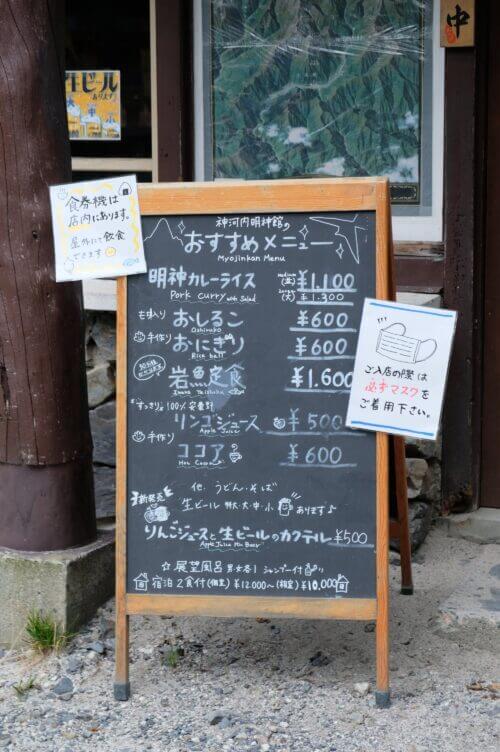 Take a picture of the food menu sign at Myojinkan for future reference.When I first took the photo, I wondered if it was foolish to capture such irreplaceable things. But a few years later, Japan experienced inflation for the first time in a long while. Now, looking back from the future, I realize that cooking was inexpensive at that time.
I thought prices would stay steady, but they might change.
Taking a snapshot of the price board on a vacation is a good way to keep track of the costs in the future.
The Myojinkan's dining hall has roomy doors that open smoothly, giving it a spacious feel. Taking a snapshot of the price board on a vacation is a good way to keep track of the costs in the future. Taking a snapshot of the price board on a vacation is a good way to keep track of the costs in the future. While the ventilation in the dining room is sufficient, the menu indicates, "Mask required upon entry." A notice on the menu reads, "Wear a mask when entering the restaurant."
In 2020, everyone had to watch out for COVID-19.
Even while hiking on the trails, I had to wear a mask to avoid disapproving looks from others. The supercomputer "Fugaku" found that joggers can emit the virus from their breath, which can spread for many meters in the city.This was reported daily.I made the mistake of removing my mask when no one was around and only putting it back on when someone approached me.Putting on and taking off your mask frequently can spread viruses from the mask onto your hands, which can then infect your body. It's best to avoid doing so.
Despite the hardships of living through this time, I remain optimistic that COVID-19 will bring about positive change in Japan's stagnant situation.I hoped that COVID-19 would bring positive change to Japan, improving irrational and absurd situations and partially resolving social issues. Experts recommend avoiding this. I hoped that COVID-19 would bring positive change to Japan, improving irrational and absurd situations and partially resolving social issues.Unfortunately, reflecting on the years 2020-2022, during the peak of the COVID-19 pandemic, I don't believe that the Japanese populace altered their conduct or became more forward-thinking in their societal setup. Even though certain aspects may have shifted, this instance didn't prompt a significant historical turn like the arrival of Black Ships during the Edo period. It is regrettable.
Many people in 2020 claimed that handling cash might spread a virus. They said it was risky to touch cash, but this belief was not true. It would have been nice if cashless payment became more widespread, but it did not. Even though cashless payments are gaining popularity, COVID-19 has not brought about a significant shift.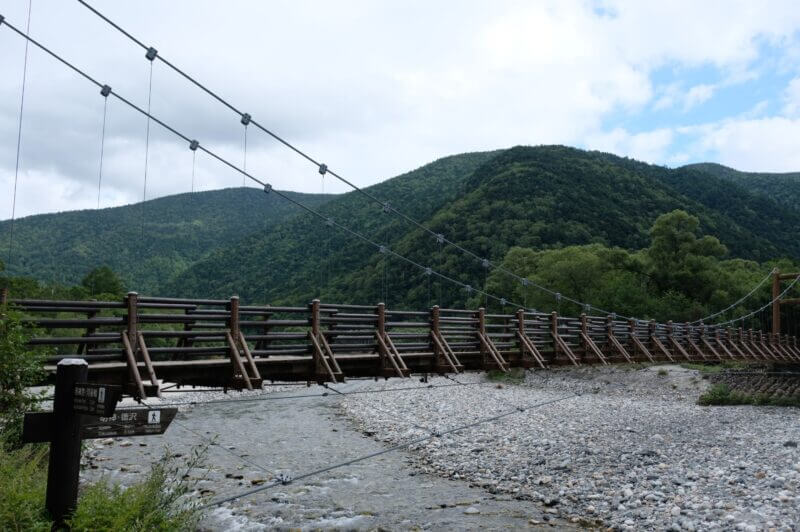 14:09
Crossing Myojin Bridge, where no one is passing.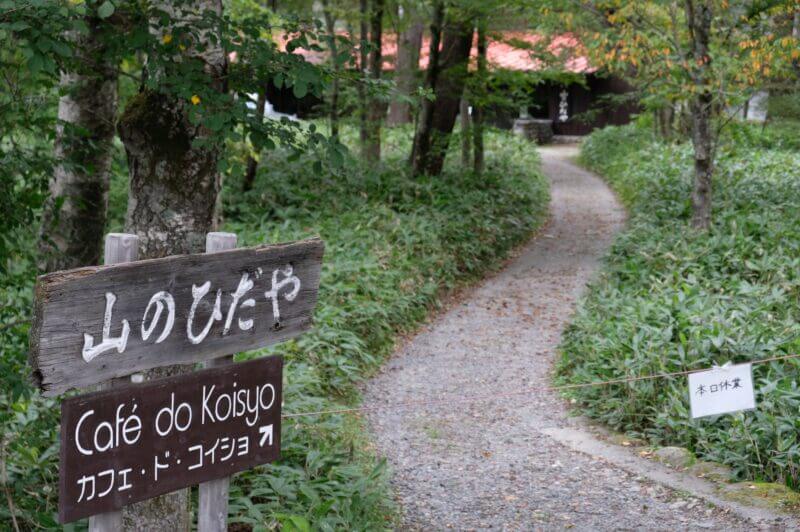 14:32
Today we were planning to go to Tokusawa, but we decided to take a detour and cross Myojin Bridge on the way to "Yama no Hidaya Cafe do Koisyo". Last November, we attended a Christmas party at Kamikochi after the mountain had already closed. Our trip to Kamikochi was like a honeymoon to us, and we have a strong emotional connection to this place.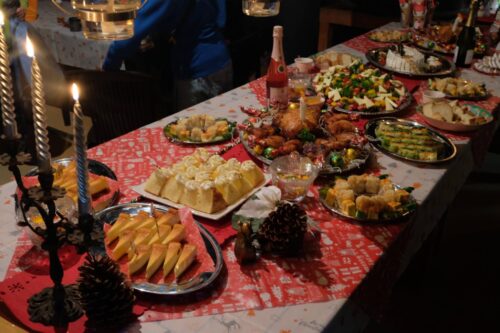 However, we spotted a sign at the restaurant's store that read "Closed Today" with a rope tied at the back. This indicates that the restaurant is temporarily not
open due to the COVID-19 pandemic which has forced many restaurants around the world to change their operating style. Consequently, numerous restaurants have altered their business hours and regular closing days which often leads to disappointments when we arrive at a closed restaurant assuming it to be open.
We didn't anticipate that the numerous online rumors would turn out to be unreliable. It's frequent to enter a restaurant with an impression that it's open only to discover that the menu has greatly shrunk.
Therefore, I wasn't taken aback to learn that the restaurant was closed today. You simply need to surrender and admit, "I did not know that."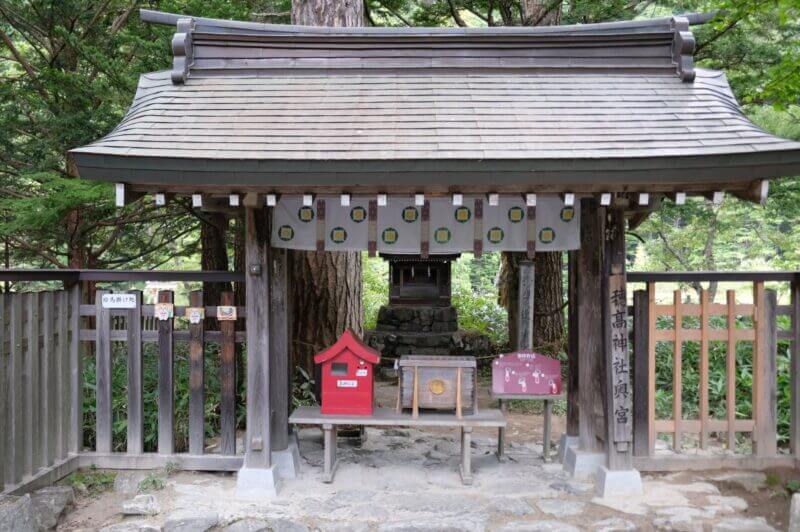 14:14
We will visit "Cafe do Koisho" again tomorrow.
Go to the inner shrine of Hotaka Shrine and pay your respects.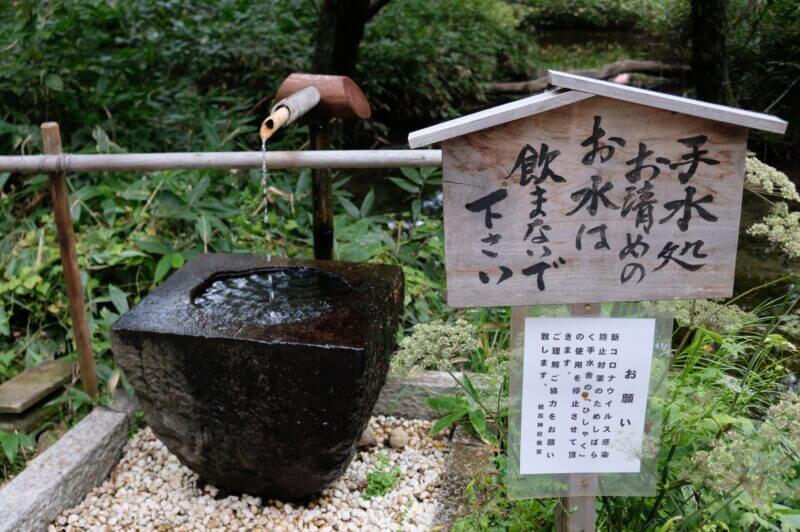 14:13
Tyozu-dokoro, a place to wash and purify your hands, is located beside the shrine.
Due to COVID-19, shrines all over the country have simplified or cancelled the basic act of worship – hand washing. Is splashing water while washing hands enough to spread the virus? This led to the ladle being scrutinized.Since an uncountable number of people touch the ladle, its use was suspected of being a source of contact transmission. It was a period when everything was doubted.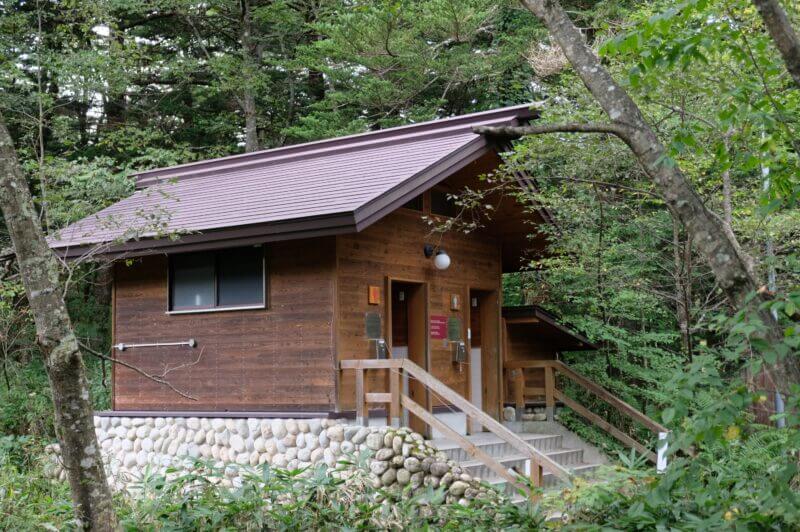 A public restroom located beside the inner shrine of Hotaka Shrine.
As expected, the use of the toilet was not prohibited, but the door was left open.I think the door was usually closed to prevent insects from entering, but perhaps it was out of a sense of caution that an enclosed space could be filled with viruses?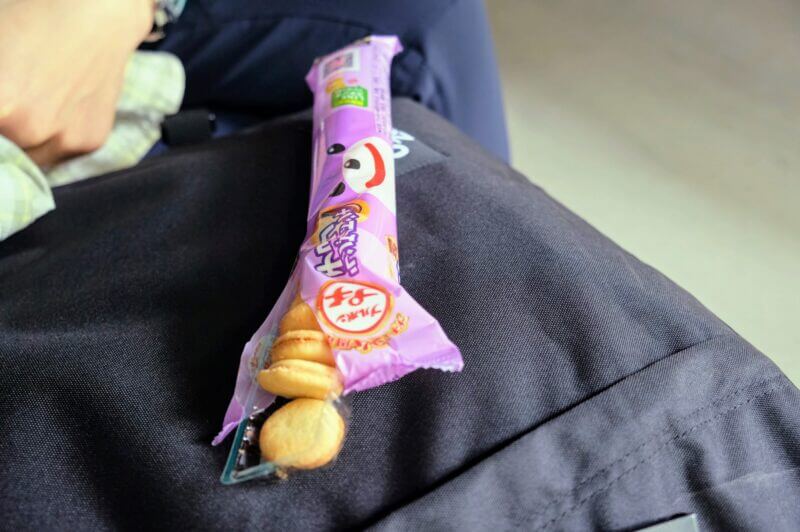 Since "Cafe do Koisho" was closed, we couldn't eat anything sweet there. So, we bought sweets from Koaridaira Shokudo.
It was great to be able to buy sweets in Kamikochi even though it's isolated from the rest of the world. Bringing snacks and drinks planned before entering the mountain is tiring. In contrast, it's effortless to purchase them on the spot.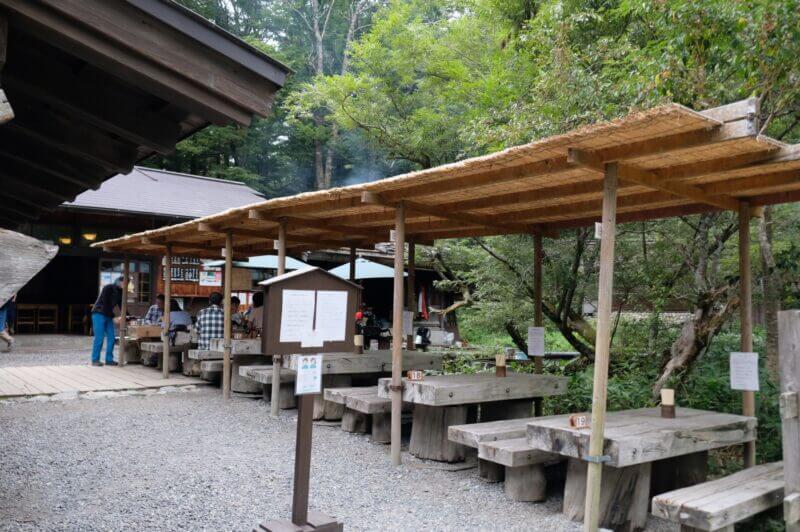 14:29
Kamonji Hut.
Despite being well-known for its delicious grilled rockfish and typically crowded with tourists, the restaurant currently has plenty of available seating.
It is located about an hour's walk from Kamikochi and serves as a turnaround point for those on a day trip to the bus terminal. It's customary to eat iwa-ana (rock fish) as a souvenir of the trip, but there are
no customers here. That's how few tourists there are.
Kamikochi used to attract a great many bus tour tourists every day, including visitors from Southeast Asia, but not anymore. Since COVID-19 caused a decrease in tourists, this area has become significantly quieter.
(To be Continued)