As we prepare for our trip to Niigata Prefecture, where snow is still falling, Takeh's equipment is being purchased.
We had bought a bag, boots, etc., and now we had to buy rain clothes…I didn't want to spend as much money on clothes as possible, since he grows almost an inch a month…I thought. Still, waterproof clothing was essential for going to a snowy area. As expected, a poncho would get the lower half of his body wet, and no matter how many boots he wore, snow would get into his shoes.
I looked for rain gear for kids in stores and online, but found that the selection was surprisingly small. This is because ponchos are often used for everyday rain protection, and separate top and bottom rainwear is often worn for skiing and snowboarding.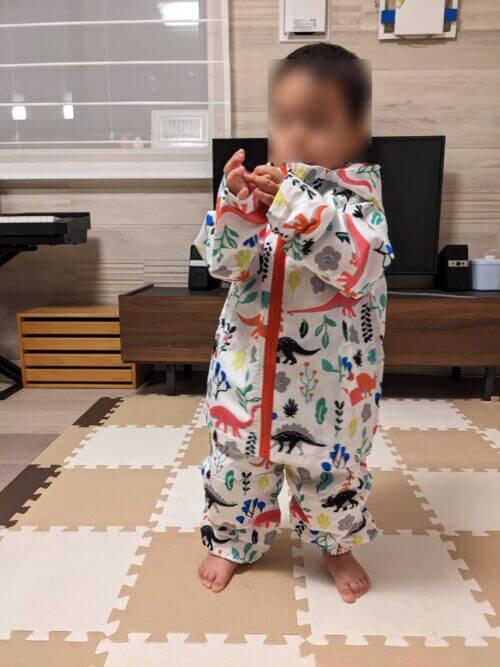 I bought this one after much consideration.
There were many colors to choose from, but after eliminating the cheesy patterns, they settled on white clothes with dinosaurs on them.
Ishi said, "We're going to a snowy land, and I'm afraid he won't stand out if he wears white clothes. She was right, but the navy color would cause problems in his daily life in Tokyo. If I wore dark clothes when it rained and the light was dim, I would be less visible to cars and motorcycles, and accidents might happen more easily. So I chose white.
I had a hard time finding the right size.
Recently, the word-of-mouth on e-commerce sites has become more extensive, and people's opinions are varied. Some people said, "It's smaller than I expected," while others said, "It was just right". I have no idea who to believe.
We are going to a cold place and will be wearing rain gear with heavy clothes. So maybe it would be better to buy clothes one size larger. And considering his future growth, it might be a good idea to go one size up.
So I bought a 110 cm kid's raincoat for my son Takeh, who is about 80 cm tall.
When I put him in the rain gear that arrived, I couldn't help but laugh at how big it was. It was so big that I couldn't help but laugh.
Still, the sleeves and hem were elastic to keep the water out, which made it easy to roll up the arms and legs. It was oversized, but I was able to wear it, so I didn't have to return the rain gear.
The biggest question is whether he will dislike the rain gear. He is a toddler with a high basal metabolism, so he tends to say "Oh,hot!" when I make him wear something a little thicker. I was sure he would not like this rain gear either.
In fact, he seemed to like it very much and was happy to wear it. He liked the dinosaurs that were printed on it.
At the age of two, he has a preference for the pattern of the clothes. Thank God it was a dinosaur print. The raincoat I rejected as "tacky" was a flower print made by the same manufacturer for 200 yen less. I don't think he would have accepted it if it had been flowery.
(2023.03.06)