Lunch I had while cycling with Ishi.
I left it to Ihi to choose a restaurant, and he chose a Chinese restaurant.
I wouldn't have chosen this restaurant.
Not because it looks bad, or because I don't like the price, or any of those specific reasons. It is because I am not thrilled with the lunch menu posted in front of the restaurant, which includes "claypot set meal, mapo tofu set meal, stir-fried meat and vegetables set meal, stir-fried lebanilla set meal, and so on…".
But of course, it's not that I don't like those dishes. In fact, I rather like them.
I'm not excited because I like them. Because I think, "Yeah, I'm familiar with those guys."
That is why, when I entered a Chinese restaurant of that kind, which was left to Isi to choose, I was grateful to her, even though I felt that I was not thrilled to have come so far from home. Because I would not have entered that kind of restaurant by myself. Thank you for giving me this opportunity.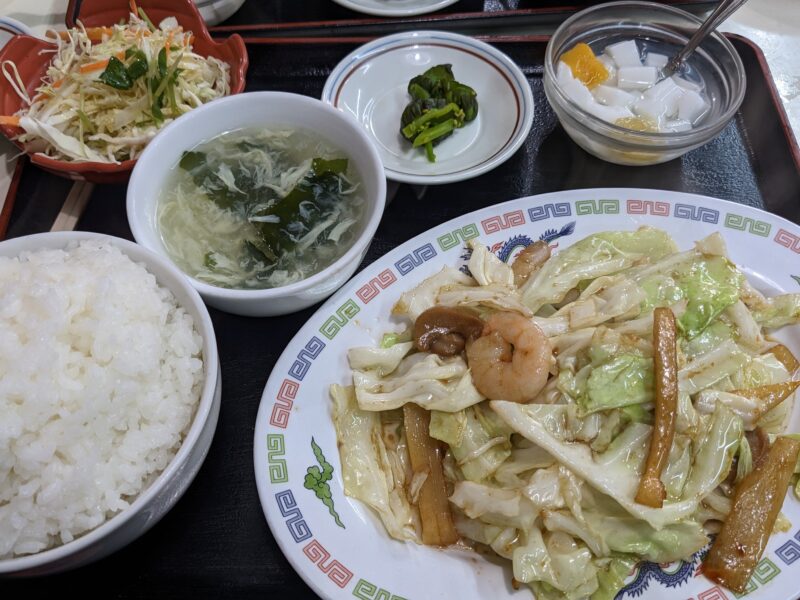 It is precisely at times like this that I order the stir-fried vegetable set meal.
It's been a long time since I've had the vegetable stir fry you ask for at a Chinese restaurant. It looked so divine and glowing.
No, no, it looked shiny.
Hey, this is very shiny. I wonder if the vegetables have been through the oil once, they are so oily and sticky.
The great thing about eating vegetables is that you don't feel healthy at all. It feels like you are eating junk food. And the fact that the cabbage-centered vegetable stir-fry set meal comes with a shredded cabbage salad is also wonderful. It's a cabbage-oriented meal.
And the rice was served in a very generous portion, which was also wonderful. It has been a long time since I have eaten food from a restaurant with such a gusto. I'm sure I won't be going back to this kind of restaurant for a while, but I'm sure I'll see you again soon. Next time, I think I'll order the chinja rosu set meal.
(203.01.09)