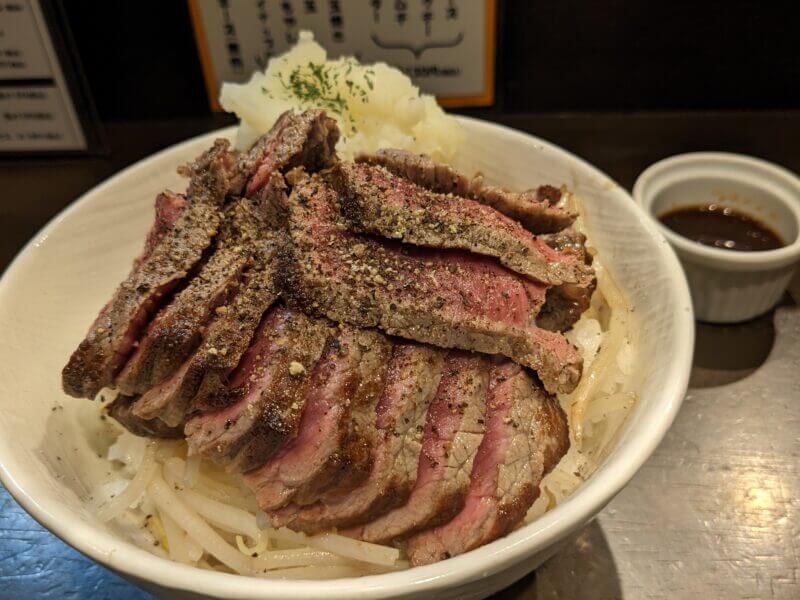 I went to a restaurant near Honkomagome Station on the Toei Mita Line that serves "steak donburi.
There was a time when "roast beef donburi" was popular among people. Maybe it is still popular today, but at least I did not think it was delicious. It was more about the appearance, and I felt that the roast beef and rice did not go together at all.
How about this steak donburi?
In conclusion, I was very pleased. It was a great meal, and I felt satisfied after eating it.
In the case of the roast beef donburi, the positioning of the roast beef is difficult. The roast beef can either be considered a "garnish on rice" or a "garnish for rice". In this case, the positioning of the roast beef was halfway between the two.
In the case of steak donburi, however, the rice and meat are completely separate. Steak is a side dish to rice.
Why not put it on top of the rice? But the thick meat served with rice was a good presentation because it made me feel very wild. The satisfaction of having it on top of the rice is what makes this dish so satisfying. I was convinced.
So, would I return to this restaurant often? It is hard to say because the restaurant is a bit far from my home. However, if I were to go to "Ikinari! Steak," I would go to that restaurant. That's how satisfied I was.
(2023.03.02)