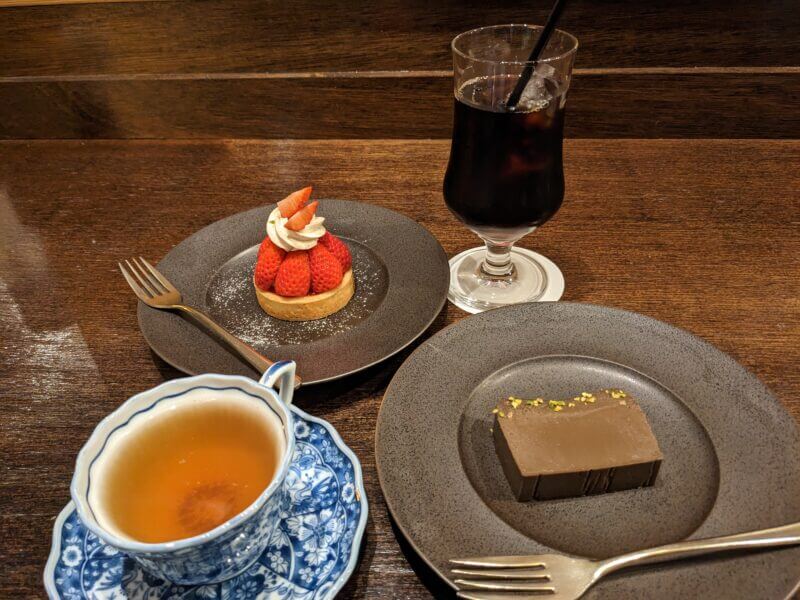 A couple goes to a coffee shop.
The place is a bit far from Asakusa and is unassuming, with no noticeable signs. Unlike the small, privately owned coffee shops, it is hidden away despite its reasonable size.
Lately I've been relying completely on Google Maps to find restaurants. Long hours at work and raising children have reduced my motivation to eat, and I have less motivation to go out at all. So I take a quick look at Google Maps and say, "Let's bike around this area today. Do you know any places that look good?" I search for something.
This is completely "selecting stores based on destination. Going out of my way to find a restaurant with a high "word of mouth" rating, as I have done in the past, is not my current taste and preference.
Therefore, I visited this restaurant simply because I wanted to stop by while I was cycling in the Asakusa area. It is called "from afar".
We were charmed by the quiet atmosphere of the place. The dark brown wood furniture is used extensively, which stands out from the bland ceiling with bare pipes and vaulted ceiling. Yet the space is oddly harmonious.
While wood-paneled stores are all the rage these days, I feel that stores with this kind of heavy atmosphere are rare. This is probably because a heavy atmosphere makes it difficult to use casually.
A notice was posted just inside the restaurant asking customers to keep conversations low key. This is a space designed to allow customers to spend their time in a peaceful atmosphere.
You order and pay when you enter the restaurant, and then you take a seat. Looking at the menu, there were not many items, but they all looked delicious. We ordered a cake and drinks, and while we were waiting, we enjoyed talking in low voices. It was quiet around us and no one was talking loudly. Then the drinks and sweets we had ordered arrived. They looked nice and tasted delicious.
Cafes with a stately atmosphere may be few and far between these days, but we enjoyed the ambiance so much that we will visit again. This kind of cafe felt like a little hideaway.
Normally, with a two-year-old, it would have been difficult for us to visit this restaurant, but it just so happened that on this particular day, we were able to visit with our son. However, Takeh was not home that day, so we were able to use the cafe by ourselves. Thanks to this, we were able to enjoy this quiet and secluded place.
(2023.03.22)