Whether it is a food and beverage factory or a machine shop, a "factory tour" of any kind is always fun. During the height of Corona, many factories suspended tours for the general public, but it seems that tours are finally resuming these days.
Under the guise of educating our son, Takeh, we plan to visit the factory and take a look around.
In addition, the most exciting thing I have seen so far was the steel mill. The heat and sound were incredible, and the site was huge. Everything was out of the ordinary.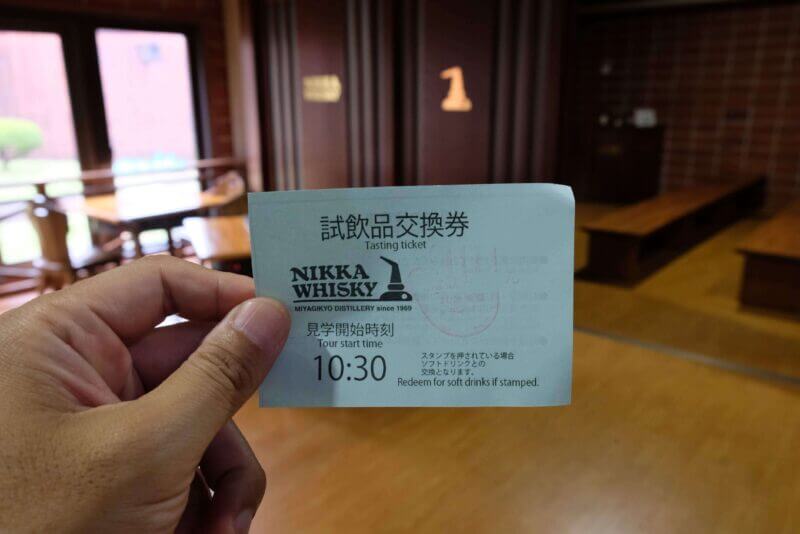 This time we visited the Miyagikyo Distillery of Nikka Whiskey.
The most famous Nikka distillery is the Yoichi distillery in Hokkaido, but there is also a distillery deep in Sendai, near the Sakunami hot springs.Nikka sometimes blends whisky from Yoichi with whisky from Miyagikyo to create whisky with complex flavors and aromas.
I won't go into the factory tour itself, but the 70-minute tour, including tastings, was quite enjoyable.
To put it bluntly, I was not as surprised as I was when I visited the Suntory Hakushu Distillery, but the rich natural environment was a nice touch. Water is essential for the production of both distilled and brewed alcoholic beverages. So the environment is good. My son Takeh had a run-in with a chestnut under a chestnut tree on the grounds, the first time in his life he had a run-in with a shellfish.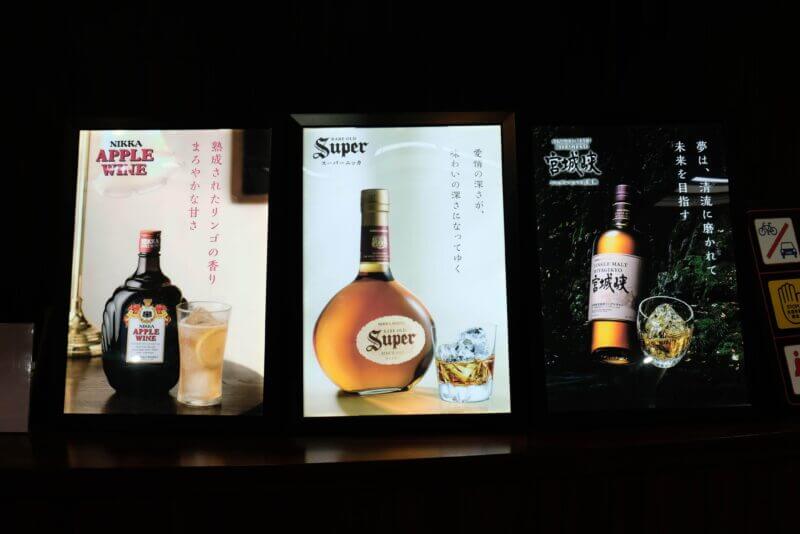 The last 20 minutes of the tour is for the tasting.
This is not a 20 minute all-you-can-drink session, but rather a tasting of three pre-prepared whiskeys.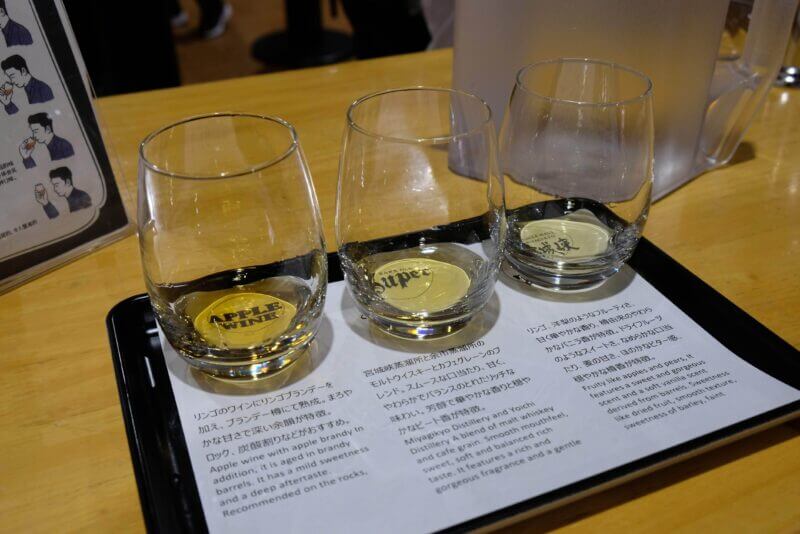 There were three types of alcohol available for tasting in the tasting room: Apple Wine, a blend of brandy and apple wine, Super Nikka, and Miyagikyo.
When I think of Nikka, I have a strong image of Black Nikka, with its logo design of an old man with a beard showing off his strong personality. This is almost all I know about Nikka. Black Nikka is also sold in 4,000 ml PET bottles and 1,800 ml paper cartons, giving the impression that Nikka is a producer of cheap alcohol.
ブラックニッカ
¥2,219
(2023/11/08 14:41時点 | Amazon調べ)
\楽天ポイント5倍セール!/
楽天市場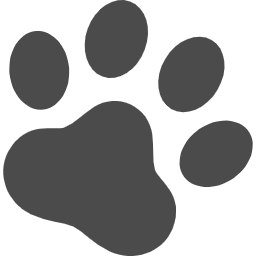 ポチップ
I learned from this tour that it is a prejudice to think that Nikka is a cheap alcoholic beverage.
I think it is important to go on a factory tour.Even Suntory, the largest brand of Japanese whiskey, has a line of low-priced drinks like Tris and Red, which are even sold in 4-liter PET bottles.Kaku-bottle even comes in 5-liter bottles.
トリス
¥5,716
(2023/11/12 11:38時点 | Amazon調べ)
\楽天ポイント5倍セール!/
楽天市場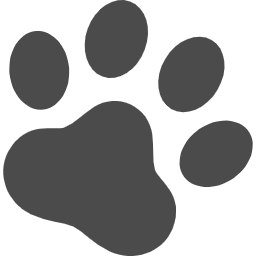 ポチップ
After all, there is a need for large containers because it is used for commercial purposes, not for alcoholics to keep at home as a "cozy drink".So just because it is whiskey in a large container does not mean it is a cheap drink.But (at least for me), Suntory does not have a cheap brand image because of the strong image of Yamazaki, Hibiki, Royal, Old… and so on.But (at least for me), Suntory does not have a cheap brand image because of the strong image of Yamazaki, Hibiki, Royal, Old… and so on.
Nikka, in its own way, has whiskies like "Taketsuru", "Yoichi" and "Miyagikyo". Unfortunately, I have no idea what a good whisky tastes like, and I have no memory of the good ones I used to have, because I stopped drinking before I tasted them.
Since I cannot drink alcohol, I drank Bayarese apple juice (Nikka is a subsidiary of the Asahi Group). I was allowed to sniff three different kinds of alcohol, but I was at a loss as to whether they were good or bad.
Since it is a distilled liquor with a high alcohol content, the aroma of alcohol is very strong in the nose. From the smell alone, it was difficult to imagine whether it would taste good or not after drinking it. I think I can still imagine the taste of distilled liquors like sake, beer, and Shaoxing wine.
Ishi, who was doing this whiskey drinking contest, didn't drink the whiskey with water, but licked the undiluted whiskey and then drank chaser water just to be sure. I asked him, "How does it taste?" I asked her and she said, "It's so strong, I can't taste it at all. I asked her how it tasted and she said, "It's too strong, I can't taste it at all. I guess it could be that her sensitivity to alcohol has dulled since she became pregnant, because she rarely drinks alcohol anymore.
A closer look at the vending machine in a corner of the tasting room revealed that it sold sea squirts, oysters, shark, and other seafood delicacies.Come to think of it, there is nothing to refresh the palate at a whiskey tasting. I guess they ask people to buy delicacies when they need them.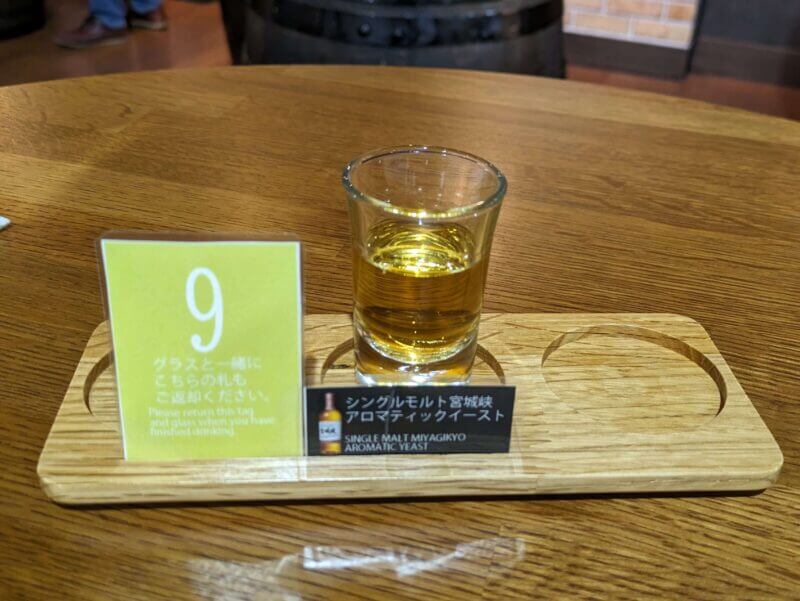 Next to the tasting hall was a shop where whiskey was sold.But the usual Black Nikka was not sold.It was as if it never existed. It seems that the factory tour serves as a place to create a brand image for Nikka's high-priced whiskey.
Maybe they want me to buy Black Nikka at my local liquor store.
Note that photography was prohibited at the concession stand. There were signs all over the place warning people not to take pictures, so it seems like they really don't want people to take pictures. Why is that? Maybe because they don't want their products to fall into the hands of resellers who have taken advantage of the popularity of Japanese whiskey. It seems that the shortage is still going on, and there were several products that were sold out on the shelves. It was surprising for such an expensive sake.
On the other hand, there was a standing bar next to the store where you could enjoy a single shot of Nikka liquor, so even those who did not tour the factory could enjoy Nikka products this way and that.
The prices are very reasonable, starting at 200 yen per shot. There are many types of sake available, but most cost only 300 or 400 yen. The drinks are small in quantity, but have a strength of almost 40%. If you try to compare the different kinds of sake, you will get drunk for only 1,000 yen.
Ishi ordered and drank the second most expensive sake in the restaurant. It was a single malt Miyagikyo Aromatic Yeast. The reason he called it "the second most expensive sake" is because he happened to overlook the most expensive sake on the menu. The second most expensive sake was still 900 yen.
900 yen for such a small amount is expensive!
I don't think so.After all, we just spent 70 minutes touring the factory.We just learned how much we appreciate whiskey, so our wallets are loose. Besides, the bartender at the bar said, "This is the last of it. We don't have any more in stock," which was a deciding factor.People are sensitive to the words, "This is the last one.
I thought it was just a sales pitch for the occasion, but when I looked up the product later, it seems that it really was the last of its kind.The press release states that 10,000 bottles were sold in September 2022 in a limited edition of 700 ml bottles.Almost a year has passed since the product was first sold, so it is not surprising that it is already out of stock.
https://www.asahibeer.co.jp/news/2022/0830.html
The price is 22,000 yen including tax.This is a very expensive sake.This is not something you can drink in a restaurant.
If a shot is 30 ml, the price of 900 yen per cup is a little lower than the regular price.
Even if you don't drink alcohol, I enjoyed the whisky distillery tour.
(2023.09.16)