After running errands in Roppongi, I came to Shimbashi with my family.
We decided to have dinner and go home, so we decided to go to Ore no Yakitori in Ginza 9-chome.
Ore no ◯◯" is a restaurant that has been expanding here and there around the Ginza area, and is known for "Ore no French" and "Ore no Italiano. The restaurant's unique business model is to serve a large number of customers in a small space with a standing buffet style to keep the turnover high, and it is characterized by its inexpensive price despite the fact that it invites chefs from high-end restaurants and uses plenty of high-end ingredients such as foie gras and truffles.
For a while, there were no vacancies at all at any of the restaurants where I tried to make reservations. However, when I looked at the web reservation page this time, there were many vacancies, and I thought to myself, "Wow! Last-minute reservations on the day of the event are totally acceptable, and there seemed to be availability at 7:00 p.m. on weekdays, when we can expect to see many businessmen using the restaurant. The environment surrounding the restaurant business seems to have changed after Corona.
To begin with, "Ore no ◯◯" was originally a restaurant that served high-end food at a reasonable price in a standing style, but that practice soon changed course, and now there may be no standing restaurants left. It is likely that many customers said it was too hard to eat without chairs.
Putting chairs in the store would reduce customer turnover and the rate of revenue per floor space in the store. How the restaurant compensated for this hole was the music charge. Live piano and vocal music was played on stage, for which customers were charged a music fee. To be clear, the customers thought, "We don't need the music, it's too noisy," but it was probably for the convenience of the restaurant.
The restaurant was not very spacious to begin with, but it was set up with live instruments and a professional musician playing with a bang. The volume was so loud that it was difficult to have a conversation among friends while the music was playing, unlike the volume-controlled background music from the speakers.
This was my first visit to Ore no Yakitori in six years. The music stage had been converted to seating and no live music was being played. I asked the waiter about it, and he said that many customers commented that it was still too noisy. Another reason was that the singers could not perform during the Corona. Well, that's true. It was considered inappropriate to go to a tavern during Corona, and it would not have been a social situation to have a vocalist singing in front of you.
While I was talking with the waiter about this, an Uber Eats delivery man came to pick up the goods for the delivery of yakitori. I said, "Oh, you do Uber too, don't you?" The waiter smiled a little sadly and said, "Yes, we are doing home delivery as well, since our sales have not recovered as much as before Corona.
So now it is safe to visit this restaurant on a whim around the time of your appointment. In the old days, one was required to be in line 5 to 10 minutes before the appointment time, and when the time came, the waiter would lead you into the store to behave in an orderly manner.
I remember entering the restaurant with a doddle all at once and being reminded by the waitress that we would be taking orders in order from those who entered the restaurant, so please wait while looking at the menu. In other words, "Excuse me, I'd like three fresh ones for now! I mean, please don't stop the waiter and say, "Excuse me, I'd like three fresh ones for the time being!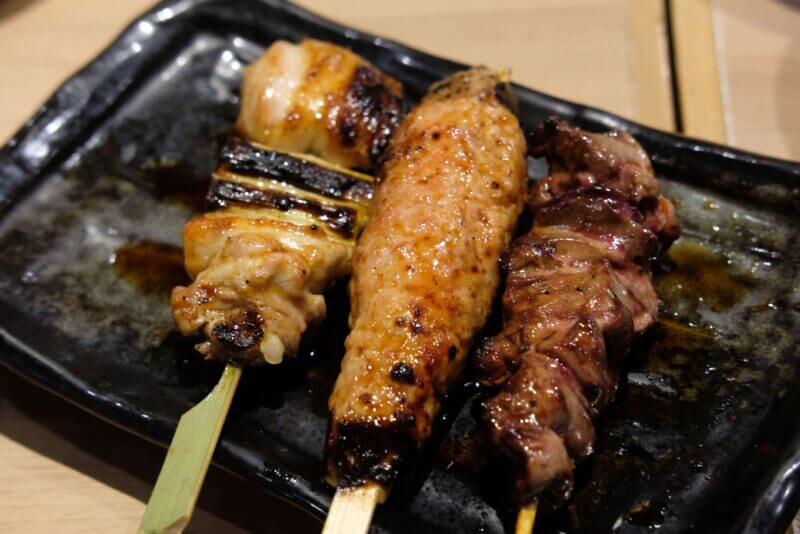 Regardless, it's been a long time since I've been to a bar.
I have bought yakitori in the deli section of the supermarket or at food stands at events and festivals, but it has been a long time since I have ordered it at an izakaya (Japanese style bar). It was quite enjoyable.
The yakitori I ordered after a long time was very tasty. The fluffy texture of the liver, in particular, is the result of the freshness of the ingredients and the way they are cooked.
Since there are quite a few yakitori with "just the right amount of heat," I had to carefully select the meat I would give to my two-year-old son. Even if the heat level is perfectly acceptable for an adult, a toddler with a low tolerance may have a stomach ache.
But still, I feel that it is salty. My partner, Ishi, who has hardly been drinking alcohol since her pregnancy, also says it is "salty. It is a restaurant for drinking sake, so the seasoning is very strong. We did not order any staple food to neutralize the salty taste, such as white rice, so we felt it was even spicier.
Once again, I learned that people who drink alcohol and people who do not drink alcohol have different views of the world of food. What an obvious statement, I thought to myself, but I had completely forgotten about it. After three years in Corona, the drinking culture itself was almost extinct around me.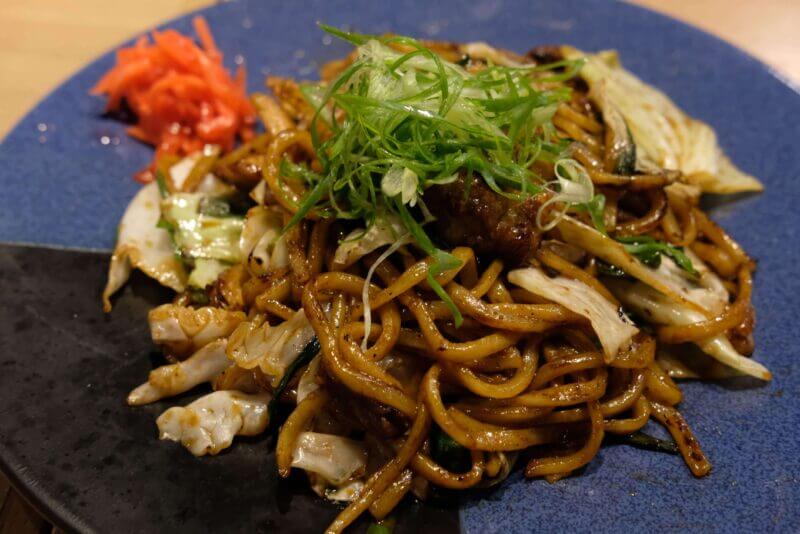 I asked for yakisoba, which was described on the menu as a "closing dish.
When we tried it, we found that it was also very flavorful and spicy (for us). The couple laughed and said, "The final dish will make us drink more sake.
This is not to say that Ore no Yakitori is salty and tasteless. I think the taste is wonderful, and I stress that point. However, after living a long time away from drinking, I was surprised at the richness of the seasoning when I first ate this kind of izakaya food after a long time.
It's been a decade since I quit drinking. During that time, I had attended a number of work social gatherings and other drinking events, but I never thought of them as particularly "salty". However, upon reflection, I have not been to any social gatherings at all for more than three or four years since Corona. At most, there have been "compact dinners" with well-meaning friends. On those occasions, instead of going to a restaurant that says, "Let's drink! but rather "a place where you can eat and drink". I guess that is why I have become accustomed to a lighter taste.
I was quite surprised at the change in my taste buds. I had no idea that it was not only the type of restaurant business that had been changed by Corona, but also my own taste buds.
(2023.09.24)